AGM M6 Keypad Rugged Phone
The company AGM has a new curious button phone called AGM M6.
The light-music
Waterproof
With LTE support
Just a beauty, in short. Not light just a pretty boy – 195 grams.
As the operating system announced Mocor RTOS. Is there any software installed and is it possible to put something of your own – is not specified. But if it is possible, it is unlikely to be easy. There is no application store.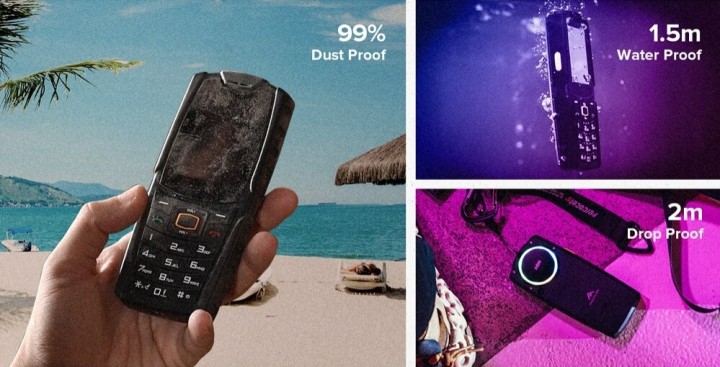 They promise IP68, MIL-STD-810H and even IP69K. Translated from Chinese – water and small falls are not afraid. But I would not drop from a height of two meters.
On the back is a huge speaker (3.5 mm, 3.5 W). Around it – the iridescent rainbow ring of LEDs. It will probably be beautiful in the dark. You can only guess about the sound quality. Or not to guess, but to output the sound via Bluetooth to an external speaker. Surprisingly, they promise a version of as much as 5.1 synetube.
As the chipset is something called T107. What kind of beast – I do not know. Memory – not at all a smartphone amount, 48 MB RAM, 128 MB permanent. Support for memory cards is.
The screen is typical of push-button phones. Non-touch, apparently. The diagonal is a modest 2.4″, resolution 240×320 (167 ppi). The type of matrix is not mentioned, so we wait for the TFT-TN.
The battery by the standards of pushbuttons is very capacious – 2500 mAh. The camera for the tick – 0.3 MP.
Supports 2G, 3G, 4G networks. Moreover, All "Our" frequencies are available. There is a normal audio output and Type-C. There is no Wi-Fi module and GPS.