Alfawise A1 Stereo Wireless Bluetooth Earbuds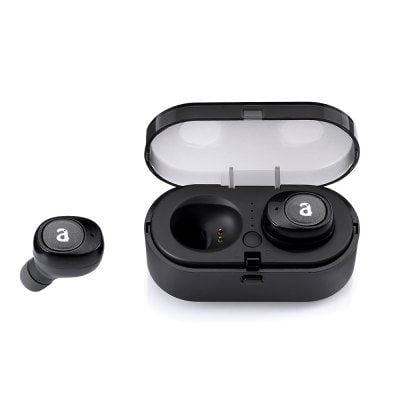 Maybe some friends will feel confused. What is the difference between this "Bluetooth Headset" and "Wireless Headset"? Many friends will say that many Bluetooth headsets are wireless, but the traditional in-ear Bluetooth headset has a cable for audio signal transmission. In other words, the units on both sides of the in-ear Bluetooth headset with cable can work at the same time, just like a bluetooth speaker. The in-ear Bluetooth headset can transmit through the cable, so that the ears on both sides can stably synchronize the sound, but this is only The line of headphones and audio is eliminated.
The true wireless Bluetooth headset represented by AirPods is a further subtraction, which also means that the working principle is different. True wireless Bluetooth headsets will have separate primary and secondary headsets. When connecting, you need a transmitting device (mobile phone, tablet, music player with Bluetooth output, etc.) to connect with the main headset first, and then connect with the secondary headset after confirming the connection. The connection is complete before it works.
That is to say, compared with the traditional "wireless earphone", the connection of the true wireless earphone is not only the signal transmission between the earphone and the signal transmitting device, but also the wireless connection between the primary and secondary earphones. Compared with the traditional "wireless headphones", the true wireless earphone structure is more complicated, the transmission requirements are higher, and the power consumption is larger. The influence of these elements on the final sound effect will be more obvious. The common phenomenon is that the true wireless earphone sound quality will be better than the same price Bluetooth. The headphones are slightly worse. Since there are many interference factors, why do you want to make a true wireless headset?
Blast music, chat on the phone with one touch. Created to be stored in a case smaller than a business card, you can easily pocket the Alfawise A1 in the most convenient ways. Designed according to the human auricle data, these Bluetooth earphones fit any ear. Made of anti-perspiration material, the sweat will not affect the sound quality. The Bluetooth earphones will not fall off easily.