Alfawise AP – 1910 USB Wired Graphics Tablet 8192 Level 2000LPI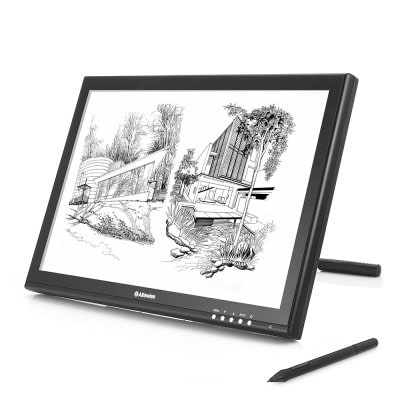 As a portable drawing tablet, the Alfawise AP – 1910 Graphics tablet will never let you down. Using the 19 inch screen, it could give you more broad viewing angle. 2048-level high-pressure sensitivity makes you draw the more smooth line. Easy to operate, whether you are a novice or veteran, the AP – 1910 lets you show the better performance in the drawing. Start creating your next stand-out project.
This tablet is great! I know that there is some controversy in the other reviews, so I will try to clear that up as best as possible. Some reviews said that it is too big and your arm has to sweep really wide to draw. Just go in the driver settings and fix it. You can fix pretty much anything in the settings once you install them. Some reviews said that it lags a little sometimes. I would have to agree, though not very often and when it does, it is only for a split second. I don't play video games with it, so I don't know how that would affect that, but since the lag is so small (maybe the pen just getting too far away from the pad), I don't think that is a big issue. As for the other reviews, besides lemons, the settings that you install from the DVD can fix pretty much anything. It can change the shortcut keys, change the pressure, miniaturize the drawing space, and lots of other things. Overall, If I could, I would give this tablet more than five stars!