Alfawise WM02 Vertical Wireless 2.4GHz Mouse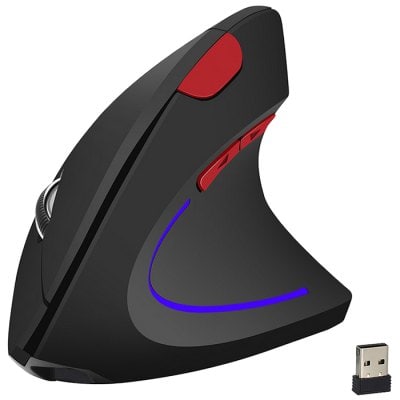 With the continuous development of technology, ergonomics has been paid more and more attention. I still remember that the abstract concept of ergonomics was rarely heard many years ago, and the advent of many brands and related products has now brought it into the focus of public discussion.
Not long ago, the tech news also introduced the popularity of an ergonomic keyboard crowdfunding that surprised countless people, and now the launch of an ergonomic mouse has caused a lot of shock in the peripheral world. I have experienced Alfawise's e-sports single-handed keyboard, which has caused me great attention, so this Alfawise WM02 vertical mouse makes me look forward to it.
The Alfawise WM02 vertical mouse is black overall, has a strange shape, and has an irregular shape and is made of plastic. Measuring 12.50 x 6.50 x 7.60 cm, the mouse's touchable surface is coated with a skin-like coating that is delicate, comfortable, non-slip and sweat-resistant. The Alfawise WM02 vertical mouse has a long holding time and is much larger than the traditional mouse in contact with the palm, so it is important in the anti-sweat design. When I actually used it, I found that the Alfawise WM02 vertical mouse is not bad, and there is no greasy situation.
Alfawise WM02 Vertical mouse subversive ergonomic design, through the study of human bones and meridians, with a snail-like bionic appearance to ease the discomfort caused by long-term use of the mouse, thus bid farewell to the mouse hand. The vertical design does play the role of relaxing the forearms and palms. It may be that the size of the palm is slightly uncomfortable in some aspects. It seems that the Alfawise WM02 vertical mouse is more suitable for medium or small players. The design of the detachable palm rest makes this mouse more user-friendly. It is recommended that you choose the wireless version, which will be more convenient to use.