Anet A8 Desktop 3D Printer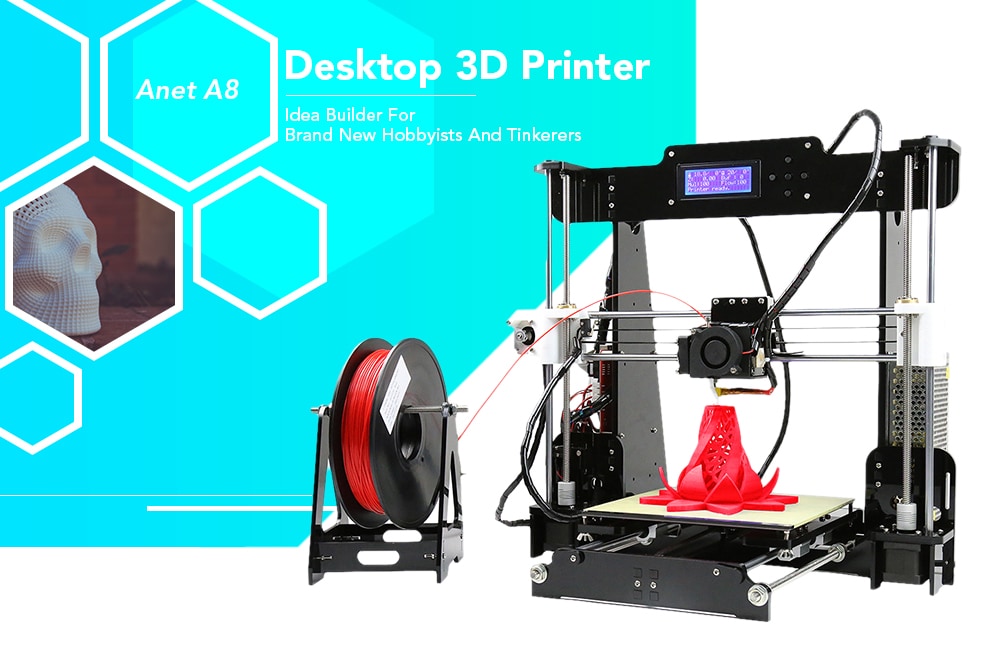 Anet A8 is a 3D printer inspired by the well-known Prusa i3. We are talking about a device with a very affordable cost, with which we can create our own pieces or volumetric models, from designs made by computer.
The first thing to mention, is that this 3D printer arrives completely disassembled in a DIY kit. To give you an idea, the assembly may be easier than assembling an Ikea piece of furniture. Although it is built in methacrylate, the whole is more robust than we could at first expect.
It takes between 5 and 7 hours to assemble it , and then it takes a calibration time. But given the results it offers, it's worth it. At first, seeing so much piece out there can be a bit overwhelming, but with the video instructions, you will see that it is very easy to shape it . You only need a good screwdriver and enough patience.
Once the assembly is finished, we can start using the Anet A8 directly , since the firmware is already pre-installed at the factory.
If you want to go into this exciting world of 3D printers, the Anet A8 is the best option. The warm bed has 220 x 220 mm and can reach a printing height of 240mm. This piece is responsible for keeping our printing adhered to an iron. This prevents you from moving, and therefore, errors occur.
To move the axes XYZ uses three Nema17 motors, with a torque of 3 kg/cm. Another important element is the LCD screen, which shows us the status of printing in real time.
The extruder is 1.75 mm and comes with a 0.4 mm nozzle, which can be set up to 0.05 mm to get a more detailed impression. A turbine ventilator is responsible for cooling the part. The Anet A8 3D printer is ready to print with virtually any filament. Among them, ABS and PLA are the most popular.
The entire device is powered by a 20A source. Perhaps one of the weak points of this 3D printer. On the other hand, the consumption is around 60-100 watts and has a printing speed of 10 cm per second.
It also includes a port for SD cards , from where we can directly load our designs. It is an important detail, since we will not need a computer to start printing . Also keep in mind that it does not have self-leveling, so all adjustments must be made manually.
In any case, once we have finished assembling the printer, it is convenient to install the PronterFace program and "plug it" into a USB port, to connect the equipment with the printer. With this software we can access most of the functions and make the necessary adjustments.
On the Internet we can also find a variety of 3D modeling applications, such as SketchUp. Once we have loaded the design, the Cura program gives us the possibility to configure some printing parameters: thread diameter, base temperature, … To make everything easier, several printing templates are also included, organized according to the material that we are going to use.
The printing results with the Anet A8 are more than satisfactory. Although we are faced with a cheap 3D printer, the printing noise is really minimal, especially if we compare it with other printers. In any case, there are some components on the market that help reduce noise, especially when it comes to longer pieces.
The print quality has nothing to envy to other high-end printers. In any case, to obtain an adequate quality, it will require making several adjustments. Obviously if we incorporate certain pieces of higher quality, there will also be a substantial improvement in printing.
If you already have some experience and have a higher budget, we recommend that you take a look at the BQ Witbox GO. That in case you do not know, is the first Android 3D printer in the world . In addition to having a quad-core Snapdragon 410 in its entrails, it has 802.11n and NFC WiFi connectivity.
If you are one of those who like to try new pots, you will enjoy the beauty with this cheap 3D printer . Above you will not have to invest a lot of money, if you also consider all the possibilities you have.