Anycubic Photon Mono SE LCD SLA UV Resin 3D Printer
Unlike filament printers that deposit material in successive layers on top of each other, the resin printing performed by the Photon Mono SE uses another process to create the objects it prints. A tray is immersed in a resin that cures on exposure to ultraviolet light and then gradually rises upwards. Under this resin bath in which the tray is immersed, a screen displays the different layers that will constitute the object. Thus, by exposing the resin to this screen, the resin will harden and settle on the tray and then on the previous layers of polymerized resin. So much so that an object will eventually form, upside down, and emerge from this resin.
This operating principle has unique advantages, it allows for prints of extraordinary finesse and it is possible to obtain incredible details even on objects a few centimeters high. Since the operation is linked to a layer covering the entire surface of the plate, the printing time of a layer will not depend on the complexity or width of the mass to be printed, but only on the exposure of the surface of each layer. To print an object 5 cm high and 3 on the side or to print 4 at the same time will thus take the same time contrary to a filament printer.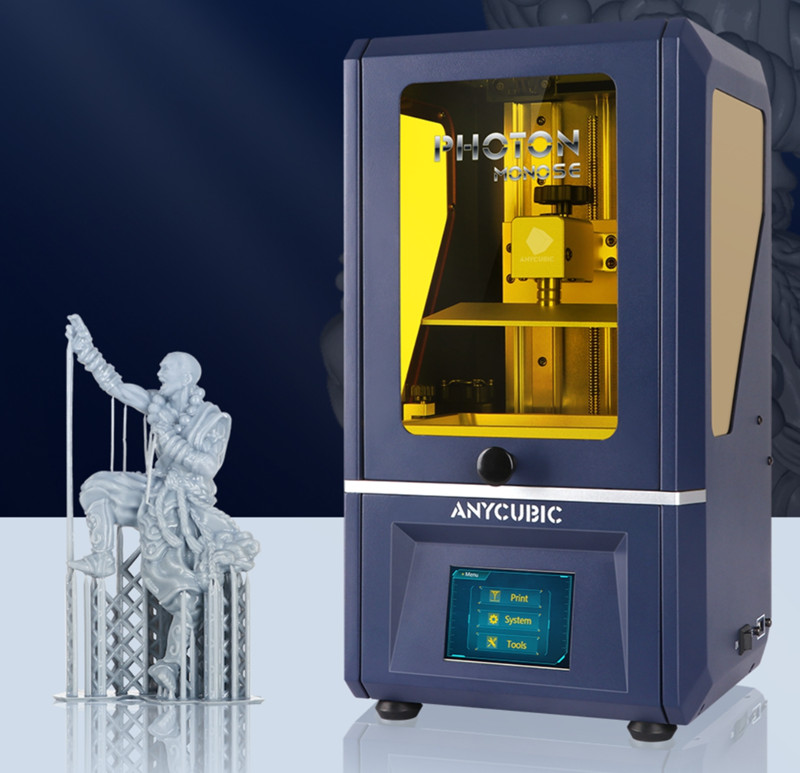 Resin printing also has its flaws, starting with the handling of toxic resin, the sometimes boring cleaning of the different elements and the usable volume in general much lower than what a traditional 3D printer offers. Defects and assets which make resin printers reserved for finer uses, jewelry, figurines or extremely precise objects. When printing by filament deposition is positioned on larger objects, less decorative but more focused on everyday use.
Anycubic's Photon Mono SE is presented as a desktop solution, an object that can be used indoors and that will bring the quality of 3D resin printing for a reasonable investment. Offered at 389$ or about 330€, it is relatively compact with 40 cm high, 22 cm deep and 20 cm wide. It weighs quite heavy with 8.2 Kg announced but this is due to the use of rather noble materials in its construction. The printer benefits from an entirely metal frame pierced by windows on 3 sides and above. These windows are made of tinted plastic in order to filter, for obvious reasons, the ultra-violet light. This makes it possible to position the machine on a desk even next to a window without fearing the polymerization of its resin tank.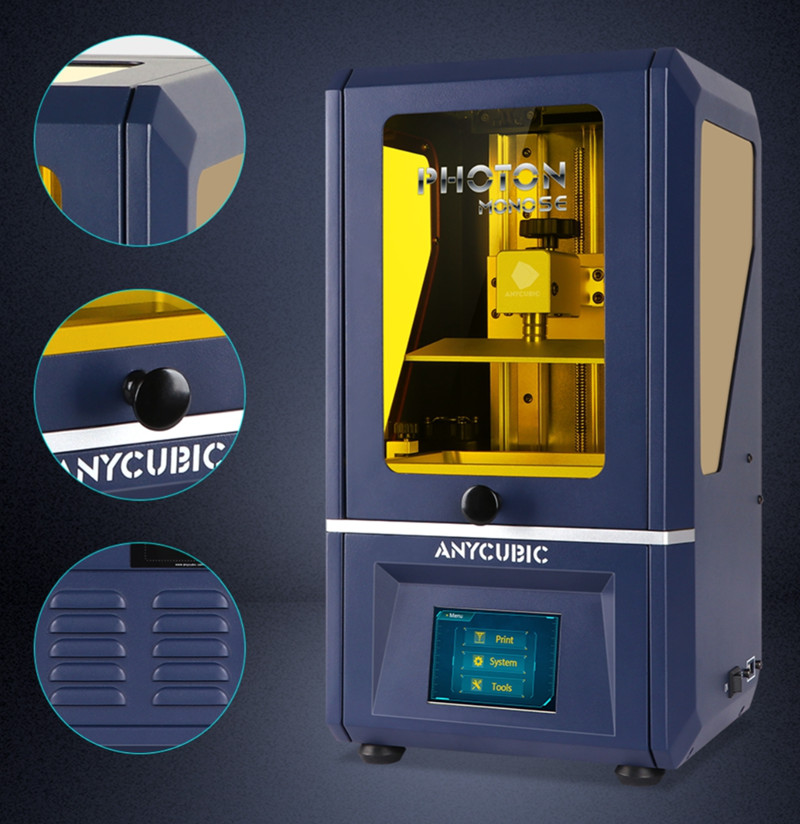 The front of the device has a 3.5″ touch screen to control the device. For a remote use, in a garage or workshop for example, it will be easy to slide a USB key into the printer and to fetch the object to be printed directly from this interface. For a more classical use, the Photon Mono SE offers a Wifi module with an external antenna allowing a dialog and a direct printing from a dedicated application. Your smartphone will also allow you to follow the progress of your printing remotely.
One of the strong points indicated by the mark is the print processing speed. With 8 cm high per hour, the printer can work a volume of 13 cm wide by 7.8 cm deep and 16 cm high. This speed is possible thanks to a system of widely spaced double linear rails that support the platen and allow faster movements. But also thanks to a more powerful UV emission treatment through the screen which reduces the polymerization time to 1 second per layer.
Inside the Anycubic Photon Mono Se, there is also an air filtration system consisting of two fans that suck the air inside the printer, in contact with the resin, and filter it through an activated carbon filter. An important detail for an indoor use of the machine even if it is better, I suppose, to operate in a well ventilated room with this type of device.