Beelink Gemini X45 Basic Mini PC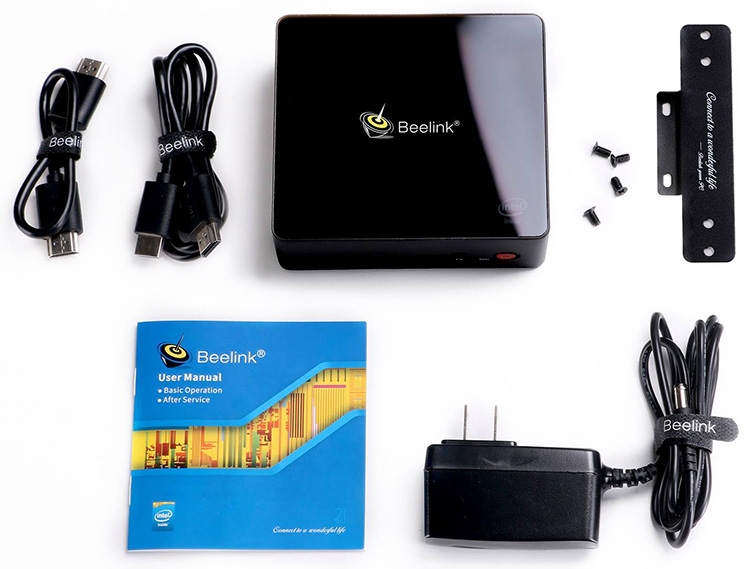 Chinese manufacturer of mini-PC and TV-box: Beelink decided to join the number of companies producing compact systems based on economical Intel Gemini Lake J-series processors, including the flagship SoC Pentium Silver J5005. Recall that the last we dedicated a separate material in the context of its successful confrontation with the legendary "quad core" Core 2 Quad Q6600.
The Mini-PC Beelink Gemini X45 will be ready to work without buying additional components, such as a drive and / or RAM. In version X55 it contains, along with a 10-watt Pentium Silver J4105 processor, 8 GB of DRAM type LPDDR4 with an effective frequency of 2400 MHz, a mSATA SSD-drive with a capacity of 64 GB, integrated into the body of SoC graphics Intel UHD 605 with support for resolutions up to 4K at 60 Hz, a wireless adapter Wi-Fi (2 × 2 802.11ac) / Bluetooth and an active cooling system of the notebook type. The aluminum body-radiator for heat removal would go better, but it is not so cheap in manufacturing.
Considered a mini-PC with a thickness of only 43 mm can be amplified by a second solid-state drive in the form of an expansion card mSATA and 2.5-inch SSD / HDD with a SATA 6 Gb / s connector. Among worthy mentioning external interface connectors are allocated USB 3.0 (4 pcs.) And HDMI 2.0 (2 pcs.), As well as an RJ-45 jack for network cable.
Along with the Gemini X55 system, Beelink will release more affordable Gemini X45 configurations with the SoC Celeron J4105 on board. One of them assumes the presence of 6 GB of RAM LPDDR4-2400 and 128-GB mSATA SSD. Alternative and, apparently, the cheapest configuration of all is limited to 4 GB DRAM and 64-GB flash memory chip eMMC.
The results of the internal testing of the Gemini X mini-PCs show a significant advantage over the 64-GB eMMC chip Samsung CJNB4R: 482/444 MB / s (read / write) versus 166/133 MB / s (read / write) in the AS SSD 2.0 test. Complex benchmark PCMark 10 evaluates the performance of the older version of Gemini X in 1993 points, which is quite good for a computer on the "former Atom".
The standard bundle of Beelink Gemini X includes two HDMI cables, a mount, a user's manual and an external power adapter of low power. With prices for the Gemini X55 and Gemini X45, the manufacturer will be determined a little later.