Beelink U55 Intel Core I3 – 5005U Mini PC
The new Beelink U55 is a powerful mini PC based on the modern quad-core Intel Core I3 – 5005U processor, which belongs to the new generation of Intel processors with improved performance. Also from the features of this mini-computer: new generation Intel HD Graphic 5500 video accelerator with 2560*1600 @60Hz video support. The mini PC combines a compact design with excellent performance for work, play and entertainment.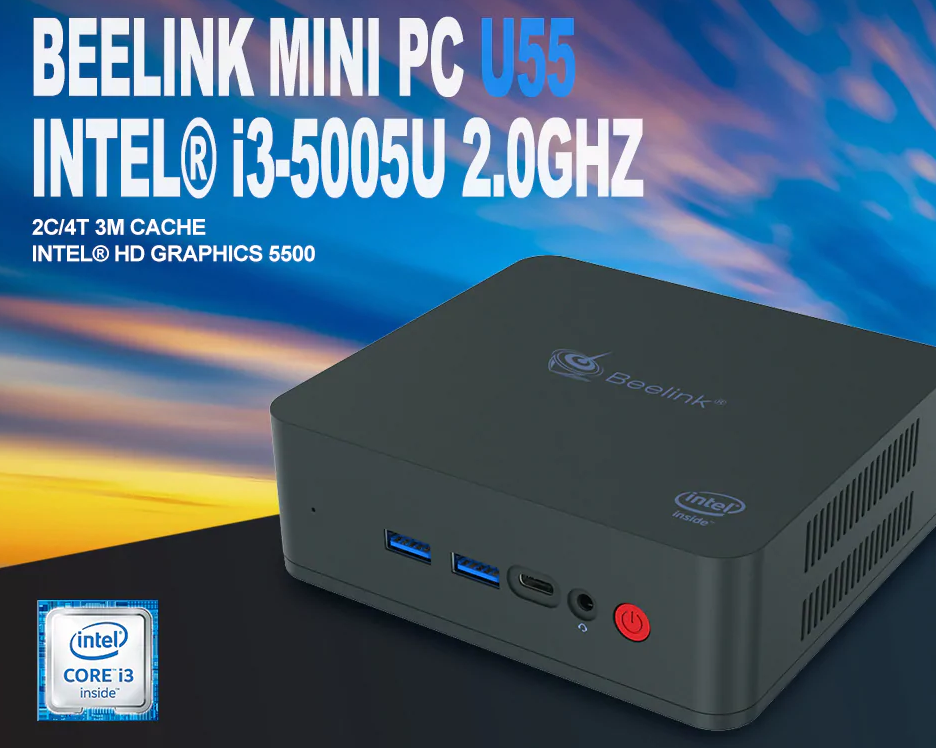 Beelink U55 runs on Windows 10 licensed. Advanced system features, Cortana Voice Assistant, screen synchronization on another Windows 10 device and much more are available to the user.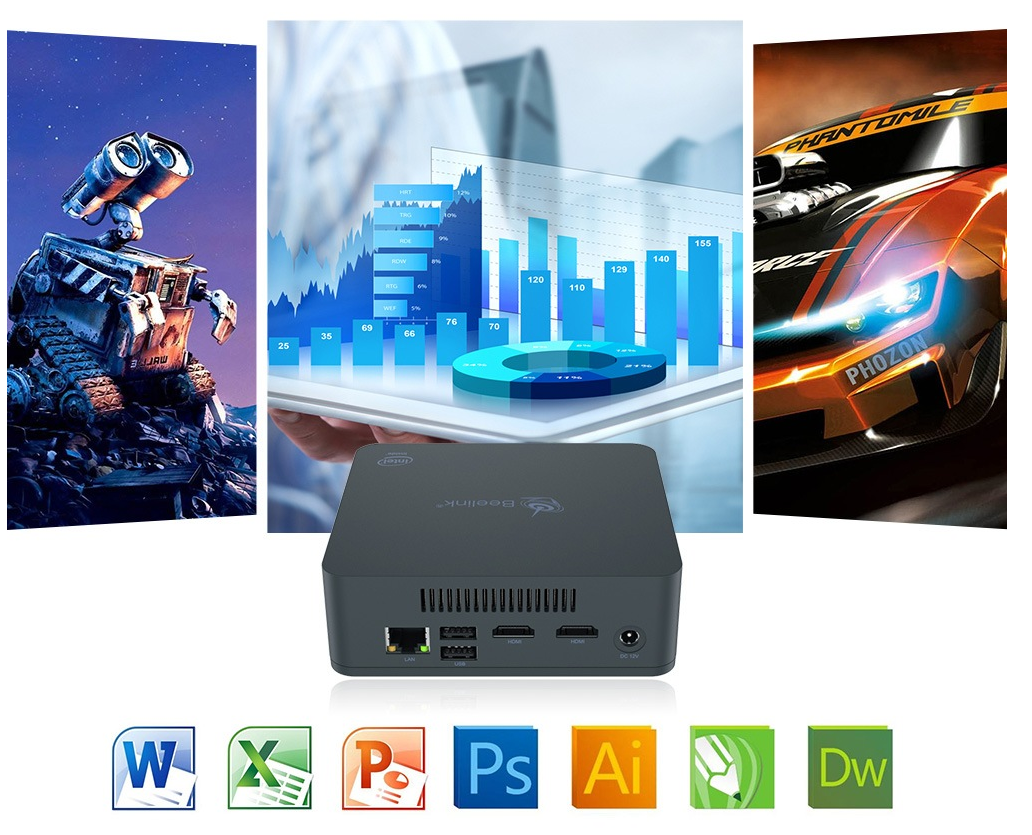 Beelink U55 mini PC is a great option for creating a workplace and entertainment center. Able to perform a variety of functions. Internet surfing, office and a variety of applications, online videos, movie theaters, online TV, media content, games and entertainment, graphics, presentations, music and more. The Beelink U55 Mini Computer takes up little space and can replace a regular desktop PC.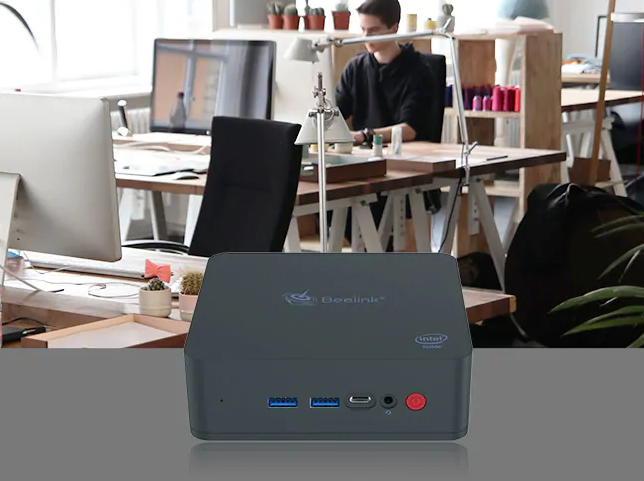 Beelink U55 connects to monitors as well as TVs in the HDMI port. With two HDMI ports, the mini PC supports simultaneous video output to two monitors. Internet access via wireless WiFi (support for two ranges of 2.4 + 5.8 GHz), also has a LAN port for connecting an Ethernet RJ45 cable (speed up to 1000M). USB ports for connecting external devices (keyboards, mice, USB drives, printers, etc.). Bluetooth module is provided for connection of wireless devices.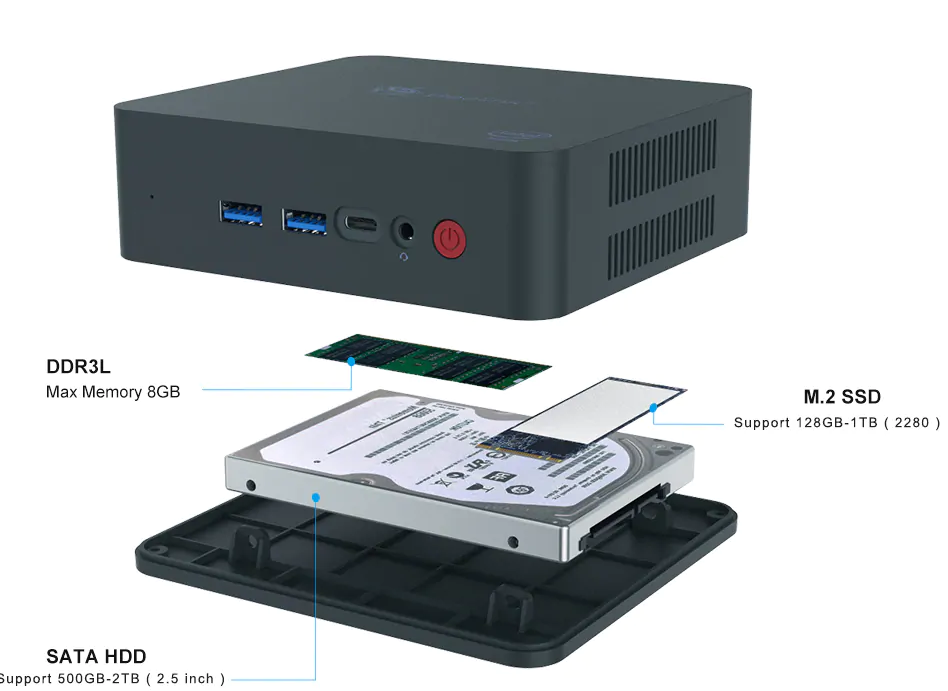 Features of the Beelink U55:
Powerful modern Intel Core i3-5005U processor (max. 2.0 GHz, 4 cores, 64 bits, 3M cache).
High-performance video accelerator Intel HD Graphic 5500. Support for 4K, 2K, Full HD 1080P video, modern games and applications.
Operating system Windows 10 (64 bits) licensed with advanced features.
Small size. Consumers minimum power consumption.
Built-in mini fan for improved cooling.
Fast 8GB RAM LPDDR3L. Built-in 256 / 320 / 512GB SSD Storage Capacity.
Support for increased memory by connecting a 2.5-inch HDD to an internal SATA port.
Support for 3D graphics, video conversion, graphics in Photo Shop and other resource-intensive applications.
Support for wireless WiFi, Bluetooth.
Has a set of ports for connecting external devices. USB3.0, micro SD memory card slot, two HDMI, LAN ports, audio output.
Perfect for working in the office as a home PC, for audio and video, for games and entertainment and much more.
Supports social networking, video conferencing (Skype) and similar applications (you will need to connect an external webcam with a microphone).
Support for online TV, online streaming video, internet theaters, internet surfing, online shopping, etc.
Support of installation of applications for training, office applications, work with presentations, tables, databases, etc.
Mini PC Beelink U55 is made of high quality materials.
Support for mounting on the back of the monitors (included in the set of special fasteners).