Bezior S2 Pro Folding Moped Electric Scooter
The BEZIOR S2 PRO is an electric scooter with all-terrain qualities that brings to the table dual 1200W motors capable of propelling the driver to a maximum speed of 65 kilometers per hour. As if that were not enough, it incorporates damping system, hydraulic brakes and an attachable seat with adjustable height, all this and more for a very reasonable price.
On the other hand, if instead of a scooter you prefer an all-terrain bike, the company has alternatives that meet this criterion, and one of its best examples is the BEZIOR X1500 with its 1500W motor and autonomy of up to 100 kilometers.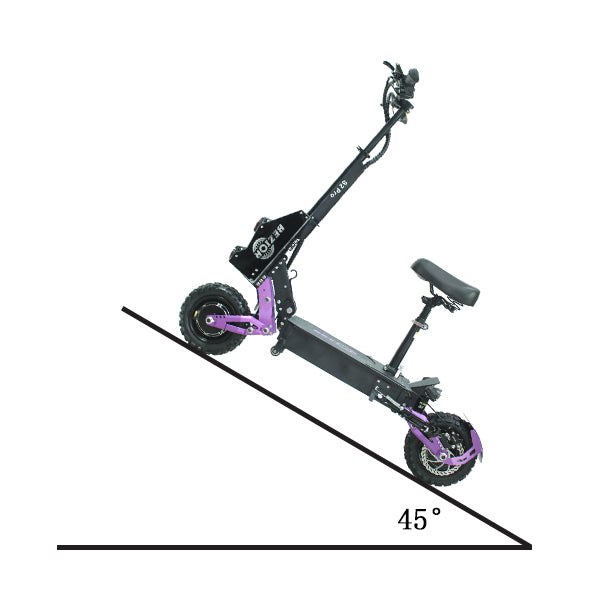 The BEZIOR S2 PRO is built as a full-fledged all-terrain electric scooter, so we can expect a solid structure built from aviation aluminum combined with high-carbon steel.
The frame of the scooter has the advantage of being foldable, which reduces the dimensions to 128 x 70 x 50cm and makes it suitable for transportation, although we have to warn that it is quite a heavy vehicle, 39 kilograms to be exact. On top of that, it incorporates a fully optional seat that we can attach to travel seated; it should be noted that its height is adjustable and that also applies to the handlebars.
Be that as it may, the skate frame rides on wide 11-inch tires, which provide stability and good traction on most terrains, including unpaved ones.
Interestingly, the BEZIOR S2 PRO features not one, but two displays that serve to tell the rider the current speed, mileage, battery status and selected mode. We don't know the reason for such redundancy, but at least we will have a spare in case one of the displays stops working.
Another element found on the handlebars is a hand throttle on the far right. Adjacent to it are two buttons that serve to activate one or both engines.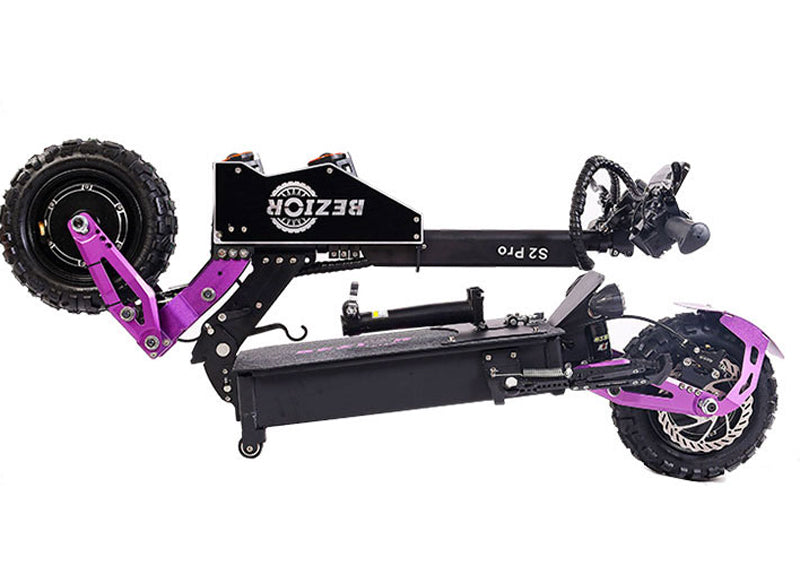 Driving at night will not be a problem for users of this scooter, as it has dual headlights and rear alarm lights. To top it off, it has an acrylic plate with LED lights that illuminate colorfully in the shape of the company's logo.
With all that said, the scooter is available in a single presentation where black predominates with some purple accents.
The BEZIOR S2 PRO is powered by a pair of 1,200W motors that offer a combined output of 2,400W and an improved energy efficiency conversion rate. As a result, it can travel at a maximum speed of 65 kilometers per hour. Additionally, the manufacturer claims that it has enough torque to climb 45° degree slopes and carry a maximum load of 120 kilograms, although it may not be able to do both at the same time.
With that in mind, Bezior's S2 Pro is clearly an electric scooter for sporting purposes that is nowhere near compliant with European regulations for use on public roads, but that's totally valid coming from a scooter that promotes itself as an all-terrain, high-performance scooter.
Speaking of all-terrain scooters, none could be complete without some damping system, and we are pleased to report that the S2 Pro is equipped with a rear fork shock absorber, which effectively reduces disruptions and bumps while responding to varying road conditions.
Similarly, we cannot overlook the fact that the scooter is equipped with hydraulic brakes on both wheels, ensuring quick heat dissipation, effective emergency braking and most importantly, rider safety.
Overall, this is a solid offering for a reasonable price; the presence of smart functions or connectivity would have elevated it to another level, but unfortunately there are no such features present.
Finally, it is worth mentioning that the scooter is powered by a 48V 23Ah battery that can reach a mileage range of 65km, a reasonable figure assuming it can be kept for years. As far as we understand, the said battery is hidden inside the base and is fully waterproof and dustproof.
What detracts from the proposition is the battery recharge time, which ranges from 6 to 11 hours for 100% completion. Needless to say, we will have to leave the battery charging with foresight to be able to use it on a daily basis.