BlitzWolf® BW-FUN1 Foldable Stretchable Fan Ultra Compact Pedestal Fan
A fan that is not only made for the desk. In this hot season of the year you need a fan, and one that can be used in many ways is even better. The BlitzWolf® BW-FUN1 3 in 1 fan offers this versatility through three different designs.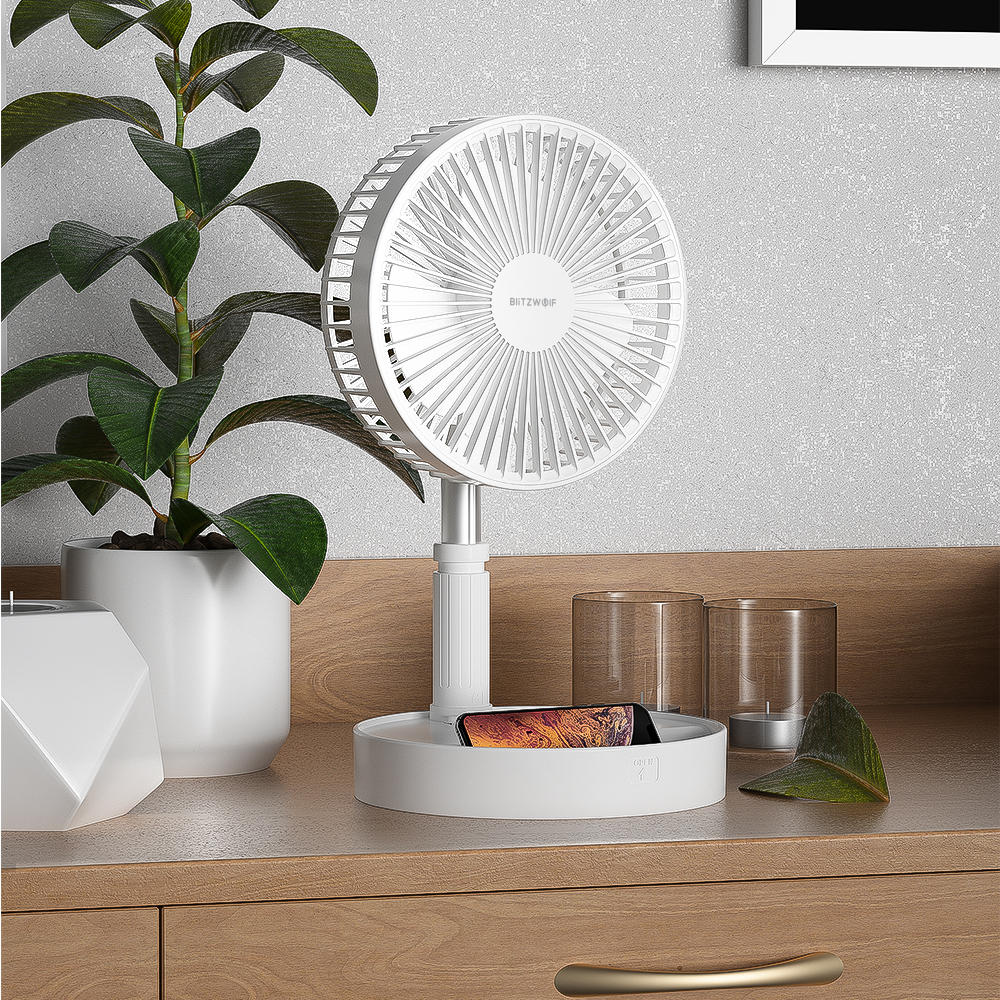 With the 3 in 1 fan from Blitzwolf comes an adjustable fan that can be between only 9.25 cm and 97.4 cm in size. It is made of plastic and sheet metal. At first sight it is just a normal fan. Only when you unfold it the telescopic rod becomes visible, through which the fan can also be set up and aligned.
In the third stage, when the telescopic pole is fully extended, the Lightning Wolf reaches its maximum size of almost one meter. The head of the fan can also be adjusted and tightened by means of a joint. In addition to the four ways to adjust the fan, there are also four fan power settings. While in the first gear the fan still works with 2.3 m/s wind speed, in the second gear it increases to 3.0 m/s wind speed. In third gear the wind speed is 4.0 m/s. The fourth gear is something special. In this gear, the speed varies between 2.3 and 4.0 m/s. Thus the BlitzWolf BW-FUN1 fan simulates the speed of a natural wind.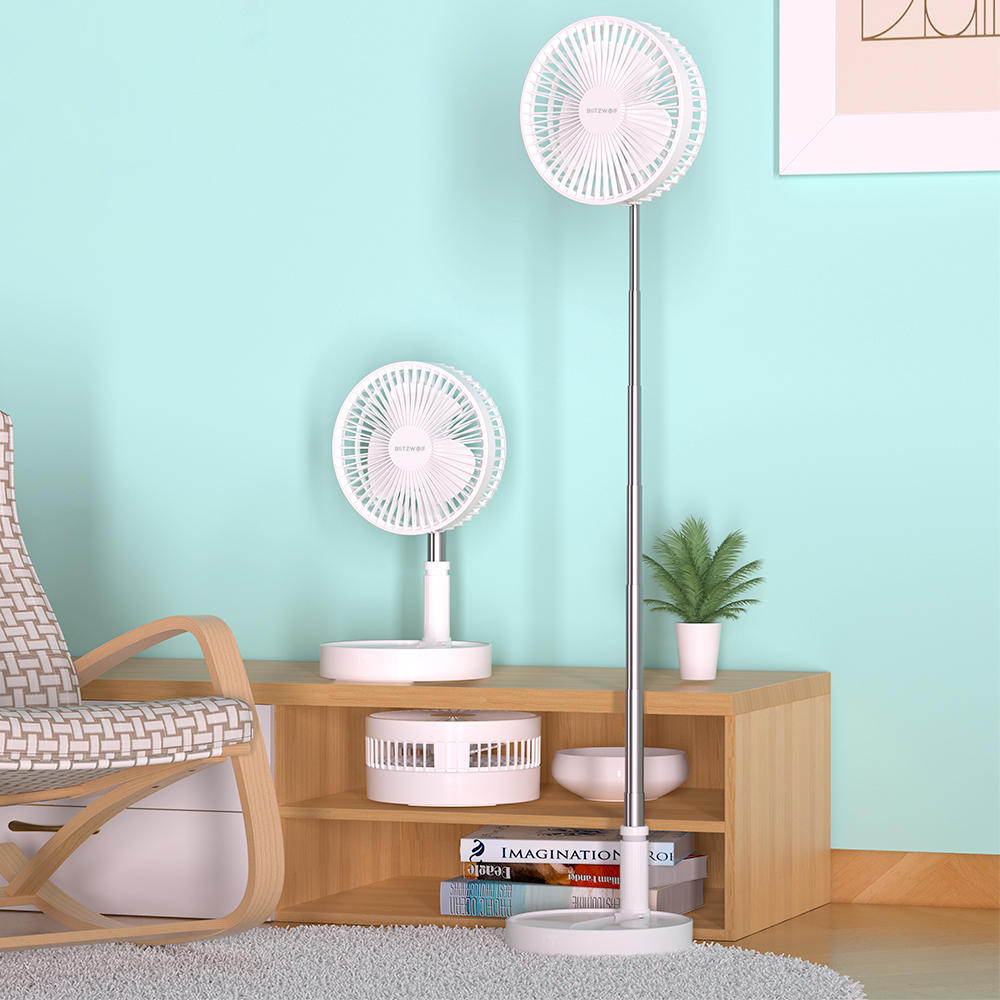 According to the manufacturer, the Blitzzwolf 3 in 1 can work 23.5 hours on the first stage and 9.5 hours on the second stage, which is a significant loss of battery compared to the first stage. On the third stage the battery lasts 5.5 hours and on the fourth stage the battery life is 16.5 hours. It takes five hours to charge the 7200 mAh lithium battery.
The background noise is quiet with 30 to 40 dB and provides a pleasant feeling, according to the manufacturer. Due to the possible compactness of the BW-FUN1 3 in 1 fan it fits well in a normal bag and almost any drawer.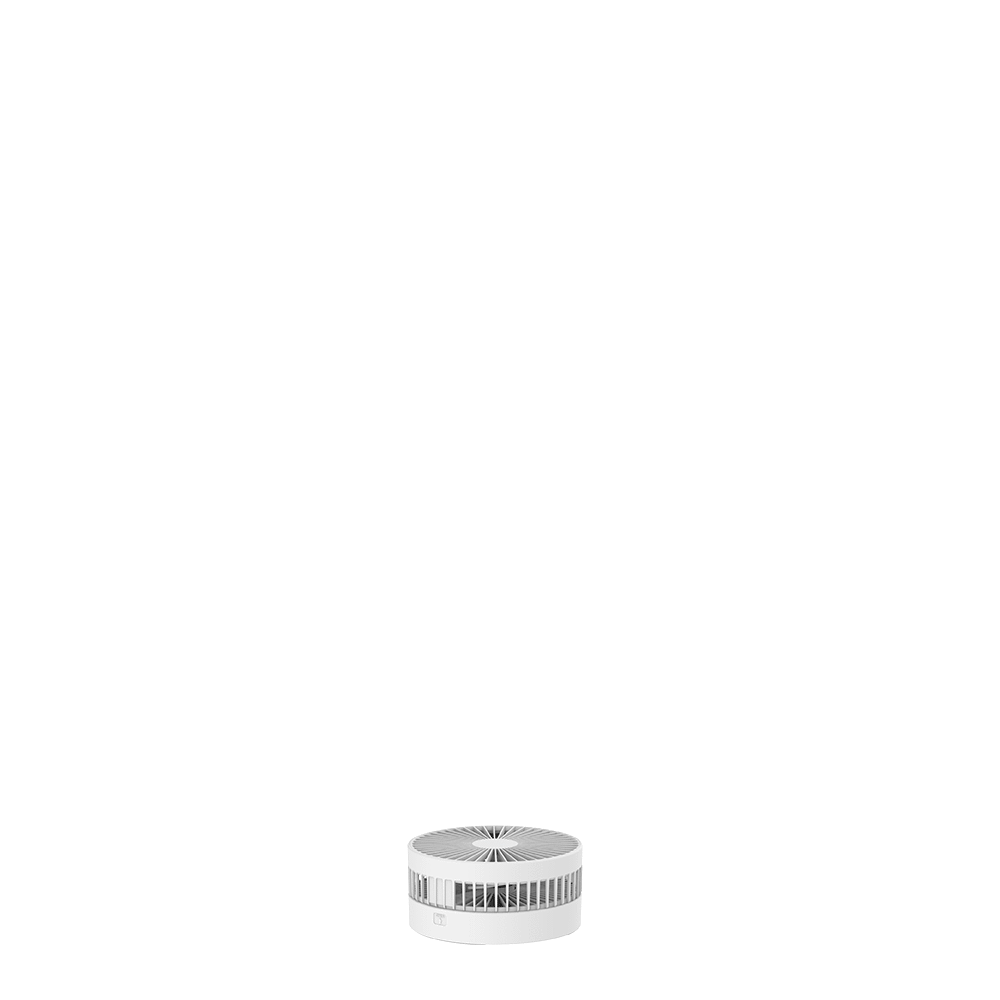 The fan is definitely interesting due to its compact format and flexibility of use. The battery life is really good, at least at the lowest level, but it drops significantly at levels two and three. But the fact that it has a battery at all is a nice feature, especially in terms of price.