BlitzWolf® BW-PCM6 17.3 Inch Portable Computer Monitor Gaming Display Screen
If you work from home, a portable monitor can be very useful, especially if you use a laptop or the PC monitor is not very diagonal. Before I bought the gaming monitor from Xiaomi, I had considered the option of purchasing such a monitor to connect it to the PC, because the monitor I was using at the time had a diagonal of only 21.5 inches.
BlitzWolf has several models of portable monitors in its portfolio, and the one I chose to write about today is one of the most interesting. This is the BlitzWolf BW-PCM6, a portable monitor with a generous diagonal of 17.3 inches, stereo speakers and touch screen.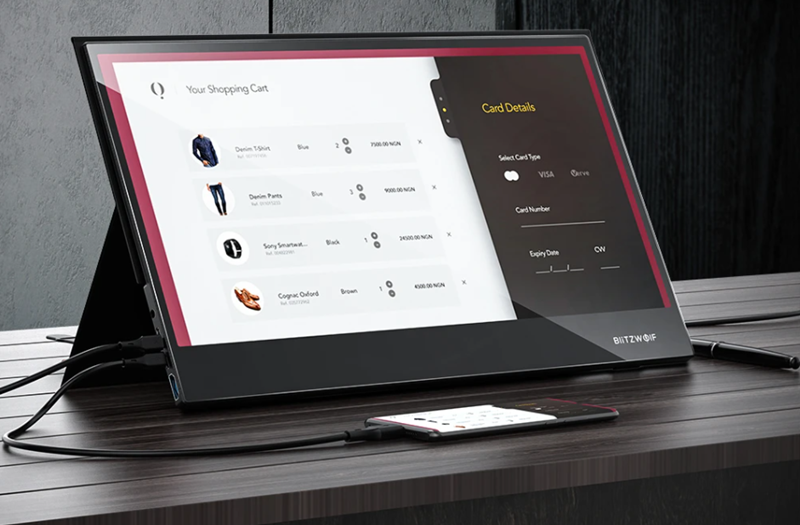 Its uses are many, and it can be connected to a wide variety of content display devices, including laptops, smartphones, game consoles or tablets, providing a larger viewing area for work or play. It can be used both as an extended viewing space, for the best experience while working, and for entertainment.
The device is made of aluminum, weighs 1180 grams and its thickness is only 9.5mm, so it can be easily transported. It uses a Full HD touch display that offers images at a maximum resolution of 1920 x 1080 pixels, and its diagonal measures 17.3 inches. The panel uses IPS technology for very good viewing angles.
In terms of connectivity, the monitor integrates 2 USB-C ports (one for power and the other for displaying content from other portable devices), an HDMI port (for connecting it to a gaming console, for example), a USB port -A (through which you can connect a keyboard or mouse), but also a 3.5 mm headphone jack.
On the side are the buttons for accessing the menu and those for adjusting the volume. The monitor comes with a remote control and a foldable cover that protects the screen from dust and scratches when not in use. The cover can be folded to become a support that holds the monitor in the viewing position.