Creality 3D® CR-30 3DPrintMill 3D Printer
The 3D printer Creality 3DPrintMill was first named Creality CR-30 and saw its career start on Kickstarter to gauge the interest of the target clientele for this particular printer. Indeed, the 3DPrintMill is an unusual machine with its unlimited height printing volume. Quite different from the rest of the range of the Chinese manufacturer, the unlimited size of the prints on an axis makes it possible to manufacture very high, or very broad, or very long objects (vase, laser sword, sword, tool, for example) or to launch a production in series (batch production). This volume is 200 x 170 mm x infinite and beyond! (we were talking about a volume of 258 x 200 mm x infinity, but the final version of the prototype is less large).
An additional feature of the 3D PrintMill is the working angle of the extruder. In order to print in an unlimited way, Creality has chosen to make its hot end work at 45°.
Besides its XY core structure and its 45° printing angle, the other features of the Creality 3D Print Mill / CR30 are rather classical: FDM technology, precision of 100 microns minimum and up to 400 microns, Bowden extruder that heats up to 240°C, heated bed at 100°C, control of the prints from the onboard screen and an SD card or in online mode via USB cable. A Wifi option will be offered, as well as a camera to monitor the tasks in progress.
The compatibility of filaments of the 3D Print Mill is also rather standard: PLA, TPU, PETG in diameter 1.75 mm.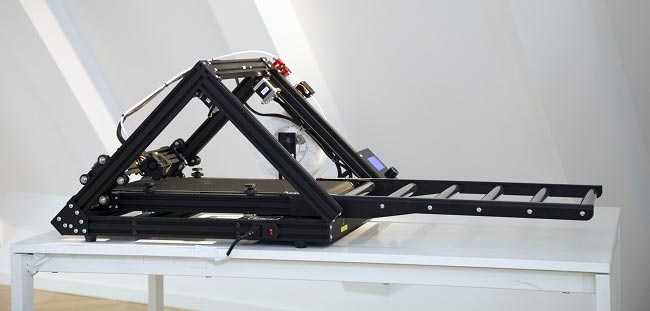 This unusual 3D printer will ideally be a complement to a more traditional printer, but the possibilities offered by the 258 x 200 x ∞ Creality CR-30 are very interesting.
In the same genre, there is the NAK 3D White Knight. An equivalent model also exists from Blackbelt, a manufacturer that also offers a roller conveyor to move mass-produced printed objects around. We are here in a professional use of 3D printing.
The introductory price of the 3DPrintMill on Kickstarter is $538, with a small conveyor, which is a 46% saving compared to the public sale price.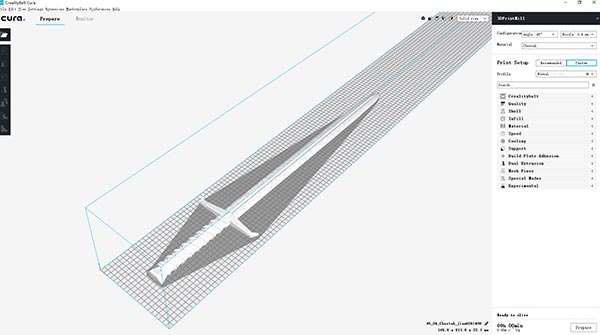 Accompanied by its nylon conveyor belt, even the longest prints will no longer be a problem without the risk of breaking the object. Also, an end-of-filament sensor can be useful if the used spool is not enough to print a lightsaber or another large object.
For the occasion, the Chinese manufacturer provides a special slicer for the 3DPrintMill: CrealityBelt.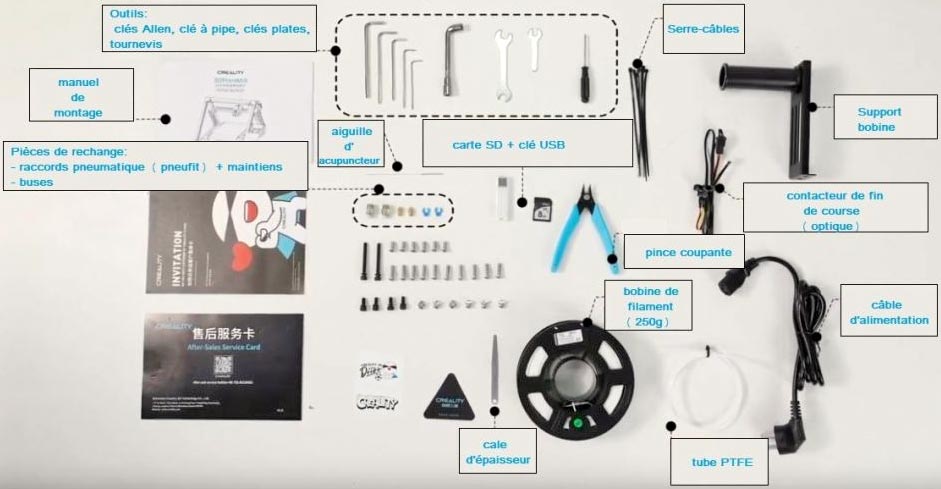 While waiting for the official release of the Creality 3DPrintMill / CR-30 3D printer, some forum members are impatient and have done a lot of research on the subject! Read also the Kickstarter of the 3DPrintMill.
The 3DPrintMill is not yet finalized and we already hear about CR-30 2, CR-30 Pro, Pellet Drive, IDEX… Creality does not intend to stop innovating!