Dibea D18 Cordless Vacuum Cleaner
The concept of modern household cleaning in the new era and new context must be more in line with the concept of a new generation of young people's fashion trends. Today, with the highly developed science and technology, electronic products are upgrading faster and faster. This is a major feature of scientific and technological progress, but from Objectively speaking, there may be some defects in the quality of the product itself. This also applies to the smart home sector. Here we talk about the latest wireless vacuum cleaner D18. This product had been inflamed before it went public, causing a stir in major e-commerce platforms and distributors. So what's different about this product?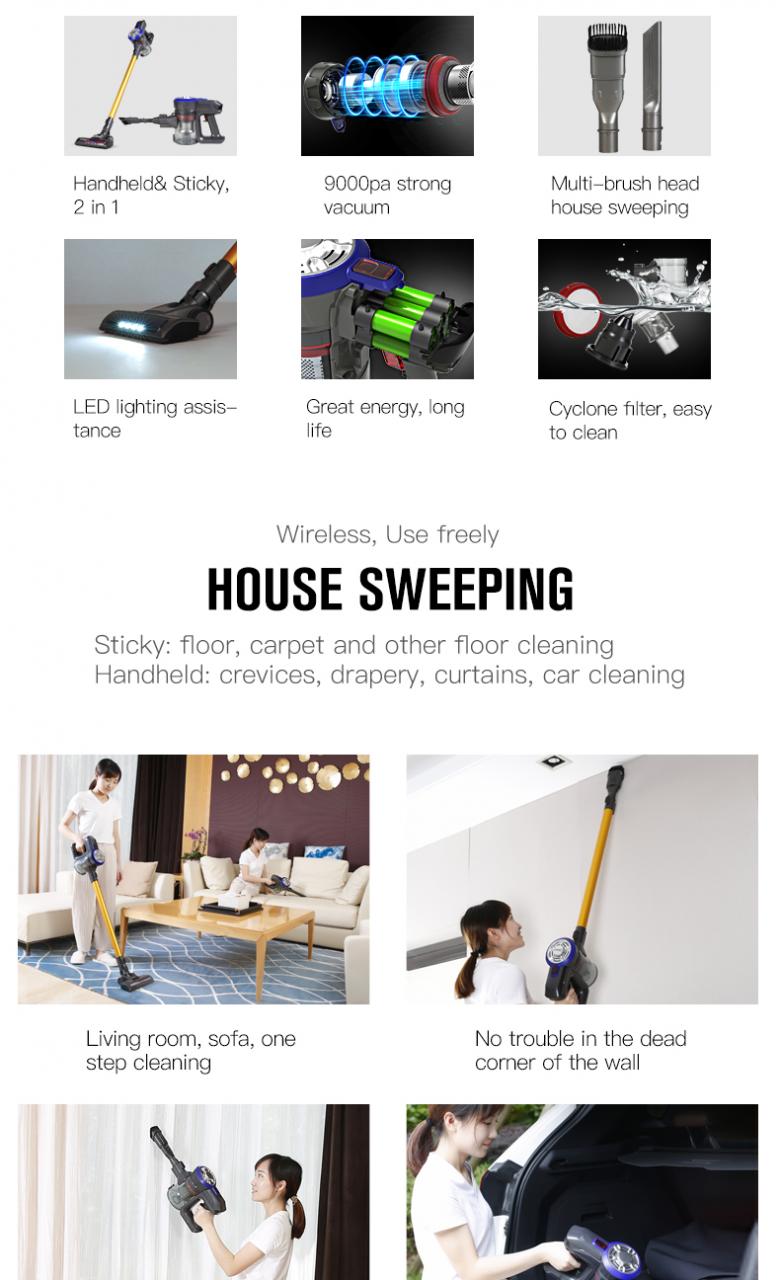 Dibea D18 wireless vacuum cleaner products using the latest design, large motor to increase output power, more efficient and efficient, slim and light in use will not feel tired. The machine adopts a 270-degree free rotation mode, which could clean all kinds of blind corners, and can be easily disassembled. It can be used in one machine for two purposes, and the cleaning and removing can be done in one step. The advantage is that the product has a good function of removing dust while cleaning the home. The locusts on sofas, sheets, etc. can be removed to give people a better experience, and equipped with large gear mute wheel set, which can easily cross over uneven ground obstacles, perfectly match different home environments, and even more wild natural peace of mind.
It seems that many consumers are contempt that the suction and life time of wireless vacuum cleaners cannot be combined. If you want strong power, you will certainly sacrifice the life time. On the contrary, if the battery life is long, the suction will not be very good. Dibea D18 wireless vacuum cleaner has both functions in terms of functionality, first is the use of 2200mAh high-capacity lithium battery, easy to use detachable design, but also has long life, long use, and other advantages, can achieve the maximum life 45 minutes; intimate is that the machine is also equipped with two levels of power, according to the actual situation and more energy-saving, and increased the dust bucket design, can be completely cleaned after the end of a ash cleaning, saving time and effort.
The storage of household appliances has always been an issue that has troubled us. However, the D18 has precisely solved this problem for us. The machine adopts a wall-mounted storage design and does not occupy the private space. This is also a very good experience. In addition, it has a small and independent charging bag, which can be removed and taken away for independent charging. The place is your choice. Of course, in the form of shell products will never let us down, stylish texture, beautiful colors, more in line with a new generation of people to choose clean furniture.