Dibea F20 Cordless Vacuum Cleaner
Dibea will present two new battery-powered vacuum cleaners at the "Canton Fair", the China Import and Export Fair. And the technical data is impressive: The Pro version of the Dibea F20 will have a suction power of 25,000 pa. This would be the highest value ever for a battery-powered vacuum cleaner from China.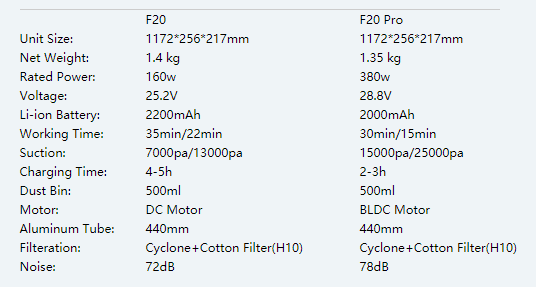 Just recently the Dreame V9 with an extremely high suction power of 20,000 pa is on the market, the young manufacturer Dibea tries it directly with a frontal attack on the established manufacturers. With the DW200 Pro we could only recently test the current top model Dibea, already the Chinese send another candidate into the race.
The development of Dibea is extremely exciting to follow, each new model brings stronger Specs and features, a continuous further development is to be recognized. This is the wish of every manufacturer. Optically the new models F20 and F20 Pro are very similar to the Dibea C17, which was allowed to do its work at my home for a long time.
What you can see from the few pictures published so far is that there probably won't be much change in terms of workmanship. Since the first models, Dibea has relied less on high-quality materials, but on a lot of technology for little money.
And this price-performance model should continue with the F20 models. Let's take a look at the Pro version, as it's simply the more exciting in direct comparison with other models. After a charging time of only 2-3 hours, the vacuum cleaner is ready for use for 30 minutes at the lower suction level and 15 minutes at the higher. The charging time is exemplary, the working time could be even longer. But the F20 Pro should have a suction power of 25,000 pa, which would make all the battery-powered vacuum cleaners we've tested so far look old.
On the other hand, the F20 in the Pro version with an operating volume of 78 dB is also quite loud. Up to 65 dB (approximate volume at which people talk to each other) I agree with it at high suction power. But it's clearly too loud here. With a weight of 1.35 kg, handling is simple for every user.
What Dibea also brings out the "smaller" version of the F20 Pro for, I can't say exactly, the model is less interesting. But of course it could be that the price is so low that it is attractive again. The F20 Pro, on the other hand, is much more exciting – provided the technical data survive the first tests. As soon as we have more information, we'll let you know. There's still something to be done before the release at the booth, maybe we'll know more about the price of the two new battery-powered vacuum cleaners.