Doogee Mix 4 – a Slide Phone with In-Display Fingerprint
Even more display, hardly any edge: Many manufacturers such as Apple, Huawei and OnePlus solve this problem in their current or upcoming smartphones with a recess for front camera & Co. (called display notch). However, not everyone likes the gap in the screen. There is another way, as a prototype of the Doogee Mix 4 from the Chinese manufacturer of the same name shows: The display is almost borderless, free of notches and still offers a front camera.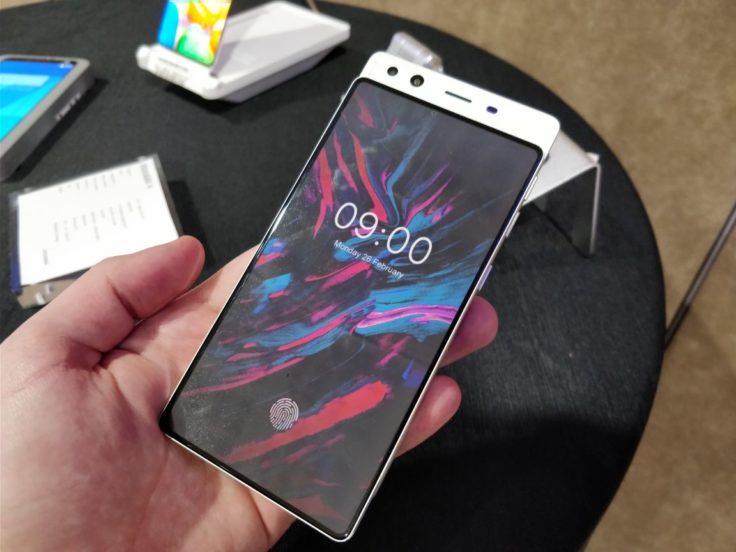 Doogee chooses a similarly clever approach as two other Chinese manufacturers: with the Vivo Apex prototype, the front camera moves up from the upper edge; with the Bluboo S2, the main camera simply folds over. For Mix 4, Doogee uses a smartphone with a sliding mechanism. Moving the display down reveals the front cameras, speakers and a proximity sensor. This makes the 5.99 inch device quite compact for its display size. The screen-to-body ratio should be between 97 and 98 percent. A further advantage is that the camera does not constantly look at the user. It remains to be seen whether the Mix 4 has to be postponed when telephoning, as the loudspeaker also disappears under the display.
A first prototype could already be seen at the Mobile World Congress (MWC) in February 2018 in Barcelona. Doogee sent a sample of Mix 4 to YouTuber "Mrwhosetheboss". Doogee promptly put a video on the net. The case is apparently made of aluminium, the back is probably made of glass. Due to the slider, however, the smartphone is a good 11 millimetres thick. For comparison: The new Sony Xperia XZ2 is similarly inflated. Doogee probably has a USB type C port on the underside.
So far hardly any technical data is known. The hands-on of "Mrwhosetheboss" shows that the manufacturer wants to install the best AMOLED panel for the display. A Snapdragon processor is supposed to light the smartphone – possibly high-end or upper middle class. As the fingerprint on the screen of the Mix 4 prototype suggests, the fingerprint sensor is in the display just like on the Vivo Apex. A dual camera is used both in the back and in the front.
With the probably soon appearing Doogee Mix 3 the manufacturer apparently relies on the same trick as Bluboo with the S2. The rear camera can be folded down for a selfie. There are also rumours about a flexible display, similar to the LG G Flex. Otherwise, the smartphone is said to contain plenty of potent mid-range hardware.
The price and a possible sales start are not yet known. In June 2017 came the first mix of the series, Mix 2 followed about half a year later. Accordingly, Mix 3 should be released in June 2018, followed by Doogee Mix 4 in December 2018.