Eachine EW30 2 Inch 120° FPV Goggles For RC Drone
Chinese manufacturer Eachine is expanding its range of light-priced 5.8 GHz immersion masks with a new model, the EW30. This is a significant break with the idea that the biggest expense in an FPV system is the viewing device. Obviously, to get a floor price, Eachine made some sacrifices.
The mask measures 15.2 x 9.2 x 7 cm and weighs 200 grams. It is based on two 2-inch LCD screens with a resolution of 480 x 360 pixels. This is not much compared to its more expensive competitors, and it is probably its main flaw. These screens are placed behind lenses that magnify 3.5x to obtain a 120° FOV. The mask is adjustable to fit the pupil distance, with an adjustable IPD between 60 and 68 mm. A foam isolates the mask from the face.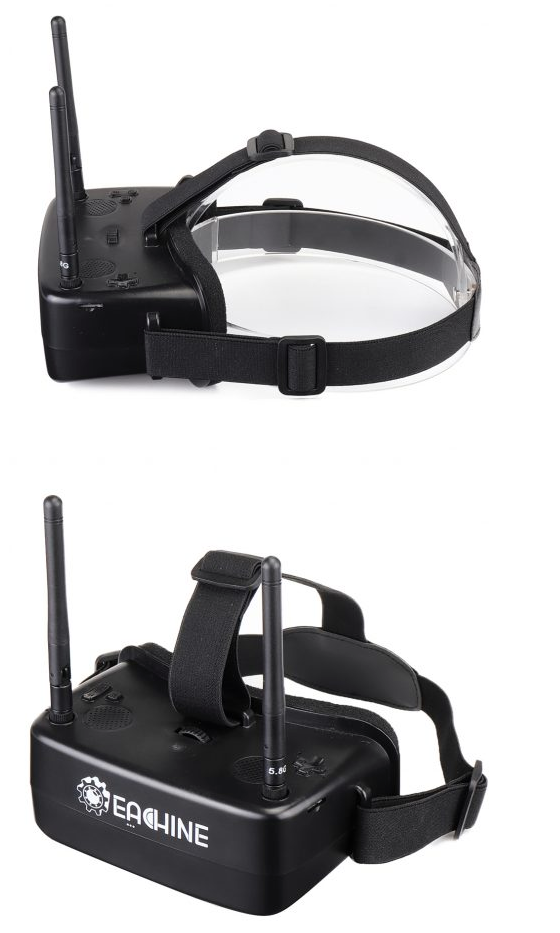 Inside the mask is a 48-channel 5.8 GHz compatible video receiver. It is based on two antennas – but this does not mean that it is a Diversity model. These two antennas are provided, they are stick models that can be replaced by more efficient ones. It is possible to choose the reception frequency manually or to let the mask do the search on its own. Bonus: A video recorder (DVR) is available on the EW30, it allows you to store flight videos on a microSD memory card.
The mask is powered by an integrated 1S 3.7V 1000 mAh 1S 3.7V battery to be charged with a USB connector. It has a 3.5 mm jack to display a signal from an external receiver. Its price? Eachine's EW30 will be available for $46.99 at Banggood (without shipping, without taxes), in black or white packaging.