EACHLINK H6 Max Android 9.0 TV Box
The EACHLINK H6 MAX is the new Android TV box based on the Soc Allwinner H6 platform, which is specifically designed to handle high resolution multimedia content of 4K/60fps and even 6K/30fps.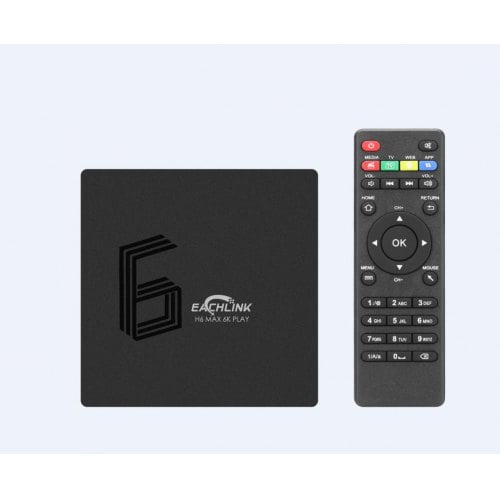 But it so happens that there are only a few models of TV boxes with this processor on the market, the most famous of which is its little brother EACHLINK H6 MINI, the main share of this segment is occupied by SoC from Amlogic, Rockchip. Although Allwinner H6 is also not bad and is a fairly powerful quad-core processor with the architecture of Cortex A53, with a maximum frequency of 1.8 GHz, and work with such heavy video formats is achieved with the help of the GPU Mali-T720MP2 and Allwinner Phoenix 3.0 VE accelerator. The set-top box also includes 3GB of DDR3 RAM, 32GB of flash memory, 2.4GHz WiFi, Bluetooth 4.1 and Ethernet up to 100M. By the way, on the shop's website and even in some reviews, the type of RAM is specified as DDR4, although in reality it is DDR3.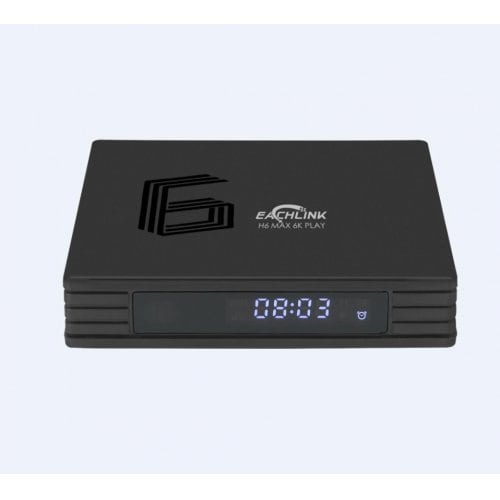 Past the powerful platform, the EACHLINK H6 MAX is remarkable for its good communication capabilities. There is a wide range of external connectors: USB 2.0 and USB 3.0 ports, digital output SPDIF (3.5 mm) for audio output to receivers and analog AV output for connecting to old TVs, HDMI 2.0a and LAN port, Micro USB power port and even an external infrared receiver socket for the case of hidden placement of the TV box behind the TV.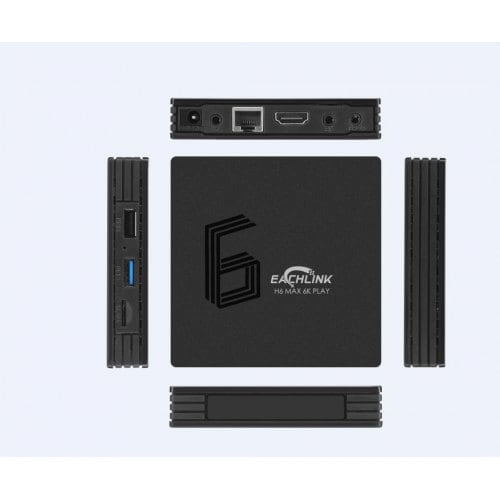 The housing of the EACHLINK H6 MAX TV set-top box is made of thin plastic and has a square shape. The size of the set-top box is 9.60 x 9.60 x 1.90 cm. The appearance is very attractive due to the beautiful textured surface on the top cover.
After a short loading time, we get to the desktop of the lounge with labels in the form of large tiles. The interface with the clock and weather is beautiful and fully optimized for the control panel. All shortcuts, except the bottom row, fixed, to access Netflix, Youtube, Google play, media player, music player, settings menu and applications. The bottom row contains shortcuts to the latest apps you're running. The top notification bar and bottom navigation bar are missing. The interface image is displayed in 1080p resolution and works very quickly, without delays.
The set-top box initially has a minimum set of applications: photo gallery, calendar, calculator, audio player, clock, browser, mail client, file manager, MX Player, Miracast, Modbro and FilmOn Live TV media player for viewing online channels (foreign), Netflix, YouTube, Play Market and RocketClean memory cleaner.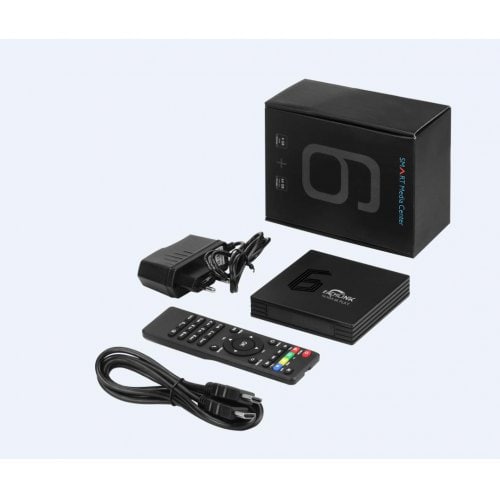 Summary
EACHLINK H6 MAX is a low-cost Android TV set-top box that runs on a specific processor, specially designed to work with high-quality video content. During its testing, no significant drawbacks were found, except for an emerging error with Play Store (you need to update Google Services) and problems with the stated playback of some 6K video. Perhaps the manufacturer will be able to fix these problems in the next software update, although without it, the console is quite worthy of attention. In general, it works smoothly and clearly, without overheating and hangs. And taking into account its present value – $55.99 with free delivery – it turns out to be an excellent option for a budget home multimedia system.