FLJ SK1 1200W Electric Scooter
The new FLJ SK1 electric scooter recently arrived in the Gearbest offer, and can be purchased now. At first glance, it seems to me that, in order to make it more accessible, they reduced their costs by choosing a battery with a smaller capacity, a single engine, a different suspension system but also a weaker lighting system.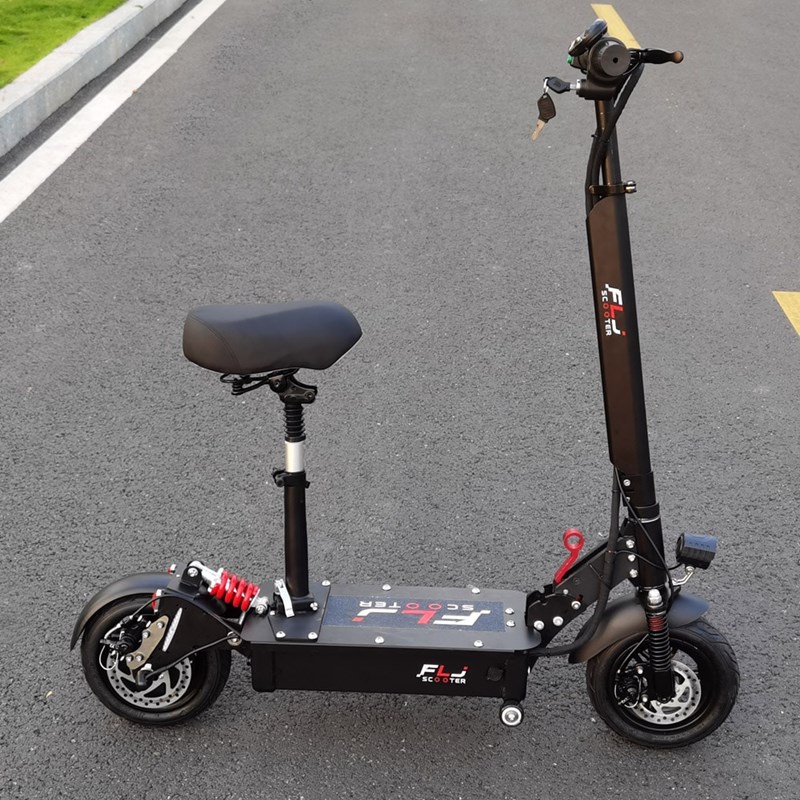 I mentioned that it can be considered as an alternative to the FLJ T112 and not only because it has almost the same technical specifications, but also because its design is similar. Visible differences are in the wheel suspension and the rear wheel wing.
FLJ SK1 integrates 1200W motor. The tires are 10 inches, pneumatic. If the T112 had hydraulic suspension on both the front and rear wheel, this does not mention the type of suspension used. If I were to follow the presentation images, I think the suspension system from SK1 is not a hydraulic one, but as it is not officially specified by the manufacturer, I can't say for sure. Remains to be seen. What is certain is that the suspension on the front looks quite strange.
The FLJ SK1 promises enough legroom, with a platform about 20 centimeters wide. Because the maximum speed it can reach is quite high, the scooter needed an efficient braking system. Therefore, to ensure a timely stop, but also for extra safety, the manufacturer opted for disc brake on both wheels.
And if we referred to speed, the FLJ SK1 can reach a top speed of 45 km/h. Surprisingly, the maximum ascent slope is 26-30 degrees. I tend to think it's a mistake, given that the Kugoo G-Booster has the same power and uphill slope of up to 35 degrees. Under the footrest, the scooter hides a battery with a capacity of 35Ah capable of ensuring a range of up to 120 kilometers. However, autonomy may vary depending on issues such as weather conditions or user weight.
In terms of visibility in traffic, the scooter has both LED headlight and stop, as well as an LED strip installed on the side of the chassis. There is also a fairly generous screen display on the handlebars, which displays information on speed, usage and battery capacity.