Flywoo Vampire2 HD 210mm F4 Bluetooth 6S FPV Racing Drone
Do you like racers with a slightly different design? With a hint of bling-bling? This is the Vampire2 Flywoo, a device based on a carbon structure X 21 cm diagonally engine, designed to accommodate a FPV Air Unit DJI. It is designed for propellers up to 5.1 inches, with arms that are 3 mm thick to carry brushless motors NIN 2306.5 to 1750KV. They are powered by a 4A ESC of 50A and driven by a flight controller GOKUF405 flashed with Betaflight. An integrated Bluetooth module allows access to wireless settings from a smartphone.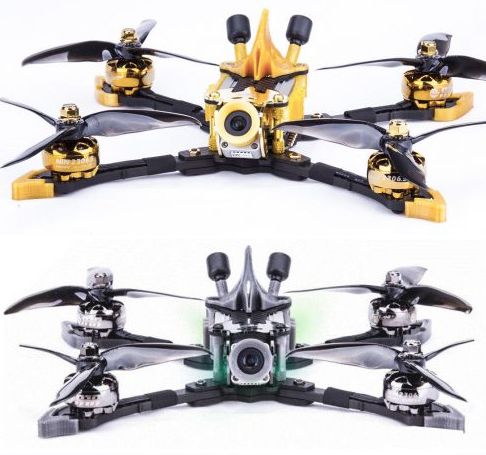 The FPV Air Unit and its camera handle HD video feedback for use with the DJI headset. The two antennas of the DJI module are guided by a piece of TPU, which also provides ventilation with vents. There is no need for a radio receiver if you have the DJI radio control, but you may prefer a version equipped with a TBS Crossfire receiver. The device, which weighs 330 grams, is expected to accommodate a 6S battery! It comes with a Gemfan 51466 tripod propeller set. The price? The Flywoo Vampire2 HD will be offered from $369.00 at Banggood Store, with the choice between Titanium and Gold.