Qmikai K1 Android 10.0 TV Box
Another unusual TV box called Qmikai K1 appeared on the Internet, which features a built-in wireless charging module. Otherwise, it is a modern TV box with a quad-core processor Allwinner H616 and Android 10.0 OS. In addition, the novelty has enough RAM 4 GB and 32 GB ROM, and supports dual-band WiFi, Bluetooth 5.0 and LAN up to 1000 Mbps.
This is not the first TV set-top box on the market that has a wireless charging function for smartphones, previously we wrote about the TV set-top box S10+. It's hard to say how much this function will be in demand in such a device, but why not.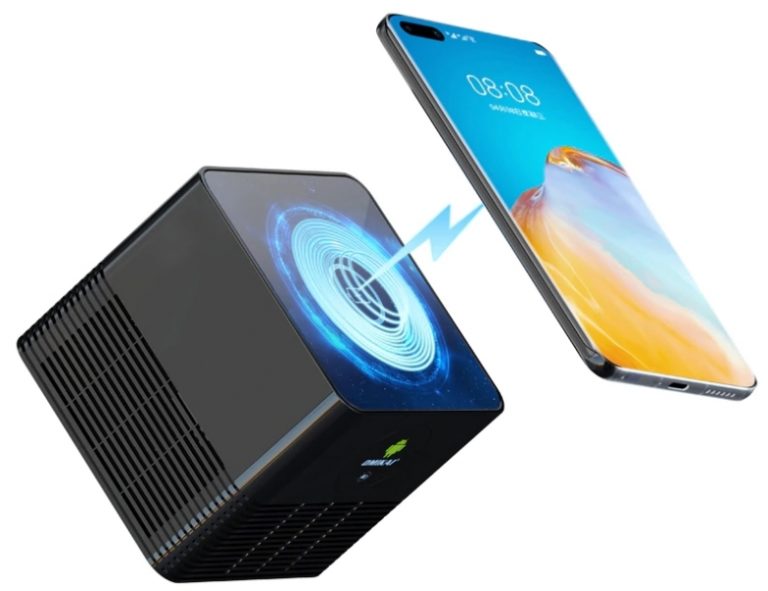 TV set-top box Qmikai K1 is made in a plastic case in the form of a cube, in the upper part of which, under a decorative cover is a wireless charging module type MP-A11 with technology Qi, and on the front panel is a luminous logo. The set-top box is equipped with active cooling by means of a silent "intelligent" fan and many ventilation deflectors located on the case. The type of SoC used is a quad-core Allwinner H616 (Cortex-A53) with G31 MP2 GPU with support for OpenGL ES 3,2/2,0/1,0, Vulkan 1,1, OpenCL 2,0 video processing up to 6K @ 30 frames per second and HDR 10.
The set-top box has the following connectors: Micro SD card slot, two USB ports, one of which is USB 3.0 type, RJ-45 Ethernet port, HDMI 2.0 HDR, CEC and HDCP 2.2, (6K @ 30fps max), SPDIF optical audio output and 12V power connector.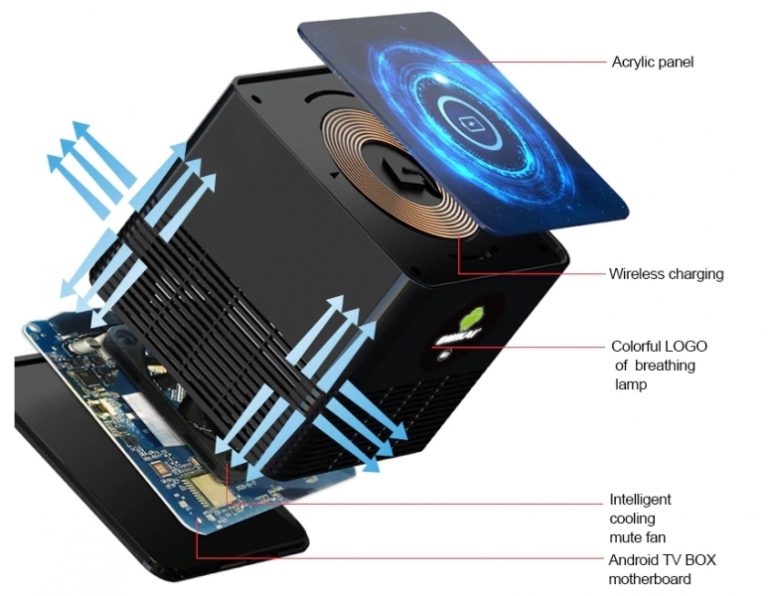 The set-top box runs on the Android 10 operating system with a corporate graphic shell, on the main screen of which, along with the main application labels, there is a wireless charging widget showing the status, temperature and charging power.
Among the advantages of the novelty should be noted the presence of the original remote control, which is equipped with a microphone for voice input, as well as backlighting buttons, which is mainly found only in expensive devices.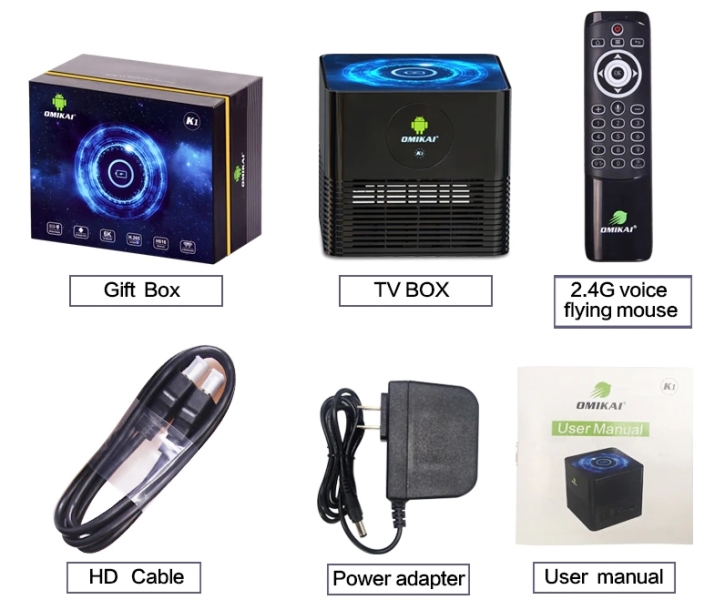 The set-top box is powered by a 12V network adapter. It comes with an HDMI cable and a user's manual, past the power supply and remote control.
You can buy a TV set-top box with Qmikai K1 built-in wireless charging at Aliexpress with free shipping. Find out the current price of the Qmikai K1.