FLYWOO XBOT65/ XBOT65-HD 103mm 4S 65MM FPV Racing RC Drone
The Flywoo brand loves flashy concepts based on gilding. Confirmation with this XBot65, a 10.3 cm diagonal nano racer from motor to motor. It rests on a carbon structure painted gold color, 2.5 mm thick. At the heart of the aircraft is a GOKU411 flight controller on tour, flashed with Betaflight with an active OSD. The tower includes a 13A 4 in 1 ESC and a 5.8 GHz video transmitter compatible with 48 channels, with a power adjustable to 25 mW (the maximum authorized in France), 50 mW, 200 mW and 450 mW, with a dipole antenna.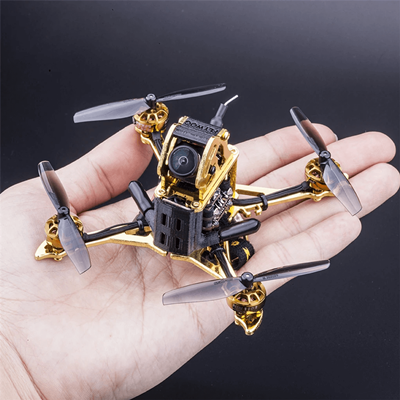 The XBot65 comes with a RunCam Nano 2 FPV camera, it weighs 54 grams without the battery (or 55.1 if you believe a photo of the device). The XBot65-HD offers a hybrid RunCam Split 3 Nano camera, which allows real-time video feedback and video recording in 1920 x 1080 pixels at 60 frames per second. It weighs 64 grams without the battery.
The motors are 1103 to 7500KV brushless for Gemfan two-blade propellers 6.5 cm in diameter – Toothpick type. Flywoo recommends a 2S, 3S or 4S power supply, with a 300 to 450 mAh battery with an XT30 connector. The price? The XBot65 will be offered from $139.99 at Banggood Mall.