Geprc CineStyle 4K 144mm Stable Pro F7 3 Inch FPV Racing Drone
One of the trends in mid-2019 is the devices equipped with Caddx's Tarsier camera, which allows real-time video feedback and HD recording (see test here). GePRC's CineStyle 4K is part of this family, since its 3 mm thick carbon frame and 14.4 cm motor diagonal accommodate the famous camera. The images are recorded in 4K, 2.7K or 1080p on a memory card, they are broadcast at the same time via a 5.8 GHz transmitter of 48 channels with a power of 0 mW (Pitmode), 25 mW (the maximum allowed in France), 100 mW, 200 mW, 400 mW or 500 mW ! The polarized antenna is connected with an MMCX connector.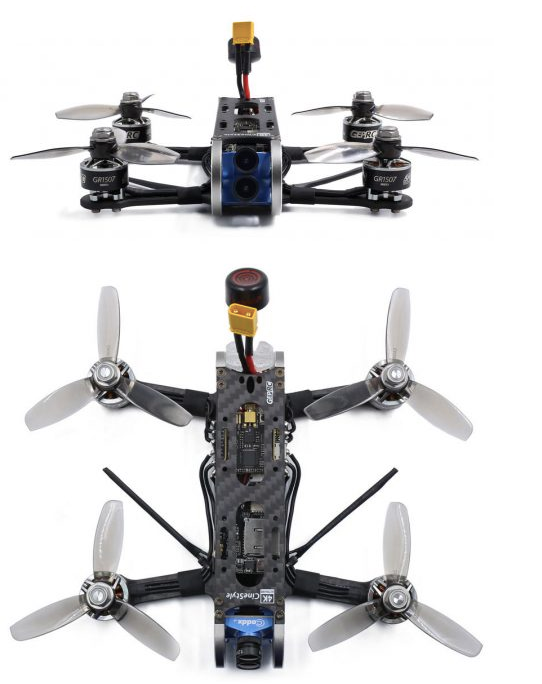 The engines are 1507 to 3600KV brushless motors for 3-inch 3042 three-bladed Gemfan propellers, all powered by a 35A 4-in-1 ESC and a flight controller based on an F7 processor. With one particularity: the presence of 2 gyroscopes to ensure, according to GePRC, a better stability to the device. The CineStyle 4K 144mm is available without a radio receiver, with a FrSky R-XSR or XM+ receiver, or a TBS Nano SE receiver to go further. To power it, GePRC recommends a 650 to 850 mAh 4S battery (not included). The price? It will be offered from $259.99 at Banggood.