Geprc Mark4 HD5 224mm SPAN F7 BT 5 Inch 4S / 6S FPV Racing Drone
The manufacturer GePRC offers a new racer based on DJI's digital video feedback system, fully assembled and almost ready for takeoff. It is based on a 22.4 cm carbon frame diagonal from motor to motor, with 5 mm thick arms. At the heart of the device is a GeP-Span F7 flight controller flashed with Betaflight in EF722DUAL firmware, with an active OSD. It is equipped with an altimeter barometer and a Bluetooth module to make wireless adjustments from a smartphone via the SpeedyBee application.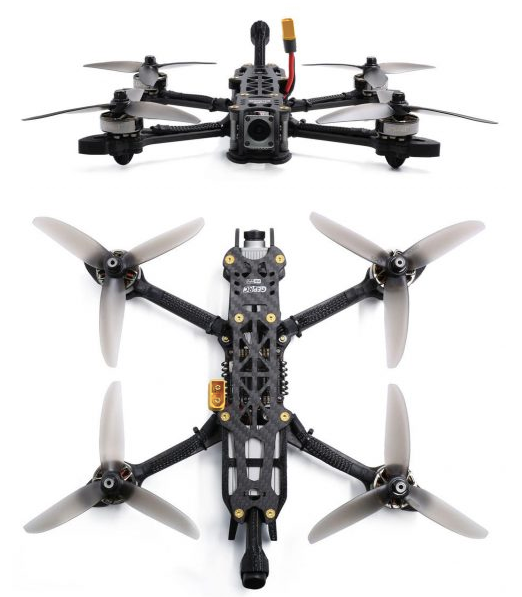 The motors are brushless 2306 to 2450KV for the version designed to accommodate 4S batteries, to 1850KV for the 6S version. The propellers are 5043 three-bladed. The rest of the equipment is DJI's equipment: a camera and the FPV Air Unit which provide real-time digital video feedback, with recording on board and on the DJI mask, as well as radio link with the DJI remote control. Note that the flight controller is actually equipped with a 5.8 GHz video transmitter from 0 to 600 mW… which is not used in this configuration.
The Mark4 HD5 weighs 401 grams fully equipped without the battery. It is intended to be used, depending on the manufacturer, with 4S batteries from 1300 to 1550 mAh, or 6S from 1050 to 1300 mAh, depending on the version. The price? The device, in 4S or 6S version, is available for $389.99 at Banggood Store.