GEPRC ROCKET Plus / Lite 112mm 2 Inch 4S Cinewhoop FPV Racing Drone
Did you think that DJI-type digital video return was going to be reserved for large devices? This is not the case, given the number of small format devices that appear from manufacturers. The GePRC Rocket is one of those: it's a nano racer equipped with 2 inch propellers! It rests on a carbon frame 12 cm diagonally from motor to motor, with arms 3 mm thick. The flight controller is a GEP-20A-F4 AIO, which includes the flight controller based on an F4 processor and an ESC of 20A BLheli_S, all on a single component. It is flashed with Betaflight in MATEKF411 firmware. The motors are 1204 to 5000KV brushless models for 2-inch quadruple propellers, with propeller guards to facilitate indoor flights.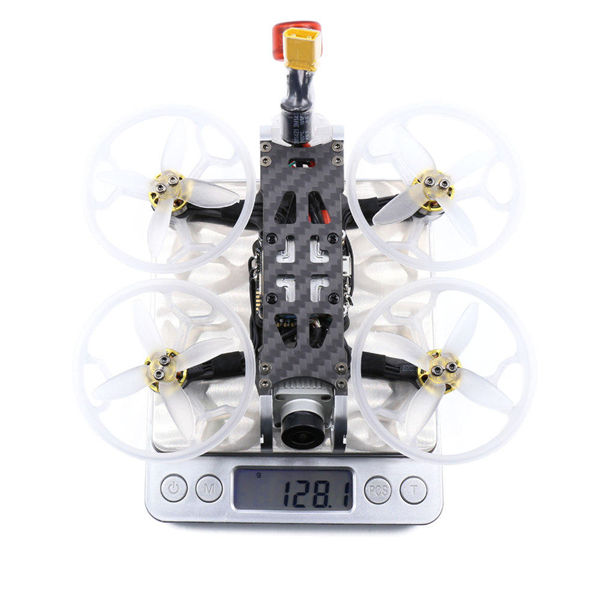 GePRC offers a Rocket Plus and a Rocket Lite. The Plus model is based on the DJI FPV Air Unit kit, with its two antennas. It allows HD video return to DJI headphones, and recording of onboard videos on a memory card (DVR). His weight? 148 grams without the battery. The Rocket Lite version is based on a Vista Caddx kit, with a single antenna. It also allows you to enjoy digital video return in HD to DJI headphones, but it does not offer recording on board – the DVR is to be recorded from DJI headphones. The weight of the Lite model, without battery, is 128 grams.
Both versions are compatible with the DJI radio remote control, which eliminates the need for a radio receiver. But they can also be acquired with an additional receiver, either a Flysky A8S V2, a FrSky R-XSR or XM+, or a TBS Crossfire Nano RX. GePRC recommends a Lipo 4S from 650 to 850 mAh. The manufacturer assures that the flight controller was mounted on shock absorbers so that the images are free of Jello.