Helor X36 Mini PC Intel Core i7-5550U 8GB RAM 240GB SSD
On paper the Helor X36 is an interesting MiniPC. It is properly equipped, it can evolve and it is even without ventilation. But in practice the manufacturer has chosen the worst integration format. The Helor X36 fits into a round chassis. The idea is still as surprising as ever because it is not clear what the aesthetic aspect of this choice is, or of course its practical advantage.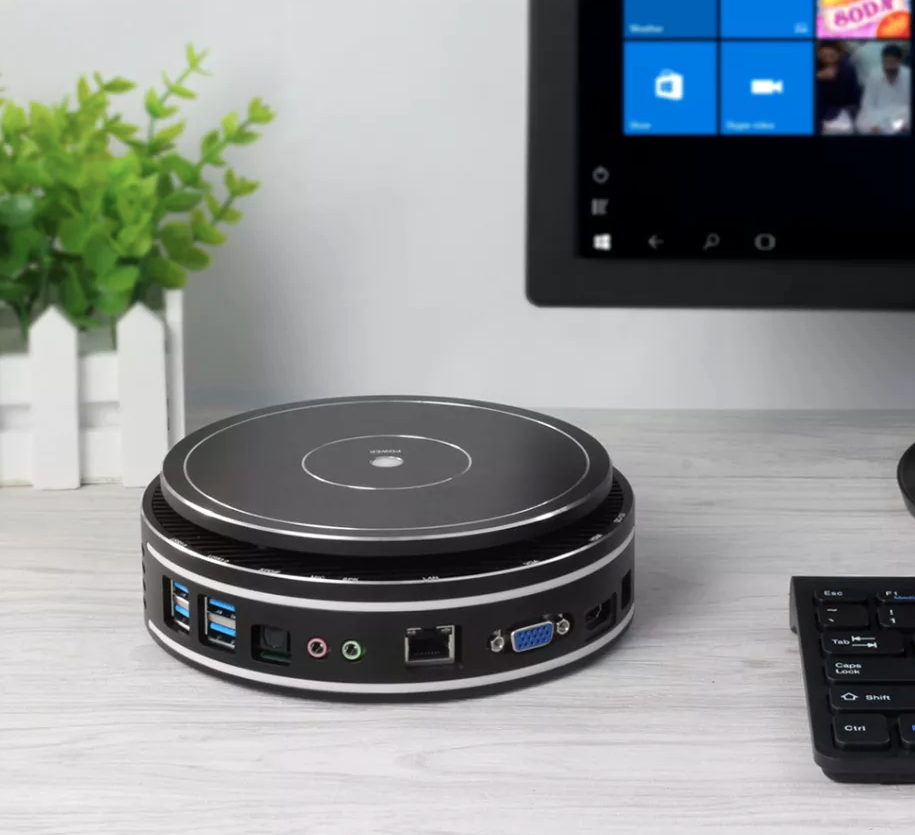 From a design point of view, we could say that the round side is original, it's true, why not. But this should only be done when the case is not in use. As soon as you add the necessary connectors for its use, it will turn into an octopus. With sprawling cables that will come out from all sides. Transforming the original aesthetics of the machine into a creation that is both ugly and impractical.
And that's a shame because on paper this Helior X36 is interesting. It features a Broadwell Intel Core i7-555U generation processor. Not the most recent chip on the market since it was launched in… 2015. But a still quite efficient solution with 2 cores and 4 threads clocked from 2 to 3 GHz. It offers 4 MB of cache and an Intel HD Graphics 6000 circuit ranging from 300 MHz to 1 Ghz. It operates with a 15 watt TDP.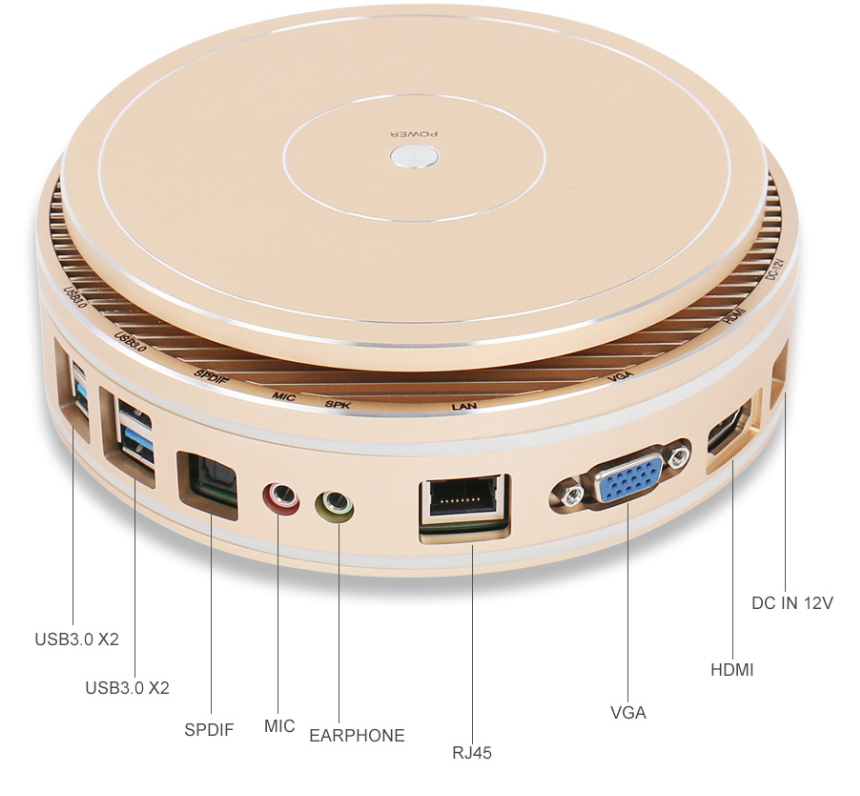 Funny choice since there are many new processors on this 15 watt range that could have been integrated into this fanless box. The high metal chassis carries a huge aluminum heatsink that covers the processor located in the center of the motherboard. Around it we find 8 GB of RAM on a DDR3L slot. As well as an mSATA slot for 240 GB storage.
The machine offers another PCI slot for a Wifi card that seems to come with a Wifi4 module… Fortunately an Ethernet port is available in Gigabit format. The rest of the connectivity is not bad with four USB 3.0 ports, an HDMI 1.0 output, a VGA port, separate headphone and microphone outputs with 3.5 mm jacks and even an optical S/PDIF output. The whole measures 5 cm high and 15.5 cm in diameter. It is delivered as supporting Windows 10 which means that no license will be delivered with the machine.
I think I understand the scenario of this choice: The design side associated with the Core "i7" processor that hit the mark. By putting into perspective the real use of the machine, its impracticality, its Wifi 802.11 b/g/n still very slow today, I'm not sure we'll be able to change it. The Core i7-555U is still very capable for office and web use but it brings nothing more than a basic Celeron of the latest Apollo Lake generation. The machine is offered for $426.99 online today…. which is for my taste far too expensive!