iFlight Cidora SL5-E 215mm SucceX-E F4 2207 1800KV 6S FPV Racing Drone
The latest trends are racer racer powered by 6S batteries. As is often the case, technology is an endless, forward flight. Do you really need the power of a 6S battery to enjoy immersion? No, of course not, but it's obvious that the power gain is particularly exciting! The iFlight Cidora SL5-E is based on a carbon structure of 21.5 cm diagonal from motor to motor. The heart of the aircraft is a SucceX-E F4 flight controller flashed with Betaflight, with an altimeter barometer. He drives a 4 in 1 SucceX-E 45A ESC for 2207 to 1800KV brushless motors and Nazgul 5140 three-bladed propellers.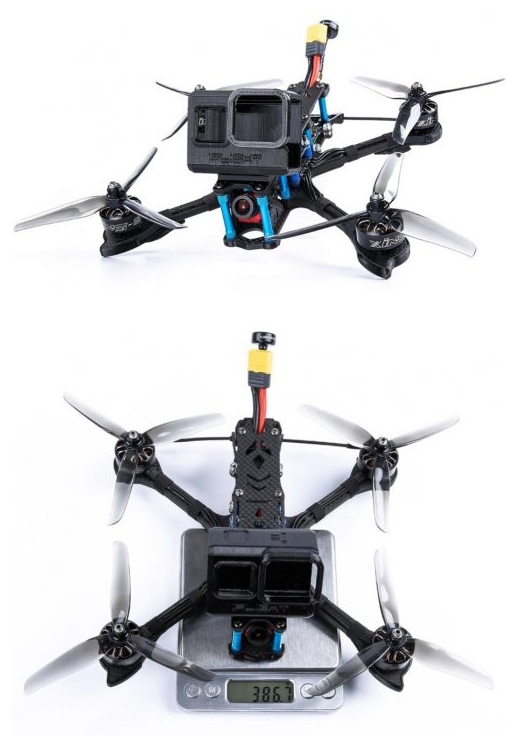 The video part is provided by a Caddx Ratel FPV camera, a 1200TVL associated with a 5.8 GHz iFlight video transmitter compatible with 48 channels capable of transmitting at 0 mW (pitmode), 25 mW (the maximum allowed in France), 100 mW, 200 mW, 400 mW and 600 mW, with a polarized antenna. In 6S, it is possible to move away very quickly, which makes it important to use a transmitter set to a high power. Be careful, in France, it is forbidden, you will be hanged high and short if you do.
The Cidora SL5-E is available without a radio receiver, or with a FrSky R-XSR or XM+ receiver, or TBS Crossfire Nano SE to go a little further (where allowed). The battery connector is an XT60, which expects a 6S battery from 1300 to 2200 mAh. The 5S and 4S also work, of course. Note that the support for the GoPro camera shown in the pictures is not included with the camera. The device, without the battery but with the GoPro holder, weighs just under 390 grams. The price? The Cidora SL5-E will be available from $199.99 at Banggood.