iFlight Mach R5 HD 215mm 6S 5 Inch FPV Racing Drone
The manufacturer iFlight offers the Mach R5 BnF, a racer delivered assembled and almost ready to fly. It is based on a carbon structure with 6 mm thick arms held by an aluminum base. Each arm can be removed independently of the others, which allows easy repairs. The motors are brushless Xing2 2506 at 1850KV for three-bladed propellers Nazgul R5. The flight controller is a Beast F7 with a 16 MB Blackbox, an altimeter barometer, flashed with Betaflight. The whole is coupled to a 4 in 1 ESC of 55A.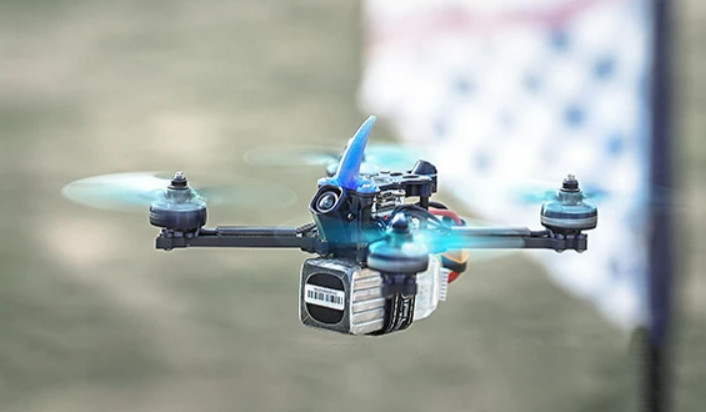 The digital version is equipped with a Caddx Nebula Nano camera and a Caddx Vista box, while the analog version is based on an iFlight RaceCam R1 Micro camera and a SucceX mini Force 600 mW transmitter. The digital version of the Mach R5 can be controlled with the DJI radio control, but you can choose an XM+ or R-XSR radio receiver from FrSky or Crossfire Nano RX from TBS. The analog version is delivered without a receiver, in this case you can add your own, or with one of the receivers proposed for the digital version.
The fin on top of the racer is not for aesthetic reasons! It is intended to facilitate the flip over with the Flip Over After Crash function, practical to flip the aircraft when it is on its back. The Mach R5 is powered by a 6S battery. The PID settings have been made at the factory and optimized, iFlight assures.