iFlight Cinebee Hybrid 4K 75mm F4 Whoop FPV Racing Drone
The iFlight manufacturer offers a new version of its CineBee 4K (see the test here). Exit the Caddx Tarsier camera, make way for the RunCam Hybrid 4K. It works on more or less the same principle: they are two cameras, one for real-time analog video feedback, the other for 4K HD recording, which are grouped into a box and a component. The structure that houses the camera is a carbon frame with a 7.5 cm diagonal of the motor motor. It is based on a SucceX Micro F4 flight controller and a 12A SucceX Micro ESC, mounted in a mini tower.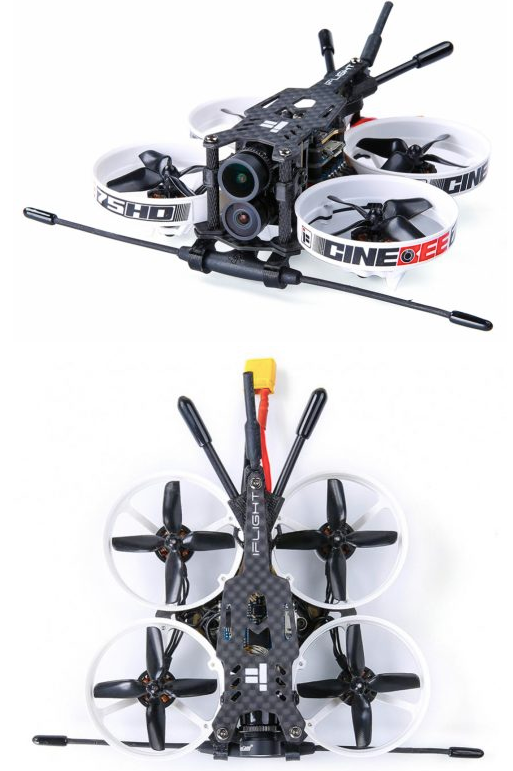 The top floor of this mini tower is occupied by a 5.8 GHz SucceX video transmitter capable of transmitting at a power of 0 mW (pitmode), 25 mW (the maximum allowed in France), 100 mW and 200 mW, with the possibility of controlling the settings via the IRC Tramp protocol. The video antenna is a dipole connected to a u.FL connector.
The motors are 1103 to 8000KV brushless motors for four-blade HQProp propellers. The device will be available without a radio receiver, or with a FrSky R-XSR or XM+ receiver, or TBS Crossfire Nano SE. To take off, you need to add a battery: iFlight recommends a Lipo 2S or 3S of 450 mAh. The price? The CineBee Hybrid 4K will be available from €209 at Banggood.