iFlight MegaBee HD SucceX Mini-E F4 3 Inch FPV Racing Drone
DJI's digital video feedback system is integrated into a new device, the iFlight MegaBee HD. This small format Cinewhoop frame is based on 1408 Xing brushless motors (KV not shown) for 3 inch Gemfan propellers in thick propeller guards. The diagonal of the motor motor is 15.2 cm. At the heart of the aircraft is a SucceX Mini-E F4 flight controller flashed under Betaflight associated with a 35A 4 in 1 ESC.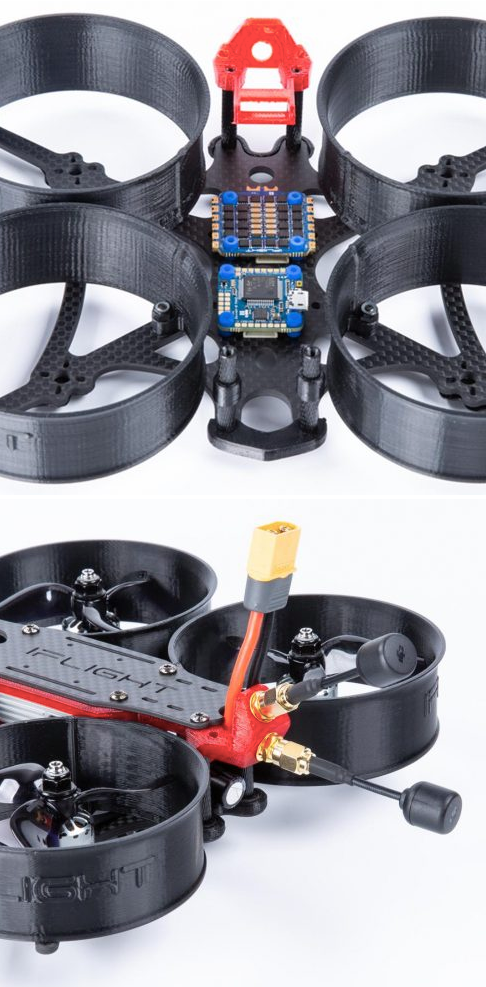 The FPV part is provided by the DJI camera and its Air Unit transmitter for onboard recording in 1080p, all mounted on TPU parts to damp vibrations. Enough to fly in very dense environments and see obstacles like wires or cables! It will probably be necessary to add a GoPro camera to obtain beautiful stabilized images.
The MegaBee HD is available without a radio receiver – you don't need it if you are equipped with the DJI remote control. You may prefer a FrSky R-XSR or XM+ receiver or a TBS Crossfire Nano. iFlight has not issued a battery recommendation, but it can be assumed that the device will work properly with Lipo 4S 650 to 850 mAh. The price? The Megabee HD will be available from $424.99 at Banggood.