iFlight Cinebee 4K 107mm F4 OSD 2-3S Whoop FPV Racing Drone
The 4K arrives on the nano racers of the Tiny Whoop type! As you already knew, one of the first hybrid FPV and 4K recording cameras will probably be the Caddx Tarsier. This is the one you will find on the iFlight CineBee 4K, a small brushless device with a 10.7 cm diagonal measurement from motor to motor. Very small, then, but with the help of the Tarsier he will be able to film at 4K at 30 frames per second (or 2.7K at 60 fps). Is there any point to the 4K on such a small device?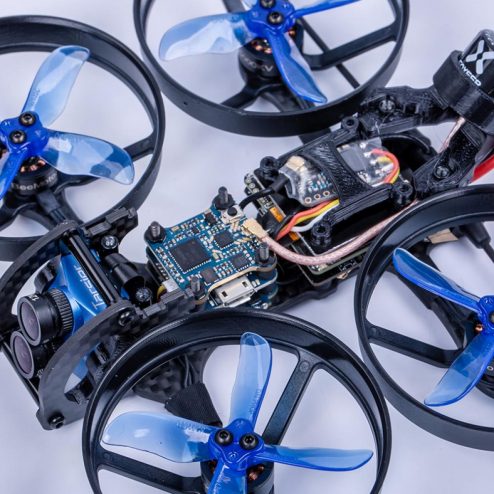 It's not so much to obtain images in 4K, but above all to be able to apply stabilization algorithms in post-production for ultra smooth video sequences! The Tarsier also has an integrated Anti-Shake option… it remains to be seen how it behaves. At the heart of the device is a SucceX Micro F4 MatekF411 processor under Betaflight with an active OSD and an ESC 4 in 1 BLHeli_s of 12A. The motors are 1104 to 9500KV brushless motors for four-bladed Dalprop Q2035 propellers.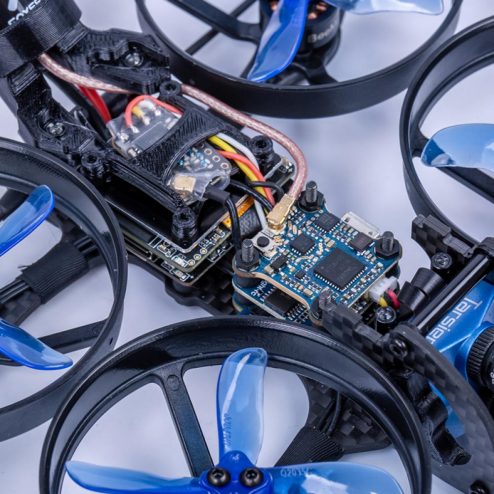 It is provided by the Tarsier camera, 1200TVL for the FPV part, associated with a Micro VTX video transmitter that broadcasts in 25 mW (the maximum allowed in France), 100 mW and 200 mW, with a Lollipop polarized antenna fixed on a u.FL connector. It can be controlled from the remote control and video feedback via the OSD with the help of the IRC Tramp protocol. There is no battery, it is up to you to provide a Lipo 2S or 3S with an XT30 connector. The CineBee 4K is sold without a receiver, or with a Flysky A8S V2, FT4X Faast Sbus, FrSky R-XSR, FrSky XM+, FrSky RM601X compatible DSM2 / DSMX, or with a Crossfire Nano from TBS with a T antenna.
The price? The CineBee 4K is available from $226.99 at Banggood (excluding port, excluding taxes). The Crossfire version is available for $264.00… It is also available directly on the iFlight website (also excluding port and taxes). If the device is vibration-free, it may be the Tiny Whoop of summer 2019! No Jello, at least that's what the manufacturer promises, who explains on his technical data sheet that he used a "combination of carbon, plastic and TPU". The iFlight CineBee 4K is not yet available, the prototypes are linked to the advancement of the Tarsier camera firmware. It will probably be for the end of June 2019….