JJRC Q48 Big Foot Off-road Climbing Car
REFINED CNC TECHNIQUE FOR BETTER PERFORMANCE
The JJRC Q48 is made of all-over metal chassis which is refined with CNC technique, plus with a metal adjustable stick and 77T metal reduction gear.
HIGH SPEED MOTOR SPEED UP TO 70 KM/H
The JJRC Q48 car provides a smooth control of high speed steering and is capable of driving on and off paved and rough surfaces.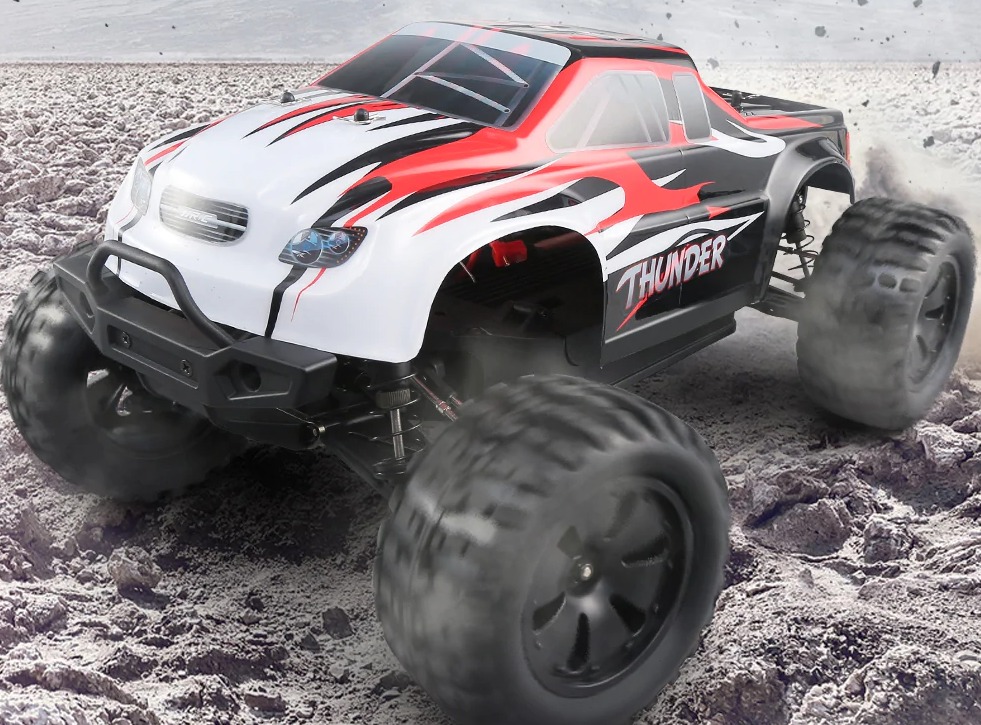 SPEED-POWER RATION FINE-TUNING PRECISE THROTTLE CONTROL
Players can fine-tune the speed to control the speed-power ratio which in turn affects the throttle rate.
WATERPROOF QUALITY TO KEEP THE CAR DRIED
Its body is made up of water resistant materials as to achieve a dried environment inside the body even when driving in low-lying area (Do not soak the car in the water for a long time to avoid water damage).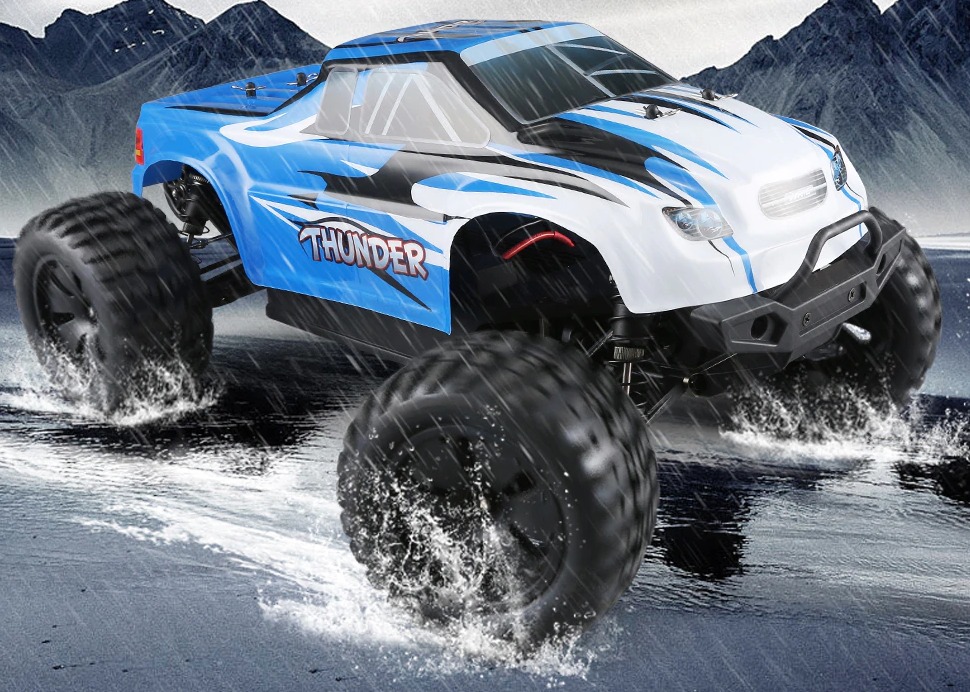 TPR TIRE TO CONQUER MULTI-TERRAIN
The tires of JJRC Q48 feature deep treads to provide better traction and grip the vehicle is capable of driving on and off paved surface.
2400MAH HIGH CAPACITY FOR EXTENSIVE PLAYING TIME
The included battery has a high capacity of 2400mAh which provides power supply for the car and gives an extensive-playing time for the players.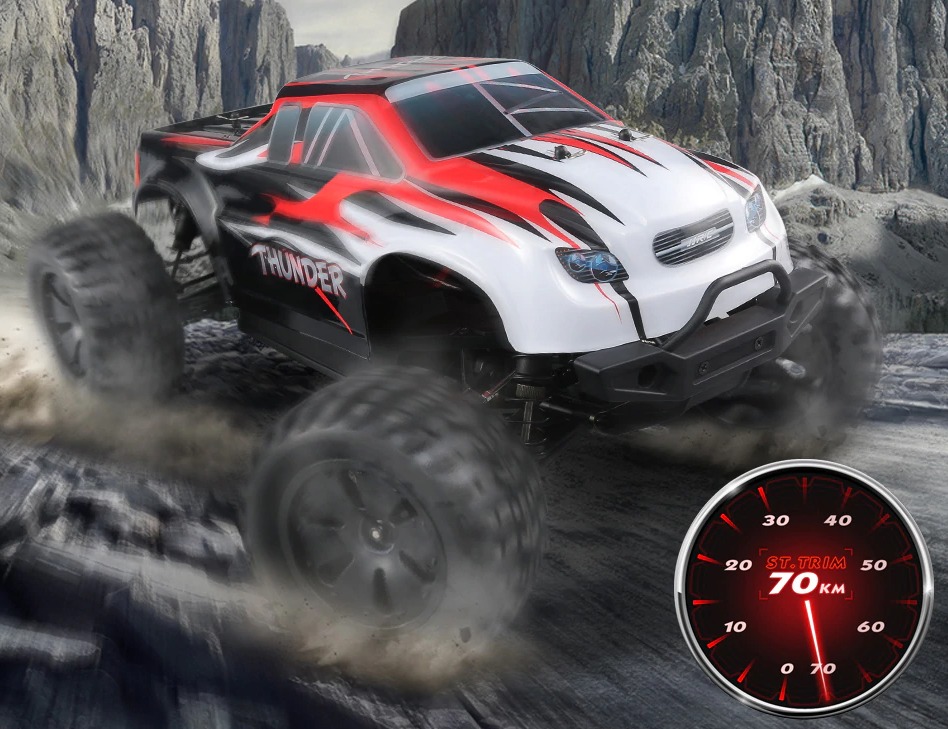 MODIFIABLE CAR BODY WITH AVAILABLE HOLES
The front fender has been designed with available holes for LED lights, which allow amateur players to upgrade or modify the car in their own manner.
FOUR-WHEEL-DRIVE SYSTEM STRONG POWER SUPPLY
The Four-wheel-drive system maintains traction balance and ground clearance as well as affects vehicle handling and drifting.
SLOPED DIFFERENTIAL BETTER CAR STABILIZATION
The front and rear differentials help stabilize the vehicle while turning on a curve.
COILOVER SYSTEM FOR EFFICIENT SUSPENSION
The JJRC Q48 RC car adopts a coil-over system, which is used to adjust the ride height and the spring hardness and works through the collaboration of spring and damper to provide tight grip onto the ground.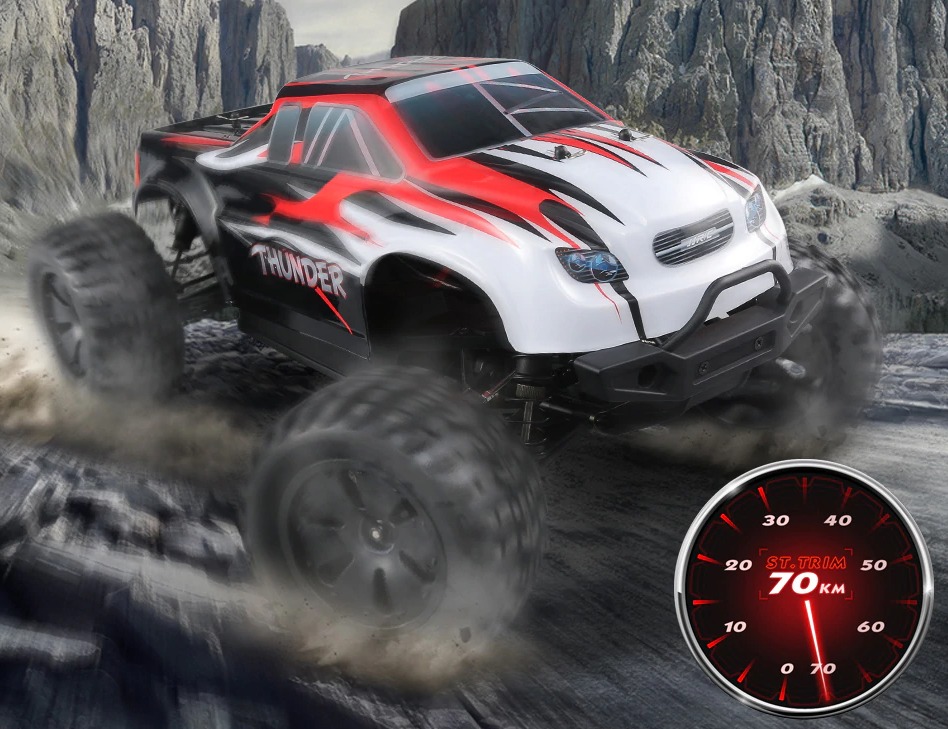 2.4G FULL SCALE SYNCHRONOUS REMOTE CONTROL SYSTEM
Various functions like forward, backward, left and right steering braking drift and speeding up.
LIGHTWEIGHT CONSTRUCTION
The aluminum alloy high chassis helps overcome obstacles in the way, and both of the front and rear bumpers are thoughtfully designed with cavity buffer as to reduce the impact of shock and collision.
ROTATING WHEELS TO PREVENT HEAD TILT WHILST ACCELERATION
The rear of JJRC Q48 is furnished with two rotating wheels with the consideration to prevent the front of the car from rearing up whilst boosting the speed which is very likely to lead the whole car to tilt.