JUNSUN H11 10 Inch 1080P Auto Parking Monitoring Cyclic Recording G Sensor Dual Lens Time & Date Display Car DVR
Junsun also makes more serious touch-screen car cameras (DVRs) that replace the standard rear-view mirror and display the rear camera image, but there is also a front camera that can capture the image. The JUNSUN H11 is also a nice solution, but it is still available for $76.99.

The essential part is exactly like a rear view, but it has a 10 inch screen with a 920 × 1080 pixel resolution. Of course, it gives you a separate rear camera while the front camera is in the rearview.
Automatic seamless video recording in a loop for effective use storage, with the earliest unlocked video clips overwritten upon reaching maximum memory card capacity.
When someone near your car or vehicle starts to move, Automatically turn on and start recording when detects any impact or collision the device automatically automatically recording for few seconds, make sure 24hr Parking Guard.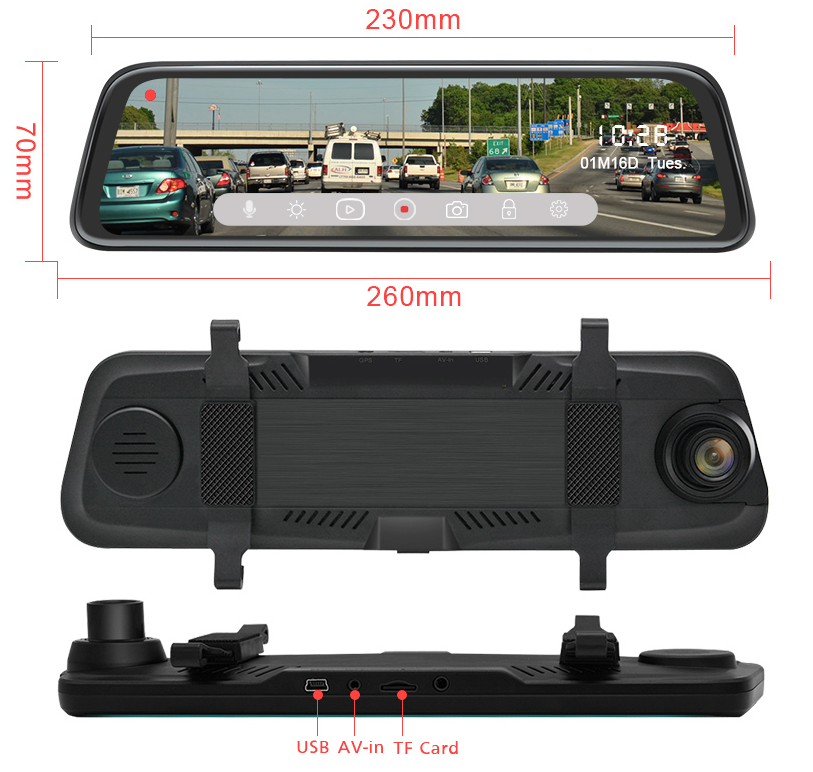 Overview of JUNSUN H11 Functions:
Can be used as car camera, DVR. So you can record videos and watch them later. Captures videos on a Micro SD memory card.
It is capable of continuous recording by overwriting old videos
But if necessary, lock the recording and do not overwrite it.
The G-sensor can detect sudden motion changes and start recording can be used in a parking lot and starts recording when the car is moving or something hits.