KDS AGILE A5 6CH 3D Flybarless 550 Class Belt Drive RC Helicopter
AGILE A5 is a 550 class remote control helicopter newly introduced by KDS Company. It has been greatly improved on the basis of the original AGILE 5.5. The flight weight of the whole helicopter has been reduced from 3.6 kg to 3.2 kg. By adjusting the arrangement of the steering gear and the redesign of the fuselage structure, the center of gravity of the aircraft has been raised and lowered, and the flight performance has been greatly improved. You can choose either a medium or standard steering gear by replacing a random cross-disc steering gear retainer.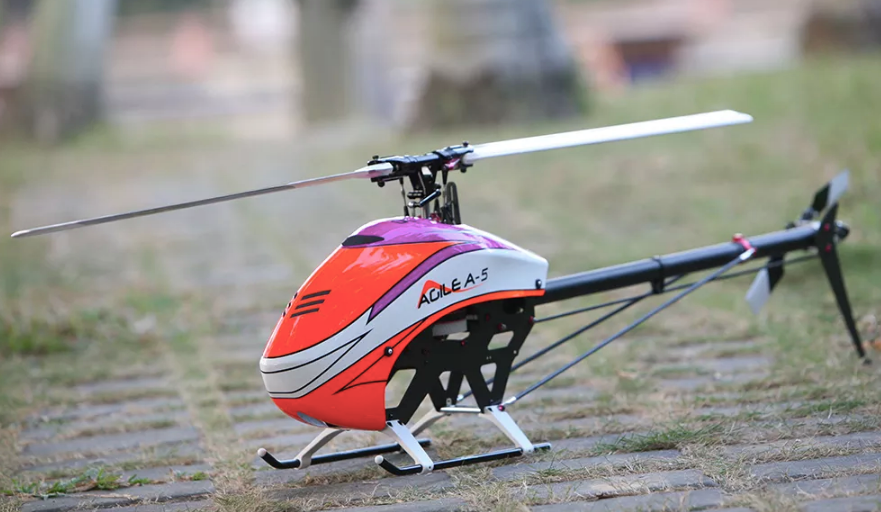 The AGILE A5's fuselage follows the lines of the A7 and looks like a reduced version of the A7; The battery is mounted in the same manner as AGILE A7 with a forward plug-in quick mount structure. It also changed from the original tail drive to the belt drive, the 7MM broadened belt effectively prevented the tail drive gear jumping phenomenon, while the A5 also retained the original 5.5 model of the accurate tail push system.
Aglie series remote control helicopters have always maintained the special high-versatility accessories, many accessories and the original Agile 5.5 and now A7 general, so that has purchased AGILE products lovers to save a lot of maintenance costs; The new bright color hand-painted headgear has changed from the previous dark color system, making flight recognition in the air significantly improved.