KODLIX GK45 Intel Gemini Lake J4105 Desktop Mini PC
The Kodlix GK45 is a classic MiniPC with a minimal footprint: 13.6 cm wide for 12 on the side and 4.6 cm thick. In this space, the brand has managed to integrate no less than three removable storage elements but also a very good connectivity.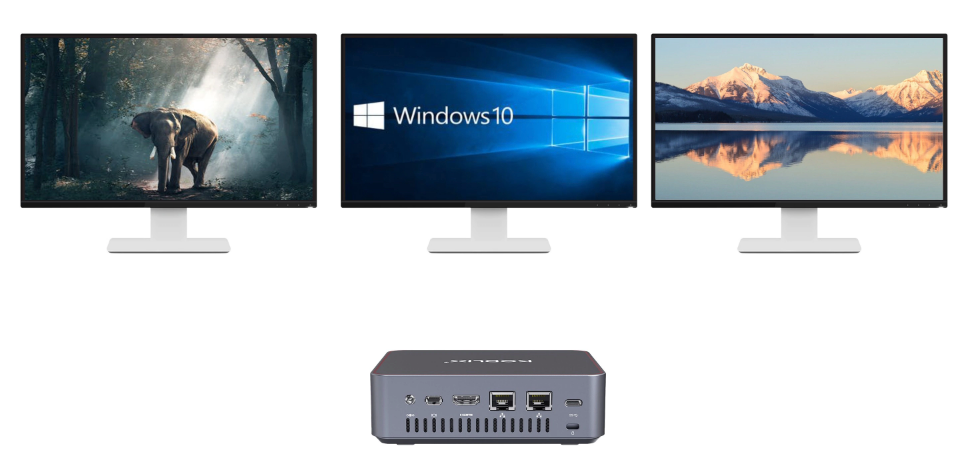 The Kodlix GK45 features an Intel Celeron Gemini Lake J4105 processor. A quad-core chip clocked from 1.5 to 2.5 GHz with 4 MB of cache memory that runs on a stable 10 watt TDP. A circuit that also includes an Intel UHD 600 clocked from 250 to 750 MHz for its graphics part. With 12 execution units, this solution can drive up to 3 UltraHD screens, which positions it for many uses. Unfortunately, it is not fanless unlike the previous model of the brand. But with 10 watts to dissipate, we can hope for a relatively quiet machine.
Kodlix became aware of this by integrating three display outputs on its machine. The Kodlix GK45 offers an HDMI 2.0 port, a Mini DisplayPort and a USB Type-C port that supports the display. The three outputs will be able to drive an UltraHD screen at 60 frames per second for a very complete use in screen sorting if desired. Of course, the machine can also be used to display on a television set or to drive two monitors in a more traditional office automation station. But for programming or working on images, driving three separate displays can be interesting.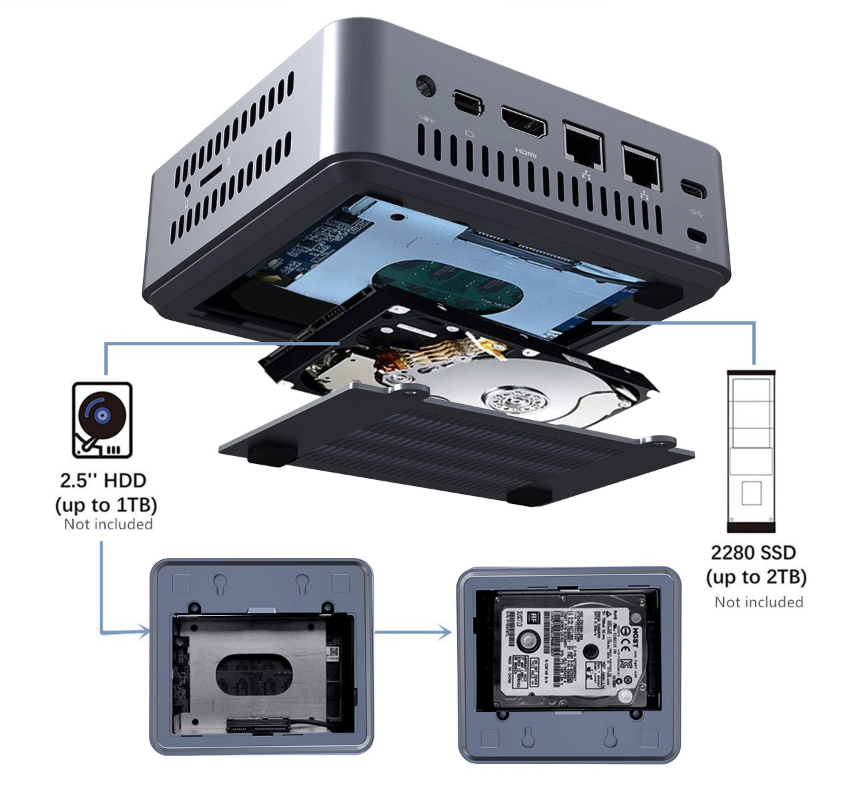 The RAM is not huge, only 4 GB of DDR4 and it is soldered to the motherboard. It's a shame not to have integrated more memory or tried to slip a So-Dimm slot into the device. Going to 8GB would have offered much more comfort for some uses, although the 4GB is sufficient for most of the tasks that will be assigned to the Celeron onboard.
The Kodlix GK45 also offers a dual Gigabit Ethernet port to drive two networks independently. For example, you can connect to the Internet on one side and control a local network independently on the other. The rear panel also shows the presence of a Kensington Lock anti-theft device to prevent the small case from disappearing and the arrival of the 12 volt and 3 amp jack power supply.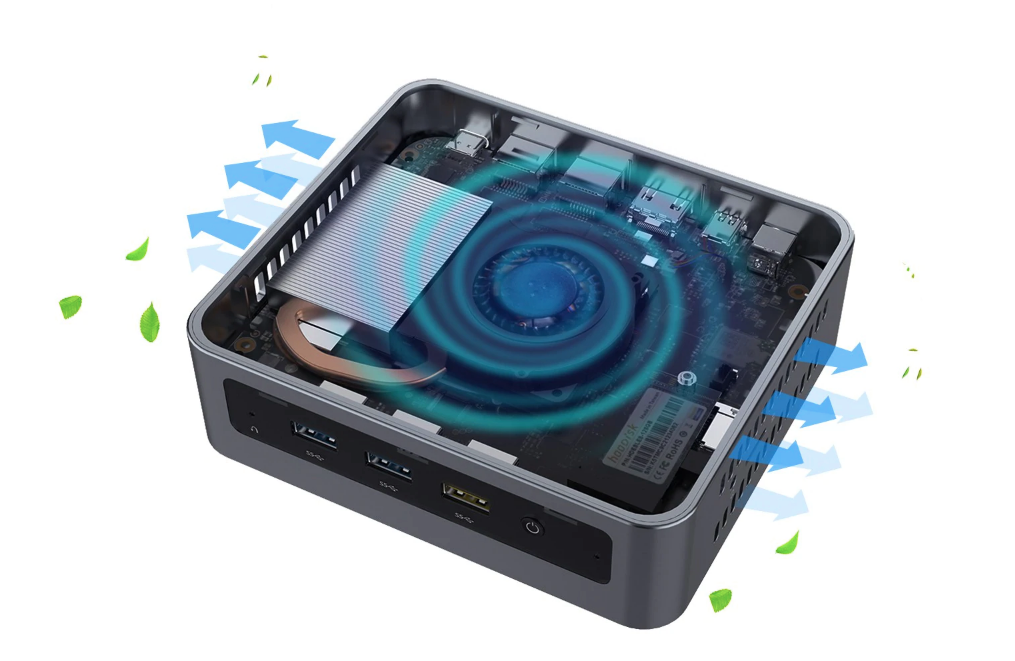 On the front panel there are three USB 3.0 type-A ports, the yellow one seems to provide a charging function that will allow you to power a device even when the PC is turned off. A practical detail for charging a smartphone or other device via the machine's USB. There is also a microphone on the front panel, a reset button and the start button of the machine. No port jack on this Kodlix GK45? If, the 3.5 mm audio jack port is present on the right side of the device next to a MicroSDXC card reader.
But one of the strengths of this MiniPC is the ability to access its multiple storage solutions. Comes with a 64 GB M.2 2242 SSD it also allows the addition of an M.2 2280 unit and a 2.5″ classic SATA storage. Both locations are accessible via a hatch underneath the machine. It will therefore be possible to greatly extend the storage of the solution for various uses. One can easily imagine the interest of a device of this type under a television set with the possibility of connecting to two different networks: A NAS on one side and the Internet on the other. Substantial storage for local content, UltraHD HDCP HDMI output for the display. A Wifi5 is also present as well as a Bluetooth 5.0 to control Bluetooth speakers or various devices such as remote control or keyboard.
Nothing revolutionary then in this Kodlix GK45 but a well built machine for various uses that will range from multimedia to complete office automation. The Celeron J4105 is a good processor that will not offer you much gaming possibilities but offers great performance for classic uses: Test processing, non-professional photo retouching, streaming, video, surfing and more should be comfortable.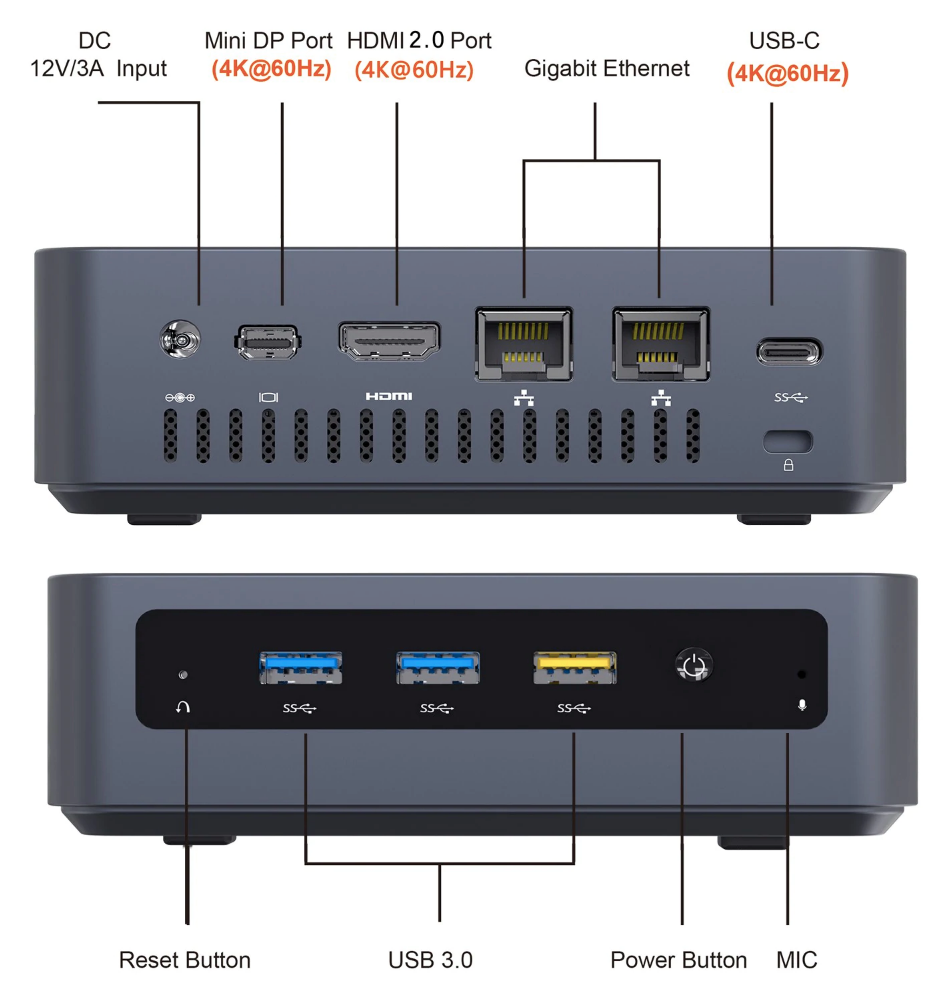 At $239.99 in import, the Kodlix GK45 also represents a minimal basic investment for presentation purposes. A workstation of this type will probably be perfectly suited to drive 3 displays in a window or a user, user and presentation scenario for example.
If you are not interested in the triple screen, neither is the dual Gigabit Ethernet port. The Beelink Gemini X45 can also be a good alternative. It has the same Celeron processor but with 8GB of DDR4 and 128GB of storage on SSD 2242 mSATA with always the possibility to add a second storage 2.5″ SATA. It is generally available for less than $196.99.