KINGKONG/ LDARC 90GTI-HD 98mm 3S 2 Inch Whoop FPV Racing Drone
LDARC's latest addition is a Tinywhoop-type nano racer, 9.8 cm diagonal from motor to motor. It is based on a 3 mm thick carbon structure, which therefore promises to be shock-resistant. It houses propeller protections to which the motors are fixed, brushless 1105 to 5000KV for 2 inch 2035 (and 2045) propellers. The ESC is a 4-in-1 20A BLheli_S model associated with an F411 flight controller flashed with Betaflight, with an active OSD. An LED at the back allows you to see the racer during races, and a buzzer makes it easy to find the device. A neatly designed fairing protects – in part – the on-board electronics.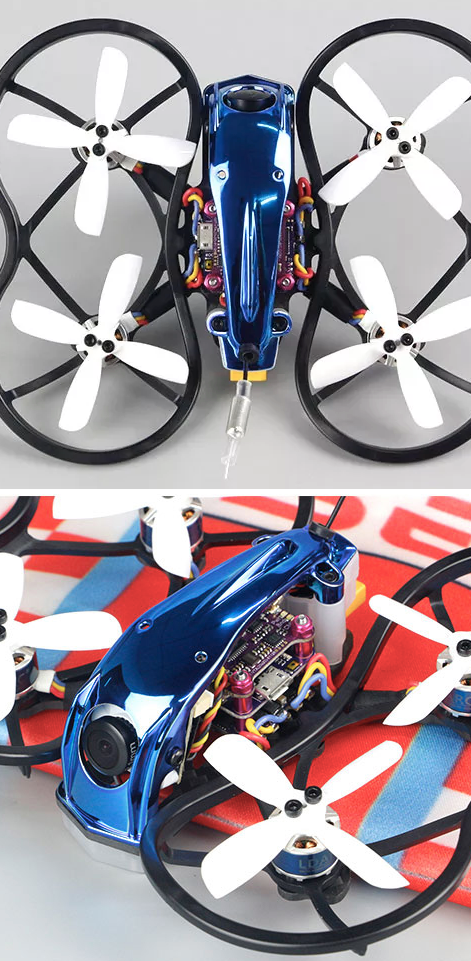 The 90GTI-HD is equipped with a Caddx Turtle V2 camera, a hybrid model capable of providing real-time FPV video feedback, and both recording 1920 x 1080 pixel images at 60 frames per second on an on-board microSD card. LDARC also offers a 90GTI-FPV version that replaces the Turtle V2 with a C1200 camera, only designed to provide real-time video feedback. Both cameras can be tilted. The video transmitter is a 5.8 GHz model compatible with 48 channels, with a power of 0 mW (pitmode), 25 mW (the maximum allowed in France), 100 mW or 200 mW.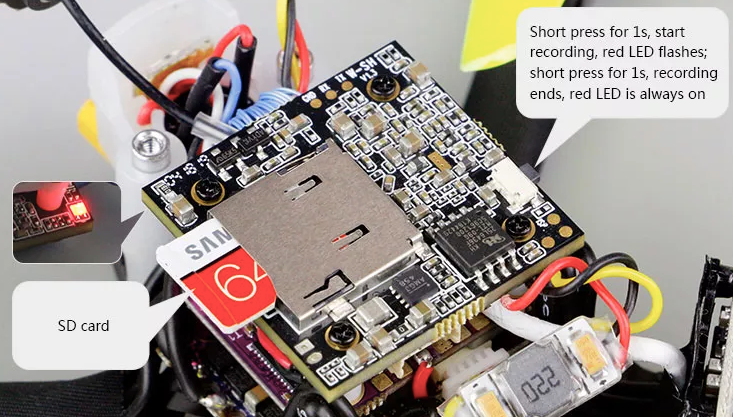 The radio receiver is common to both versions, it is the AC2000. It features a double module (with 2 antennas) and compatibility with 3 protocols: Futaba S-FHSS, FrSky D16 EU-LBT and Non-EU. It also offers the support of the CISSO. The 90GTI-HD weighs 83.7 grams on the scale without the battery – count 74.1 grams for the 90GTI-FPV version. A Lipo 3S 530 mAh battery with an XT30 connector is supplied in the box. There is also a support for take-off.