Magicsee N5 NOVA TV Box 2.4G Voice Remote with Air Mouse
Once again, the Asian firm Magicsee offers us another opportunity to acquire a complete TV Box at a very good price. This is its most recent bet, Magicsee N5 Nova, whose main attractions we find in the inclusion of Android 9.0 series, and a novel search function through fast voice commands.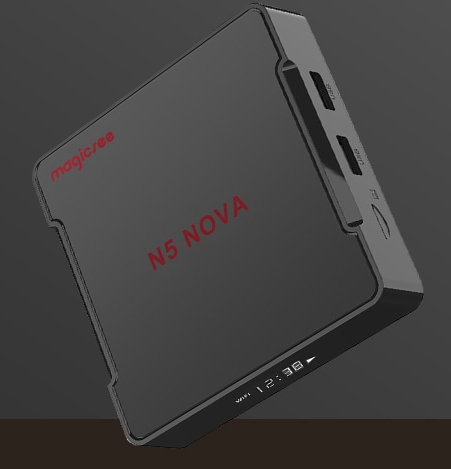 And in our analysis/review/review/review of the Magicsee N5 NOVA, we will go deeper into these and other outstanding features of this new TV Box 4K, which you can buy at an incredible price, thanks to this GearBest flash offer, in force for a few days or until stocks run out.
If you're looking for a 4K TV Box with state-of-the-art features, but can't afford a top-of-the-range model, then the Magicsee N5 NOVA is just what you need, allowing you to enjoy your multimedia leisure time, hand in hand with the outstanding Android Pie 9.0 software.
In addition, thanks to its compatibility with wireless technology, Bluetooth 4.0, and the protocols AirPlay, DLNA and Miracast, you can dock peripherals and play content from your mobile on the big screen, including photos, videos, games and applications, among others.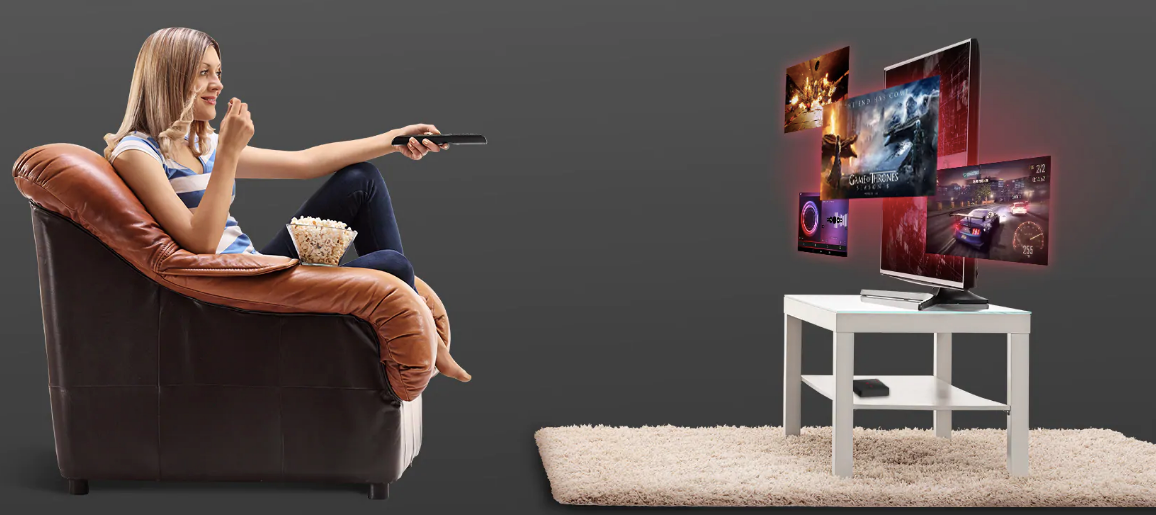 We begin our review of the Magicsee N5 NOVA, highlighting the benefits of an aesthetic section that is defined by a resistant plastic construction, whose matte black finish and rounded corners will make it look very elegant next to the living room TV.
Also, this TV Box promises not to occupy large space, since it benefits from dimensions of 13.4 centimeters (length and width), a height of only 25 millimeters and net weight of just 170 grams.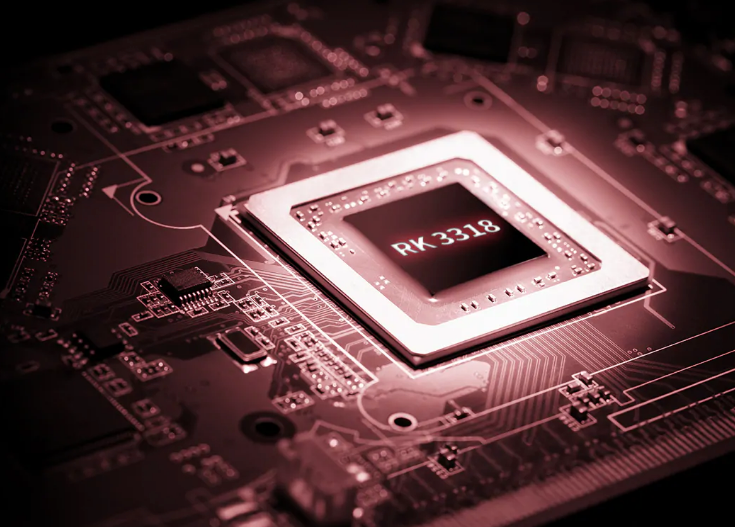 In addition, the incorporation of a small LED panel that shows the current time and status of the connection to the network, and 4 points of contact at the bottom, to prevent it from moving from its place.
Among its hardware components, we find the 4-core microchip, Rockchip RK3318, running at a base frequency of 1.50 GHz, and supported by an efficient RAM memory of 4 GB and the ARM Mali-450 graphics controller.
With regard to the storage of the Magicsee N5 NOVA, an internal memory of 64 GB is added, which, if it is insufficient, you can expand through the microSD card slot, and thus store a greater amount of photos, videos, songs, applications, games and other multimedia content.
We continue in our analysis of the Magicsee N5 NOVA, highlighting the successful integration of Android Pie 9.0. This is the latest update to Google's flagship operating system, whose user interface has a much more attractive, intuitive and user-friendly design.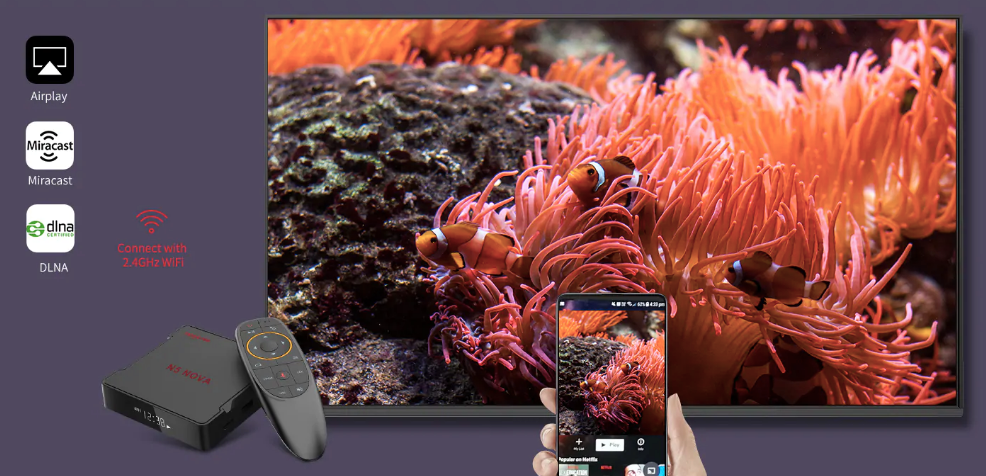 In this way, you will be able to consume a wide catalogue of multimedia contents through such popular apps as YouTube, Netflix and KODI, play Android titles that are not very demanding, and download even more applications available in the Play Store.
As well as offering excellent performance, the integrated Rockchip chipset is capable of decoding native 4K (H.265) content and playing it back at a stable rate of 60 fps, provided you connect the TV Box to a TV or monitor that supports that resolution.
On the other hand, thanks to the built-in digital microphone, you can search the Internet through quick voice commands by pressing the corresponding button on the included remote control.
The connectivity of the Magicsee N5 NOVA, is summarized in the inclusion of wireless technologies Bluetooth 4.0 and Wi-Fi 802.11ac, operating at 2.4 and 5 GHz, an RJ-45 port for wired Internet connection, and 2 USB inputs (2.0 and 3.0) to connect peripherals and external hard drives.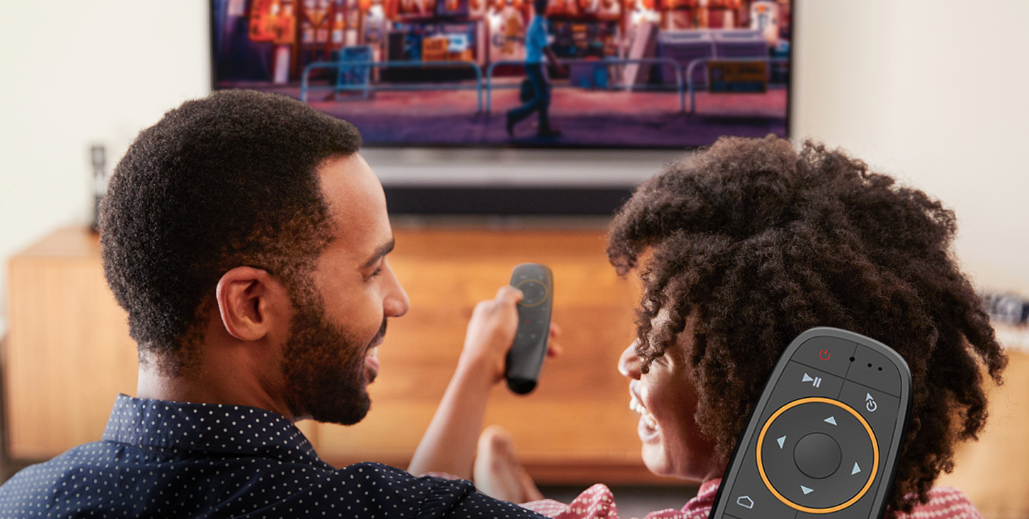 Likewise, the video, HDMI 2.0 and AV outputs, a digital optical audio connector (S/PDIF), a microSD slot and support for AirPlay, DLNA and Miracast, to play content from your mobile, on a large screen and without the need for cables, could not be missing.
In short, in this analysis of the Magicsee N5 NOVA we have known in depth the features of a whole shopping success, ideal for those looking for an all-in-one TV Box, which transforms the conventional lounge TV into a complete home multimedia entertainment center, for an incredible price.