MINISFORUM U300 Intel Celeron 3867U Mini PC
The Minisforum U300 is the twin brother of its big brother the U500 and uses exactly the same chassis and the same basic components. We thus find identical connectivity and the same functionalities. The big difference between the two solutions is therefore only due to the embedded processor.
We go from a Broadwell Core i3-5005U chip launched in 2015 with two cores and four threads running at 2 Ghz with 3 MB cache and an Intel HD 5500 graphics circuit in a 15 watt TDP envelope for the U500 to a Kaby Lake Refresh Celeron 3867U processor launched in early 2019 by Intel which runs on two cores and two threads at 1.8 GHz. On paper, the second chip is much lower in computational performance with only 2 MB of cache memory, it is slower in test software. But in practice, given the target of this type of machine, it should not differ greatly in use.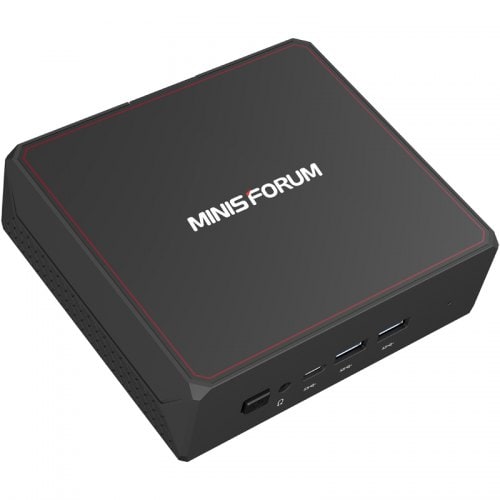 The technical performances of these two processors are very similar because their computing capacity on a single thread is identical. As the Minisforum U300 aims at a low level of desktop PC use, this should not necessarily be felt. For example, a word processing software or a web browser works as a simple Thread, unlike heavier applications or some games. To launch an office automation software, therefore, we will not necessarily feel a gap between the two chips.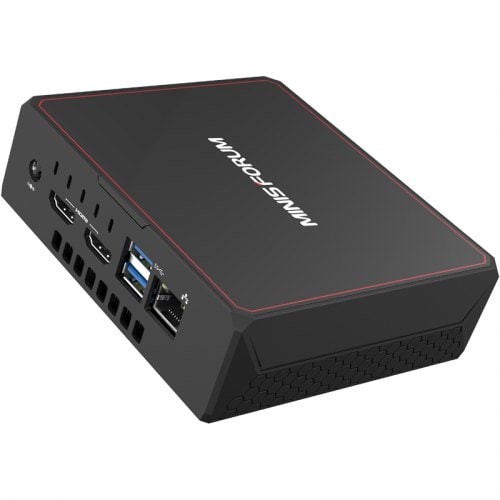 However, the big difference is that it is the processing capacity of the graphics chip that will change enormously. The HD 610 on the Kaby Lake R chip has been completely redesigned compared to the Broadwell solution. It is now able to support much more complex formats such as H.265 or HEVC Main 10. All in a 10-bit color depth. The VP9 format used by Google on Youtube is also supported. This solution is also HDCP 2.2 compatible, which opens the doors to many UltraHD Streaming solutions including Netflix.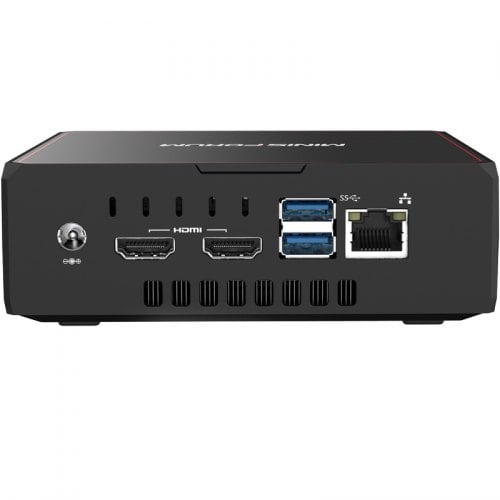 As you will have understood, the Broadwell core of the Minisforum U500 is theoretically faster for heavy use. Uses that should not be specifically sought with this Minisforum U300, but the U300 solution will be more versatile for today's uses with better video support for example. This without impacting the actual performance of traditional applications such as a navigation or office automation session. From a gaming point of view, both solutions will be able to support old games or low-grade titles released recently by reducing overly demanding graphics capabilities.
Both the Minisforum U300 and U500 offer interesting components, both offer 8GB of DDR3L RAM with a 128GB SSD base in the scalable M.2 2280 format. This storage, which includes the pre-installed Windows 10 system, will be supported by a 2.5″ SATA slot to add a high-capacity mechanical disk or a second SSD. This operation will be done by opening the upper part of the machine.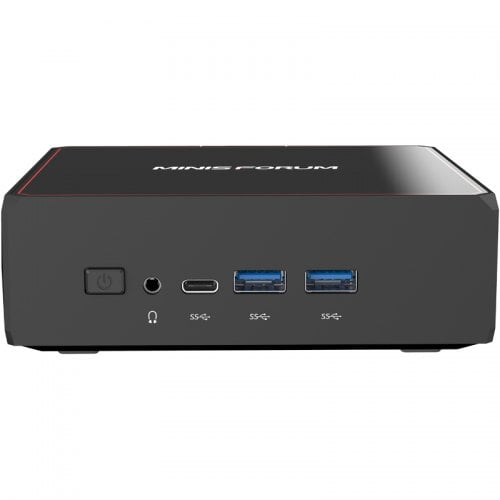 The rest is classic, the small box 12.2 cm wide by 11 cm deep and 4.3 cm thick offers a standard but complete connection system. On the front panel, there is a USB Type-C port with two USB 3.0 Type-A ports. A 3.5 mm stereo headphone jack is also available as well as the engine start button.
On the rear panel, there are two HDMI 1.4 ports (HDCP and CEC) to drive two displays, two other USB 3.0 Type-A ports and a Gigabit Ethernet output. Both devices offer Wifi5 and Bluetooth 4.2 driven by an Intel AC 3165 chipset on a M.2 2230 port, and a MicroSDXC card reader is also available on the side of each device.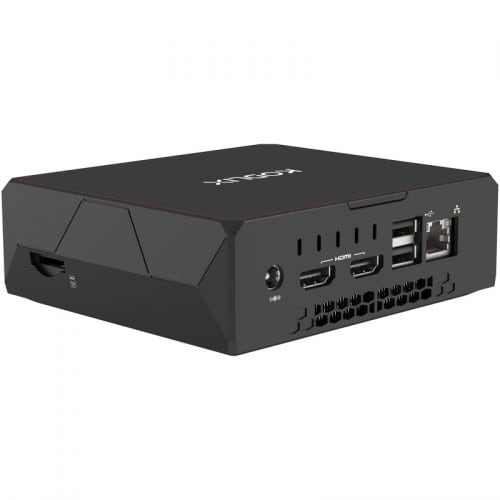 The cooling of the machines is active with, as can be seen in the photo of the rear interface, a ventilation hole showing metal fins. The fresh air, drawn in by a fan, will therefore be pushed through these fins to cool them. They themselves will transmit the heat produced by the processor.