Niubility B12 Folding Electric Bike
NIUBILITY is a Chinese manufacturer that we are already familiar with, their variety of scooters and electric bikes have put the brand on the radar, so their products are worth considering when choosing an alternative for urban mobility. With that said, this time we will get to know one of their most solid offerings so far, the NIUBILITY B20, a 20-inch folding electric bike with a 350W motor and that can provide rides of up to 50 kilometers; that's not to mention that it is equipped with a Shimano gearbox and a variable speed system, all this and more for a price that rarely exceeds 800 USD in most stores, so we can add the affordability factor to its list of virtues.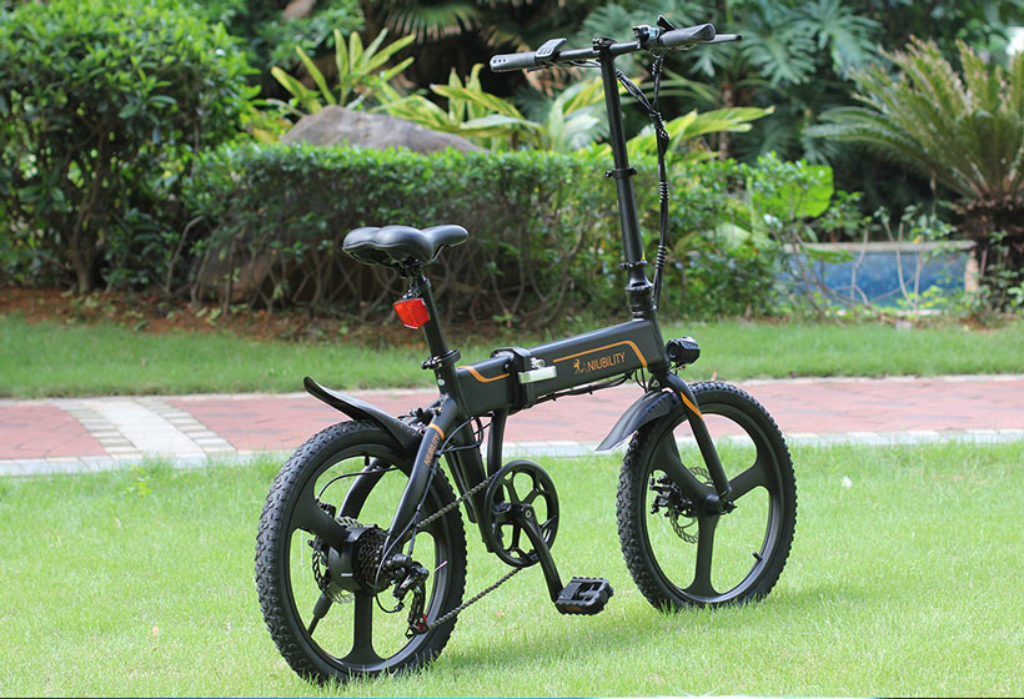 Likewise, another excellent option to consider from the same brand is the Niubility B12, which, although it is 12 inches, is a more economical alternative, but equally recommendable.
As you can see, the NIUBILITY B20 is an electric bike with 20-inch wheels, which is built to circulate in urban routes. As expected, the frame is made from an aluminum alloy and metal in certain parts; this frame protects the battery inside, protecting it from external elements. And speaking of protection from the elements, this bike has an IP6 rating, which is not great, but we can't expect much from a non-mountain bike.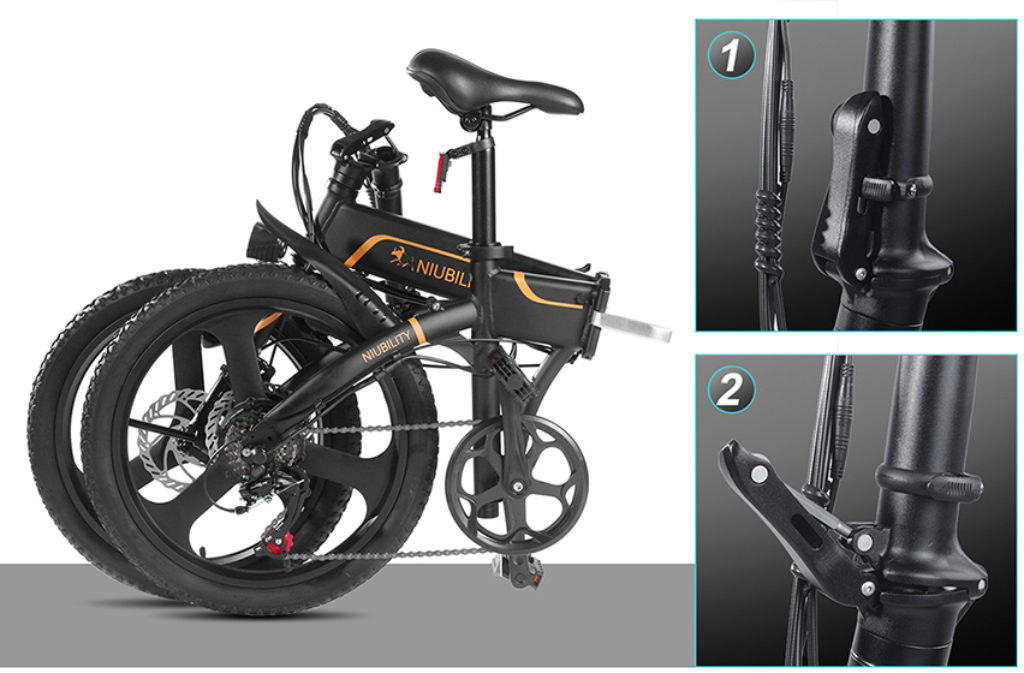 One of the main selling points of electric bikes like this one is usually the ability to fold for easy storage or transport in the trunk of the car. The NIUBILITY B20 doesn't miss the mark and allows us to fold it in half, which temporarily reduces its size to 92 x 35 x 118cm (150 x 24 x 118 cm). The weight obviously remains the same, 21 kilograms, that said, it is relatively light.
Unlike other models from the company, such as the B12 or B14, this one does not have a remarkable damping system, which is disappointing considering that even cheaper models do have this feature. Despite this, the saddle is still adjustable in terms of height (up to 10cm).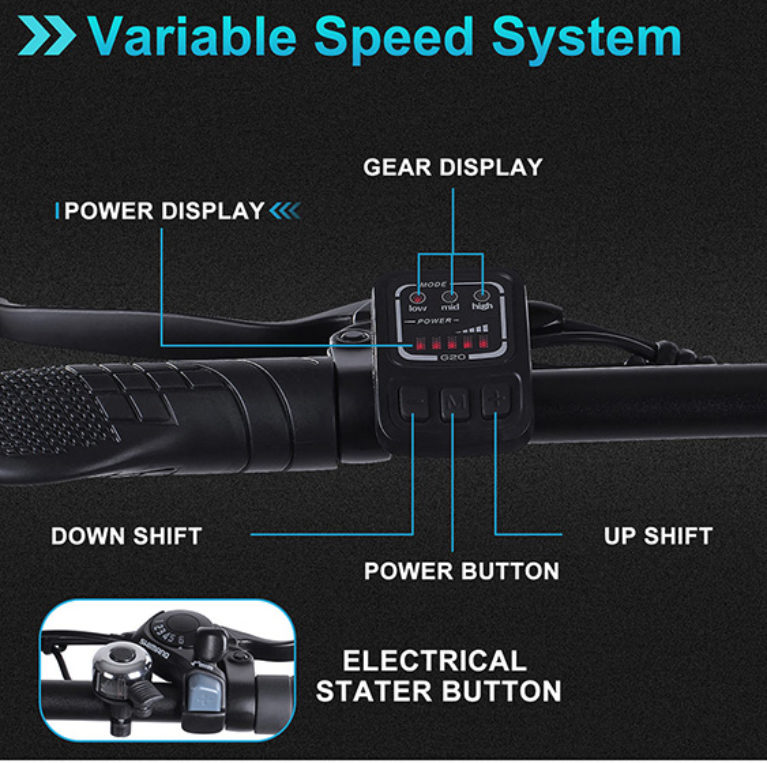 If we detail the handlebars, we get an electric start button on the right handlebar, just below the gearbox. Meanwhile, on the left handlebar is located the display, and objectively we can say that it hardly shows any useful information… it doesn't even inform us of the current speed, only the engine mode and power.
In the case of the NIUBILITY B20, the manufacturer has chosen to install a 350W brushless motor, which delivers a maximum speed of 25 kilometers, the usual in this price range and the limit established by the DGT. The advantage over other models is that it has an electric start button without having to pedal.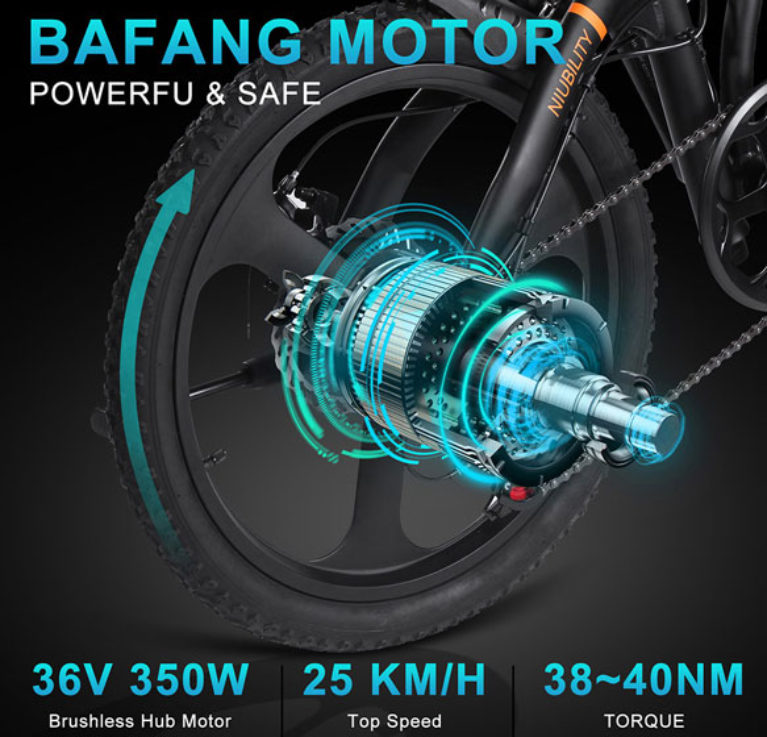 In this order of ideas, the bike is capable of supporting loads of up to 120 kilograms and has a torque of 38-40nm. On paper this last figure sounds good, but in practice it falls short, since the specifications warn us that it can only climb slopes of 12° degrees in electric mode, which is disappointing.
Negatives aside, the B20 is equipped with a Shimano 6-speed gearbox and a KMC branded 6-stage variable speed chain, so in this respect it is well endowed.
Safety is guaranteed by the presence of mechanical disc brakes on each wheel, as well as an LED lamp for night riding and a refractor at the rear.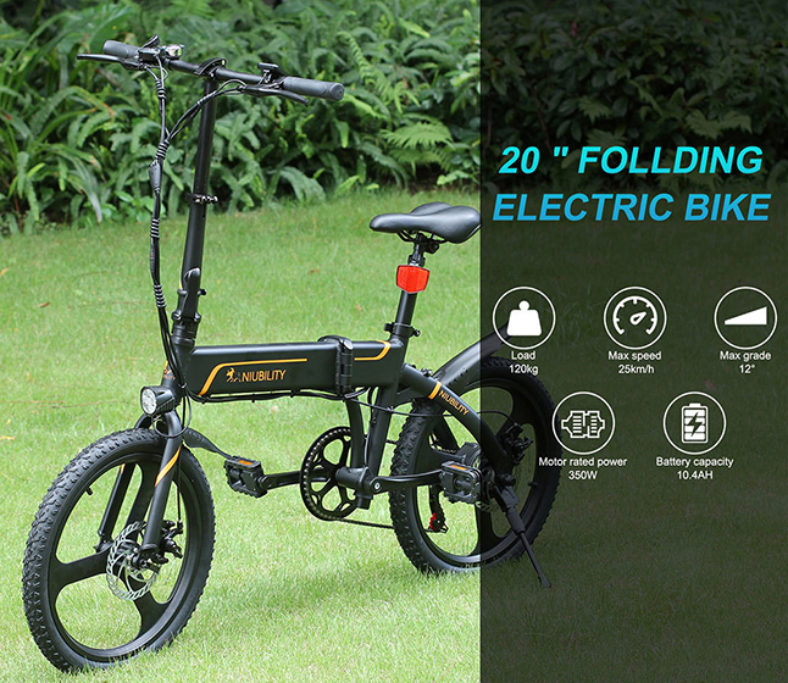 Overall, this is an excellent proposal for daily commuting in urban environments with paved roads, but even there, demanding uses will require a more robust and capable bike.
The NIUBILITY B20 is powered by a large capacity 42V/10.4AH battery, which promises a travel distance of up to 40 and 50 kilometers in electric mode, although as expected, this duration will fluctuate based on usage, bumps in the road and load carried by the bike. Likewise, we can extend this duration by pedaling ourselves and thus using the assisted mode.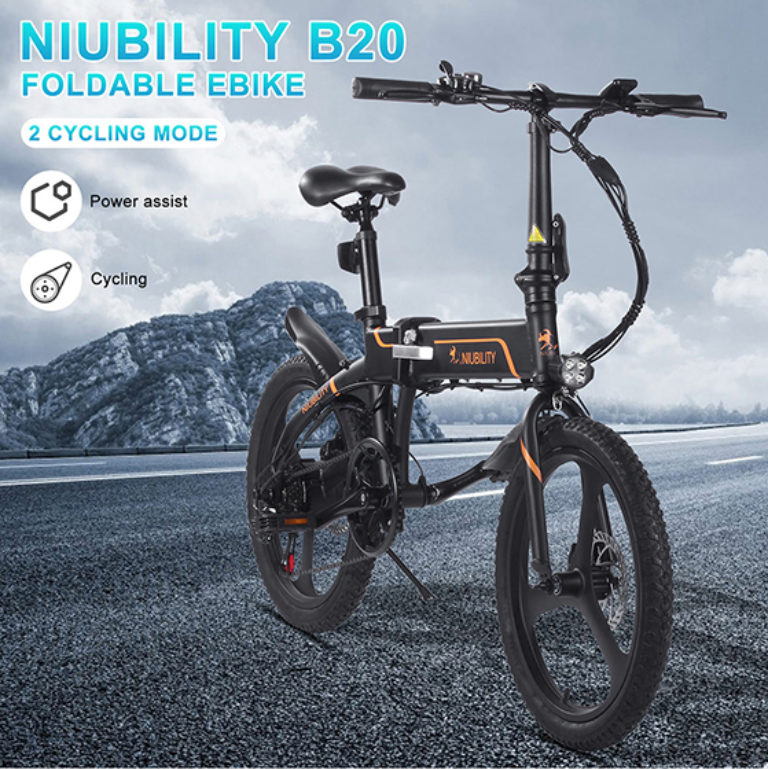 To replenish the battery we have a power cable, and the process itself takes about 4 to 6 hours, totally acceptable figures based on the range. The only negative thing we can say about it is that there is no precise way to know how much power is left in the battery, because as we mentioned before, the screen shows practically no useful data.