Oukitel OKT1 Tablet PC
There is a new addition to the ranks of tablet manufacturers. Oukitel introduced its first tablet with the laconic, but clumsy name Oukitel OKT1. In short, it is a typical low-cost, low-powered ten-inch tablet with LTE network support…
The weak link is the Unisoc SC9863A chipset. It's popular. Because it's cheap. Weak. Around a hundred thousand AnTuTu points. That automatically makes Oukitel OKT1 unfit for serious games. Memory is the normal amount for an inexpensive device. 4 GB of RAM, 64 GB of permanent. Support for memory cards is. Card tray, however, is a hybrid. But in the case of a tablet this is usually not difficult to accept.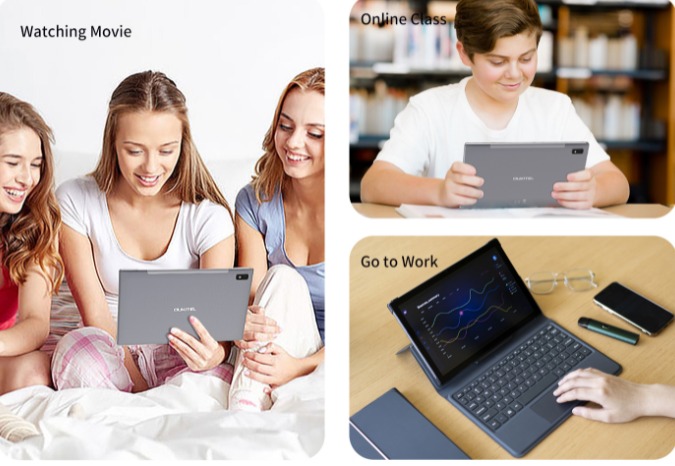 The classic IPS-screen diagonal 10.1″. Resolution is normal, 1920×1200 (224 ppi). Not a bad battery with a capacity of 6580 mAh. Single camera – 5 MP on the front, 13 MP on the back.
There is no information about the size and weight, supported Wi-Fi bands and Bluetooth version. There is support for LTE networks. True, without a seventh band. At the same time there is the twentieth. Strange. Usually the opposite is true.
They promise good and loud sound – there are two speakers. There is a pogo jack – you can strap on a keyboard, if you suddenly need it for something.
Oukitel OKT1 has already appeared on AliExpress (no, the search is not yet searchable, because the name OKT1 only drew on the picture and forgot to add to the title page). The current price is $174.99.
P.S. Oukitel OKT1 is almost an exact copy of tablets Blackview Tab 8 and Ulefone Tab A7…