Crazy, the OUKITEL WP15 Rugged Phone With 15600mAh Battery is coming
This is a new model in the Oukitel WP series, the typical toughness smartphone series that if you call out Oukitel! However, although we don't hear much about it these days, there is also the "Oukitel K Series" which is a product with a large capacity battery, and this new model "Oukitel WP15" may be appropriately considered as "WP15 + K15"!
In short, it's a high performance toughness smartphone with a large capacity battery, but it also comes with a variety of other little tricks.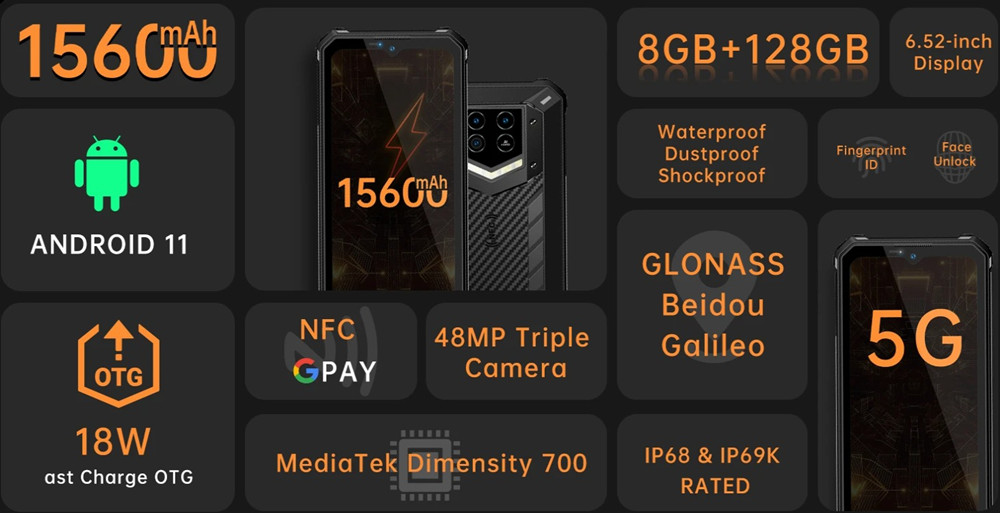 The WP15 not only supports 5G, but also it is an updated and powerful tough phone with a mid-range performance MediaTek Dimensity 700 CPU, large RAM and storage. I think it will run most games well. It also has a large 6.81-inch display with FHD+ high resolution.
The camera is also a Quad-camera including 16MP on the inside and 48MP on the outside, so we can expect good image quality, at least numerically.
At the beginning of this article, I wrote "Small technology", but some people may feel it is "Big technology" enough. This product is equipped with a laser rangefinder, which was also used in the DOOGEE S97 Pro that I introduced the other day, and can also be used as an Endoscope which is different from the endoscope used in medical equipment. The endoscope module is not included in the package.
The 15,600 mAh battery is the main selling point of this product, but it also supports 18W fast charging, wireless charging, and a "reverse charge" function (a function that allows you to use this product as a mobile battery to charge other devices). With this kind of capacity, it looks like you won't need to carry around a mobile battery anymore.
The bezel on the front is relatively thin, and the back is relatively quiet. The front camera is a punch hole, and needless to say, the phone is IP68 & IP69K waterproof and dustproof, and MIL-STD-810G rugged.