Pureatic V101 Smart Mute Home Ultra-thin Sweeping Robot
Advantages of Pureatic V101: Ultra-thin body, its height is only 2.95CM, it can easily achieve a variety of home bottom cleaning; sweeping drag: detachable mopping cloth design, sweeping, vacuuming, mopping one step in place.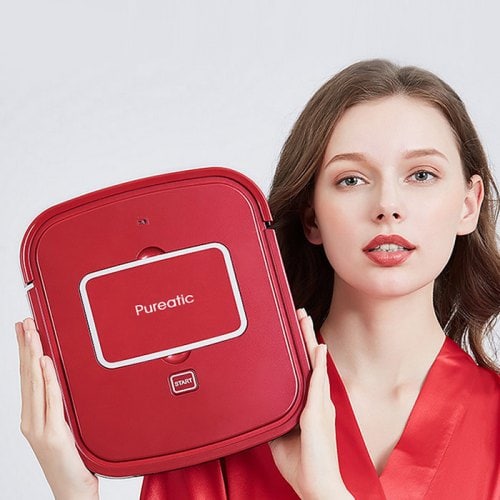 Product Details:
1. Ultra-thin body: The machine height is only 2.95CM, which can easily achieve various home bottom cleaning
2. Sweeping and dragging: detachable mopping cloth design, to achieve sweeping, vacuuming, mopping one step in place
3. Cleaning mode: random walking (changes according to the environment), walking along the wall
4.USB charging: standard Micro USB charging port, convenient and convenient, can be charged by computer, charging treasure, etc.
5 Square design: the corner is also completely cleaned
6. Brushless motor: brushless motor
7. Bass mute: less than 50DB low noise, do not disturb
8. Anti-collision and anti-fall: 6 ground inspection ports, built-in anti-drop induction adjustment window to prevent falling from the stairs
9. Top detection: It is found that the dark area will be cleaned repeatedly, such as the dust at the bottom of the bed, and the bed bottom will be repeatedly cleaned after identification.
10. Machine suction: 600Pa
11. Ultra low energy consumption: low power, energy saving and environmental protection
12. Upgrade the wheel: effectively protect the home floor and increase the use time
13. Filter material: Reusable with electrostatic filter, environmentally friendly and economical
14. Long battery life: 2000 mAh efficient and environmentally friendly lithium battery, longer lasting
15. Simple operation: One button is turned on, and the machine repeatedly switches the repeated cleaning function when it reaches the bottom of the furniture.
16. Increase the Bluetooth APP remote control function and improve various upgrades such as machine wheels.