RICH BIT H100 6Ah 36V 250W 16in Folding Moped Electric Scooter
I think the first time I saw such a scooter in Constanta, it looked like it was for rent. I hope I'm not wrong. I remember I found it very interesting even then and I was really sorry I didn't get to ride one myself. At first glance it looks like it would offer added safety and comfort, that's because of the rather large wheels. The rear wheel is 20 inches and the one on the back is 16 inches. Basically, we have bicycle wheels and handlebars and the chassis is scooter. An interesting concept, but it remains to be seen how practical it is.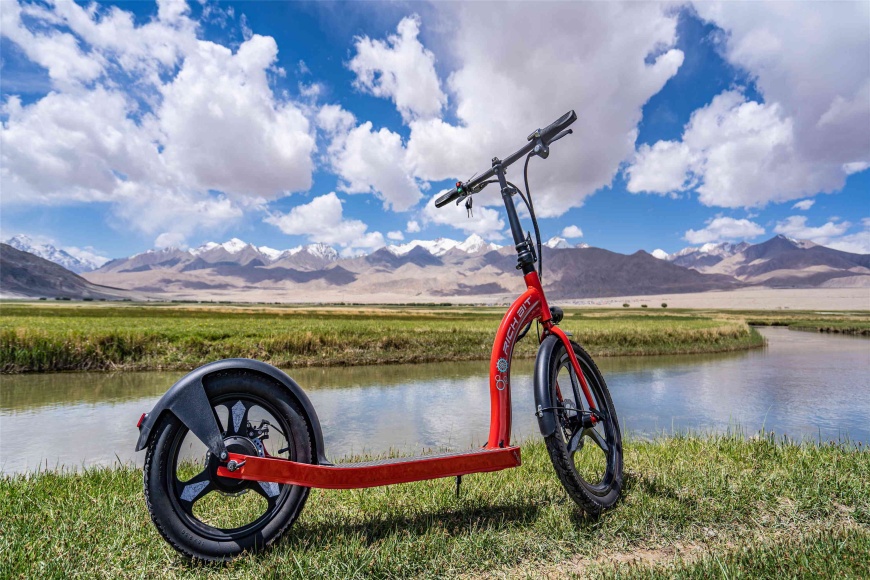 The design of this one is unique, but I'm sure not everyone agrees with me, considering I haven't seen many of these models on the streets. One of the reasons I think is the lack of portability. Usually, scooters are chosen by those who want a compact, foldable and portable means of transport. In contrast, the Rich BIT H100 is not exactly the most compact or portable electric scooter.
I say that because the scooter is only partially foldable, and that means only the handlebar part can be folded. It's not an electric scooter for those who don't have enough storage space. In terms of safety, the scooter has front/rear disc brakes as well as electric horn and LED headlight. On the handlebars we find a small display, throttle lever and key contact. I believe the handlebars are identical to the first generation Fiido bikes.
The wheels are pneumatic and their size promises a comfortable and safe riding experience. The motor is 250W, integrated into the rear wheel, which gives the scooter the ability to reach a speed of up to 25 km/h. The battery is only 6Ah, so we can't expect a range of more than 20 kilometers. Surely more people would have found themselves keen on such a scooter if the range was a little better.