SJCAM SJ9 – a new 4K Action Camera
Action cam manufacturer SJCAM surprisingly announced a new camera on Facebook on Friday 15 March. The camera is expected to be named SJ9.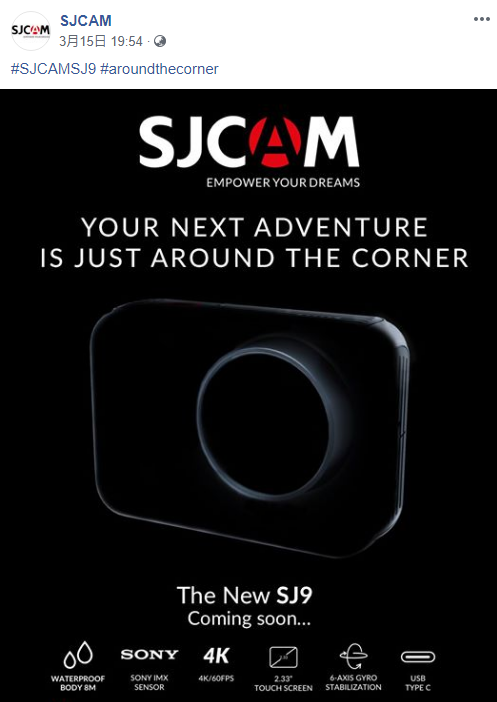 However, there is not much information yet, the announcement is limited to a single graphic with some technical details. A Sony IMX sensor will be on board, but that doesn't mean anything yet. The Cam will support 4K at 60 fps, which in 2019 isn't a special feature anymore, but the minimum you have to deliver if you want to play at the top. Even with its predecessor, the SJ8 Pro, SJCAM didn't really succeed in offering a real alternative to the top models from YI Technology and GoPro, even though the camera did well in our test.
More interesting might be how good the image stabilization is and up to which resolution it is possible. But at this time there is nothing more detailed about it.
We're talking about a touch screen, which is now established as a standard, and a USB-C port. Interesting is the feature that the camera seems to be waterproof even without a special case.
SJCAM used to be the benchmark for action cams from China, but those days are long gone. It's nice to see that they're working on a new model here, but that might come a bit too late like the SJ8. Either you need an absolute killer feature that the competition doesn't deliver yet (unlikely), or the price has to be significantly lower than the competition. In addition, everything has to be technically flawless, the last model also had problems in this area. It's still too early to judge what will become of the SJ9 at the end.
The SJ8 has been postponed over and over again, so we remain sceptical whether the SJ9 will really appear "soon", as the picture promises. This brings us to SJCAM's biggest competitor from China: YI Technology, which should also bring a successor to the YI 4K. No matter: We will keep you up to date when more information becomes available.
Finally, SJCAM officially declares: The whole SJ9 series will be waterproof without the case. Plus, they will have amazing silicone cases for additional protection + extra waterproof cases for deep water diving!