STP FLIGGY 147mm RC Drone
Few manufacturers try to give a nice look to their micro racers. This Fliggy is a counter-example with its central fairing like a rocket. The manufacturer, STP, was until now mainly known for its accessories. The Fliggy is a complete, ready-to-use micro racer. It is based on a 4 mm thick unibody carbon structure with a diagonal of 14.7 cm from engine to engine. The propellers are 2.5 inch three-bladed Gemfan 2540 driven by A16 brushless motors at 4500KV.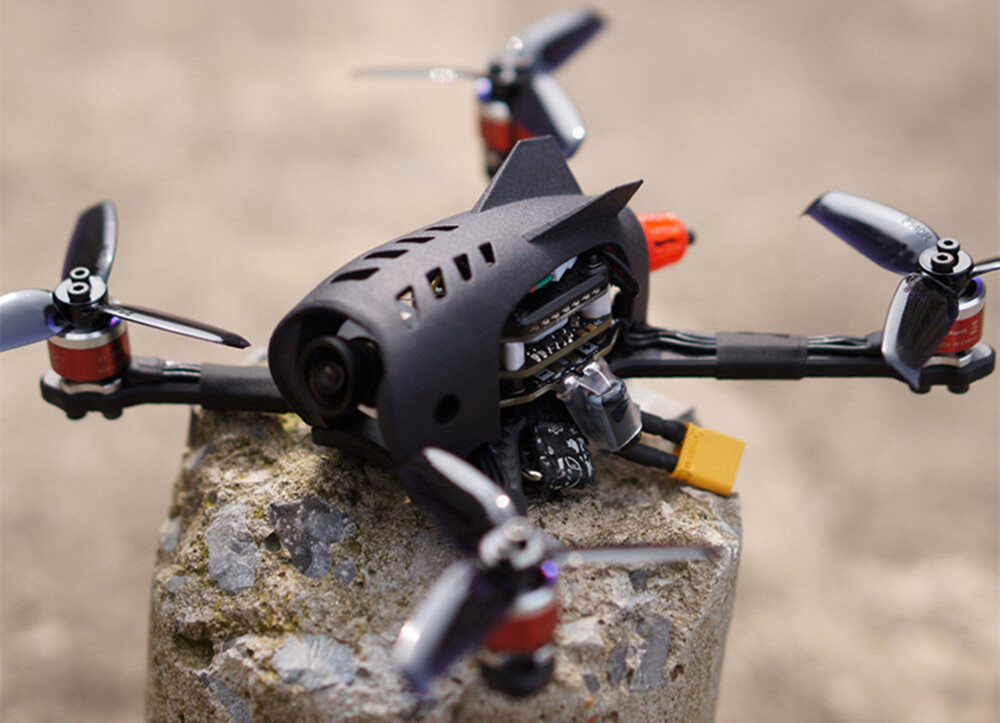 The heart of the Fliggy is a Rush F7 Mini Flight Stack flight controller. It has 3 stages: an ESC 4 in 1 of 30A BLheli_S Rush Matrix at the bottom, a Rush Core flight controller based on an F7 processor flashed with Betaflight and with an active OSD in the middle, and a 5.8 GHz analog Rush Tank video transmitter capable of transmitting on 48 channels, with a power of 25 mW, 200 mW, 500 mW and even 800 mW to go much further (where practice is allowed). The video antenna is a dipole connected with an Ipex connector. The camera is a Baby Turtle from Caddx, a hybrid that provides real-time video feedback for immersion driving, and at the same time records in 1080p at 60 fps on a microSD memory card to film in HD.
The weight of the Fliggy is 95 grams (without receiver, battery and propellers). It is sold without radio receiver, you have to add your own, and without battery. STP does not make any recommendation, but the flight controller supports Lipo from 2S to 5S – it is likely that the right format on this micro racer is a Lipo 4S of 650 mAh. The Fliggy is offered at $229.99.