Teclast M30 Tablet PC With Deca Core CPU
Tablets PC are now experiencing a similar fate as car navigation a few years ago, when smartphone apps such as Waze, Here, Google Maps, and TomTom or Garmin's products came to the fore. Convenience won. Everything available in one device, which we always have at hand. The trend towards ever-growing smartphone screens is the same for tablets. There is no point in splitting into two devices if you carry a six-inch phone in your pocket and the tablet in your backpack has only two inches more. However, not everyone has put a line on these devices. Recently, many Chinese manufacturers have introduced 10.1 inch Android tablets to their offers, including the Teclast with the M30 model.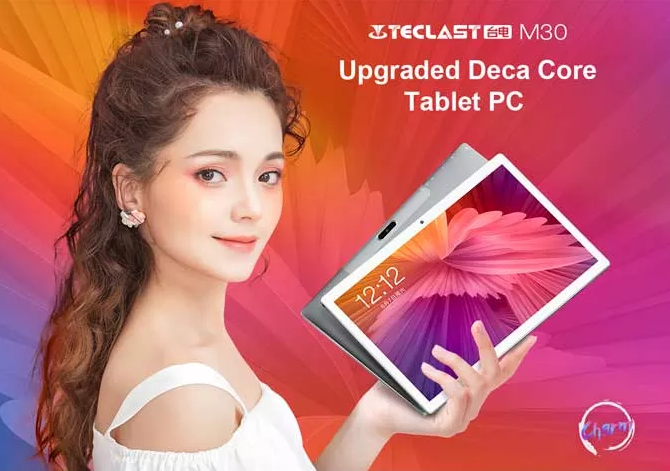 Visually, the M30 does not stand out from the tablets that appeared on the market five years ago. A classic design without any innovations in terms of framelessness or materials that could positively impact the size and weight of the device. The dimensions are 240*170*10 mm and the weight is about 560 grams, so it's not too light.

Of course, the biggest advantage of the Teclast M30 is the screen. The manufacturer certainly did not save money on this component. Sharp display with 10.1 inch diagonal, 2560 x 1600 resolution and pixel density of 298 ppi. The Digitizer detects up to 10 points at the same time and is very precise.
The IPS panel offers natural colour reproduction and high detail, but the contrast is extremely medium, which translates into problems with readability in direct sunlight or simply using it outdoors. In addition, the glossy surface of the display is aggravated by the problem. There are no objections to the viewing angles, after all it is an IPS matrix.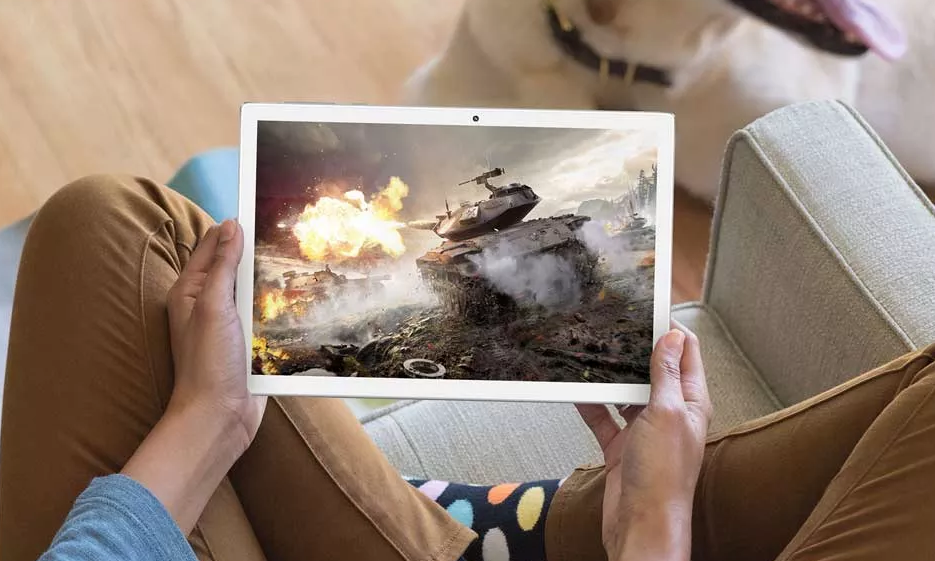 A protective film has been applied to the screen at the factory. It is better to leave it, because no Gorilla Glass type protective glass was used in the production. Weakly.
Unfortunately, the M30 is not equipped with zoom and brightness sensors, so the backlight intensity of the screen must be adjusted manually. In addition, there is no investment in the notification diode, which in my opinion is a big minus. As a standard, above the screen there was a camera with a resolution of 2 MP, which for VoIP communication should be enough.
The M30's backpacks are made entirely of aluminum, not including the upper plastic element that also serves as a cap for the MicroSD card slot and two SIM card slots. It also features a second 5MP camera, a 3.5mm audioJack headphone jack and microUSB to charge the gadget.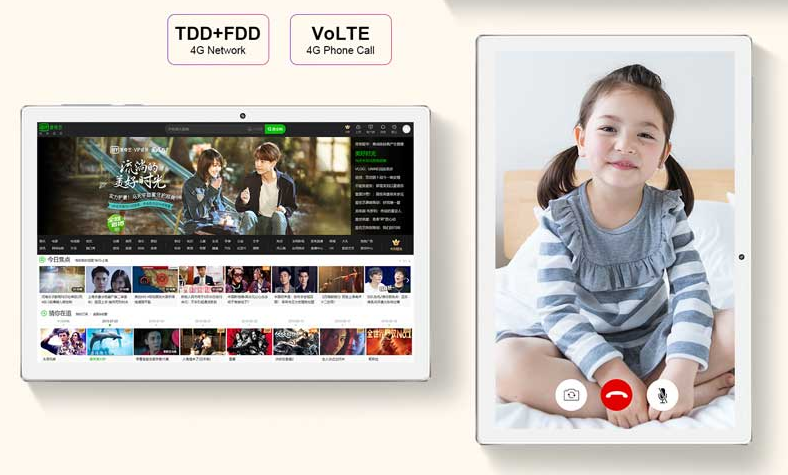 Three physical – standard buttons are located on the right side of the tablet. Arranging them in the top part of the tablet is a good step. They are easy to reach with your forefinger. Under the power/unlock screen button there is a reset button that can be pressed using a thin pin. This is a rare solution in today's tablets and smartphones, and it is a pity because it is good practice.
The Teclast M30 also has two loudspeakers, whose grills are also framed. The sound coming out of them is decent quality. It is not tiring and the hearing does not hurt. Overall, the tablet is quite solidly built. The elements are well-fitted with each other. However, if you use the tablet for a longer period of time, its weight can be a nuisance. It is a pity that the manufacturer saved on the screen's protective coating. Carrying a tablet in a backpack is not easy to catch an unwanted scratch, and the included foil will not last forever either.
Teclast M30 looks good in the specification note. After all, we are dealing with a device powered by a Deca Core processor MediaTek Helio X27 (MT6797X) with an integrated Mali-T880 MP4 875MHz, but not as fresh as it may seem. It is already two years old, and its performance at the moment is medium class. We can compare it with the Snapdragon 660 CPU.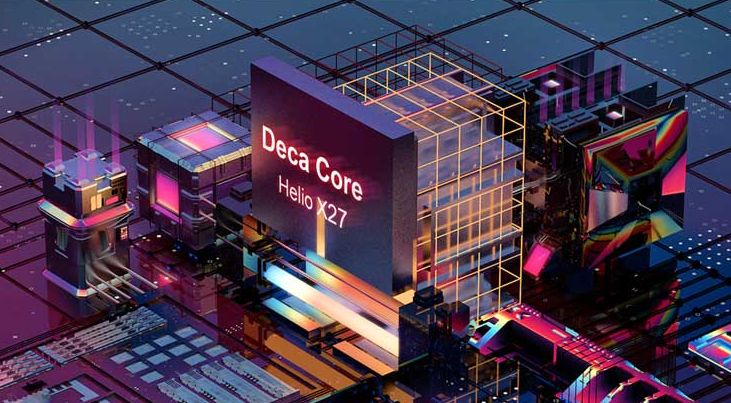 For everyday tasks, the system runs smoothly with 4 GB of RAM and 128GB ROM – multitasking is no problem for the M30. eMMC memory is not a fast memory, but in this price range we can't expect anything more. There is a microSD slot in the tablet, which will support a card with a maximum capacity of 256 GB.
Teclast M30 of course works under the control of Android 8.0, which is supplied in a practical clean form. I counted only one modification of DuraSpeed from MediaTek, which is an additional module controlling background processes. The system is fully polished. Googl's basic applications have been preinstalled.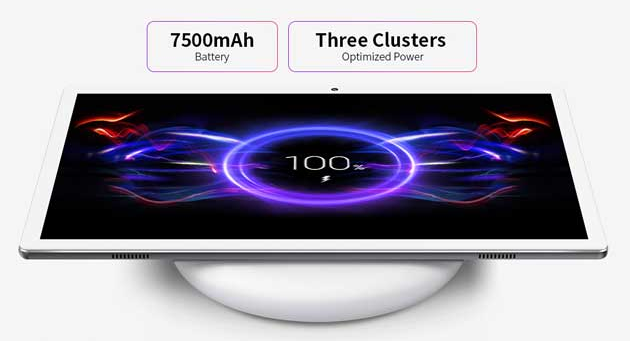 The Teclast M30 is a tablet with a large screen and also a large battery with a capacity of 7500 mAh, which will provide an average of six to eight hours of reasonable work. Which is confirmed by the results from PCMark. When watching a 60-minute movie, energy consumption can reach up to 15%. In games, consumption is even higher.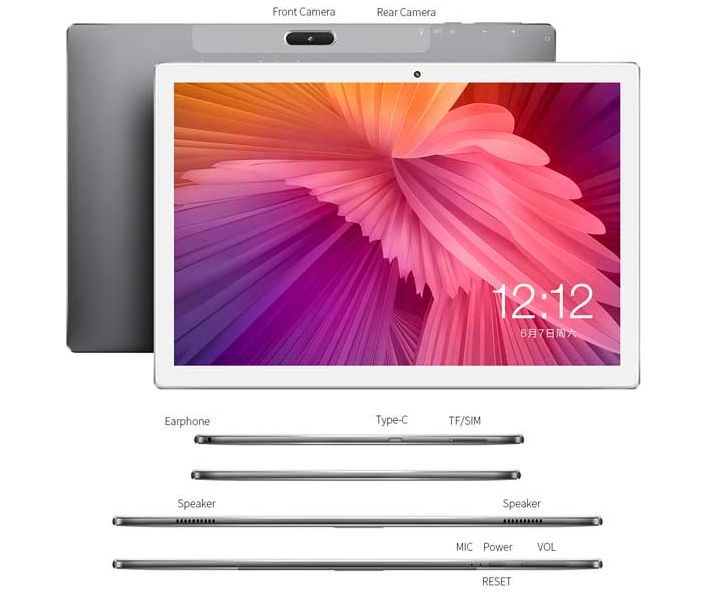 In the overall assessment, Teclast M30 is an interesting proposal. A large, high-quality screen with a resolution of 2560 x 1600 pixels, high computing power and Dual-SIM function are the tempting advantages of a Chinese tablet as a device for watching movies or other media entertainment. On the other hand, of course, there are disadvantages smaller, to which you can turn a blind eye – clumsy appearance and not lightweight. However, the biggest drawback is the lack of protective glass on the screen and the mentioned certificates for Netflix and other similar OTT services.