Ticwatch E 1.4 inch Smart Watch
Thanks to its simple design and transparent plastic coating, the Ticwatch E smart watch is very similar to the Swiss Swatch watch. The white version of "Ice" looks especially stylish, the diameter of the case is 44 mm.
Unlike other smart clocks, here the only button is located on the left, and not on the right. This is a bit unusual, but it will not work when the wrist is bent up.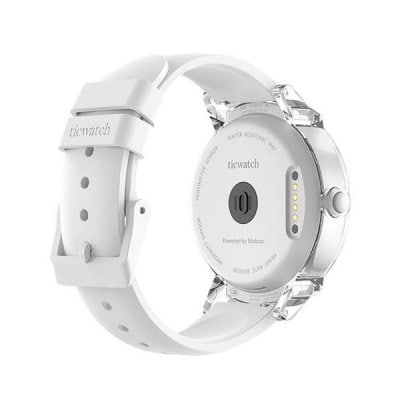 Transparent plastic covers the white rim around a 1.4-inch OLED display with a standard resolution of 400 × 400 pixels. On a bright screen everything is readable, even on a sunny day. A heart rate sensor and a GPS module are integrated in the case. Due to the protection of the IP67 class it is possible not to be afraid of getting into the rain, however, for swimming Ticwatch E are not intended. These smart watches have an easy and convenient 20 mm strap that can easily be replaced with any other one with the same dimensions.
On Ticwatch E, Android Wear 2.0 is installed – the same operating system from Google as on most other smart watches in 2017. This is different from Ticwatch Pro, which had its own OS Mobvoi – less original, but more applications. Due to the lack of NFC, Android Pay mobile payments are not supported, but you can listen to music, receive notifications from each application on your phone and download new programs from the Google Play Store.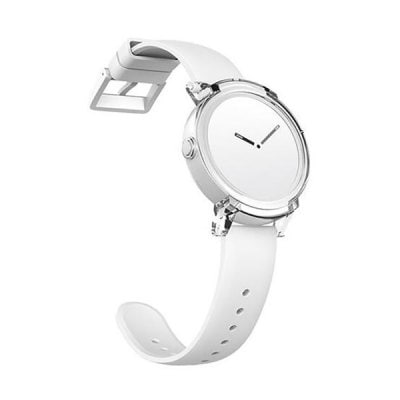 By default, Ticwatch E has 21 dial options. They are not noticeable, but the display can be made suitable for any application – some dials are better suited for sports, others simply look stylish. For example, Ticwatch × MLGB is interesting to combine with the white version of the case. In terms of the number of dials, these Ticwatch smart watches are superior to Diesel On Full Guard, but Louis Vuitton Tambour Horizon has more beautiful screen backgrounds.
Ticwatch E is not aimed at fans of healthy lifestyles (HLS) – notorious athletes should pay attention to Ticwatch S. But, several applications for tracking the parameters of health and fitness are still added. The Tic Health application uses Apple's style, demonstrating the success of users in the form of activity rings on the display. There are three rings: Exercises, Steps and Activity. You can change them in the settings, as well as add your goals and set reminders. Slide your finger down the display to open an activity overview for the day – so you will know when and what successes you have achieved. This is a very simple and intuitive system.
Tic Fitness is more convenient than similar Google applications. Here you will find 5 modes of training: Outdoor Run, Indoor Run, Outdoor Walk, Cycling and Free Style. On the screen in real time, indicators such as tempo and heart rate are displayed. GPS navigation allows you to use a similar card. The heart rate sensor works perfectly with moderate activity, but is inferior in accuracy to the Polar H10 chest pulse meter under intensive loads. In the Step Ranking application, you can find out the number of steps taken in a day and compare your results with the success of nearby users, Ticwatch – this motivates you to play sports and set records.
There is also a music player Mobvoi, which allows you to synchronize music with Android or iPhone via Bluetooth. If you hold your finger up in the heart rate application, a graph will open, indicating the heart rate (HR) values ​​for the day. The Ticwatch E smart watch does not have revolutionary features, you will find the same set of functions on most other smart watches. In addition, there is not enough NFC support for mobile payments. The main difference from competitors – branded applications, including Tic Health and Fit, are more convenient similar to Android Wear.
Mobvoi has its own application for smartphones, which interface is copied from Apple – information about the progress for the day is displayed in the form of rings. A detailed overview of the activity is available: heart rate, number of steps, length of steps, distance traveled and other parameters that can be displayed in the form of beautiful graphs. Your route is jogging or biking, all this will be marked on the map. In the application for smart clocks Ticwatch S has more parameters, but Ticwatch E has all the collected information in a simple and clear form.
Smart clock Ticwatch E will work without recharging 1,5-2 days. On the second day you will have to worry that they are not exhausted in the middle of training, which is normal for such smart watches. A much longer period of work is offered only by the Kronaby hybrid watch. If you are not going to use GPS often, unexpected problems with the battery will not arise. However, it is better to put a gadget on charging every night – the Android Wear system is still not the best way to track sleep.
With affordable price and great features, Ticwatch E compete on an equal footing with LG Watch Style and other best smart watches on Android Wear. But, if you need a maximum of functions and the most accurate tracking, it is worth considering more expensive options.