TOPTON L4 7-inch touch screen mini laptop
The Topton L4 is distinguished by its price, its size and its equipment. For the moment this particular market is divided into 2 categories. Solutions that use Atom Bay Trail processors launched between 2013 and 2014 and which are starting to date. Or machines with high-end chips that are often offered at very high prices as is the case with the One Netbook machines for example.
The Topton L4 presents itself as an alternative with a Celeron J3455 chip. The processor isn't the newest either with a 2016 release but it's still a quad-core and quad-threaded clocked from 1.5 to 2.3 GHz and taking advantage of an Intel HD 500 chip with 2 MB of cache. The chip makes 10 watts of TDP and can drive 8 GB of RAM.
This is what the Topton L4 comes with by default. It comes in multiple versions from 32GB to 1TB of storage thanks to an M.2 2280 SATA SSD. This last point is interesting because it means that for the purchase of a basic model at 250€ in 8/32Gb version, it will be possible to upgrade it easily to a higher capacity version. The device comes with Windows 10 but we don't know if it will be activated by default. With 32GB of storage it's clearly not a system to keep, but if you can find a larger SSD in a drawer it might be possible. The Celeron J3455 platform shouldn't be a problem under Linux but we don't know what ingredients are used around it: wifi chips, sound, webcam and other components can be a bit tricky to switch to Linux… Or the latest versions of your favorite system can handle them without worries.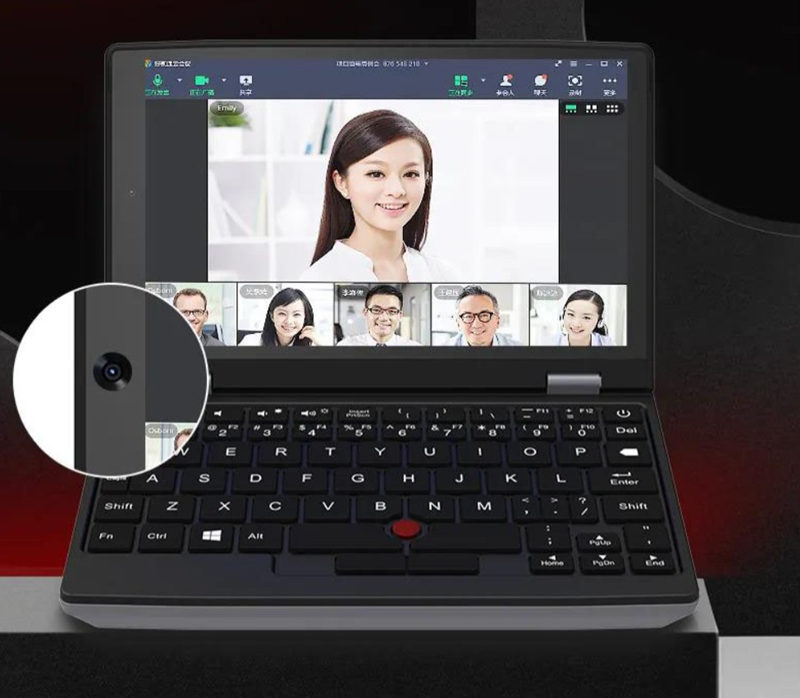 But that doesn't erase the rest of its flaws, and there are many: the 7″ screen for starters is a meager 1024 x 600 pixels in definition. That's not much, especially in 2021. It will be fine for some uses, but for surfing, for example, it's very short, especially in height. You will be able to use a word processor or drive various applications without any worries but the content browsing, especially on the web, will be subject to many scrolling phases. To give you an idea, many online ads today are 350 pixels high… More than half the screen.
This screen is also touch-sensitive, capacitive with an active stylus support for 2048 pressure levels, which will not really allow you to draw since the screen does not open completely. Its hinge blocks rather quickly and this does not seem to me to be the most ergonomic solution for taking notes with a stylus. The page does not specify the technology used for the screen, no mention of IPS which usually means a TN panel. But I asked the seller who confirmed the use of an IPS panel. I have to say that nowadays TN touch panels are rare and must be hard to find, so I'm not really surprised about the technology used.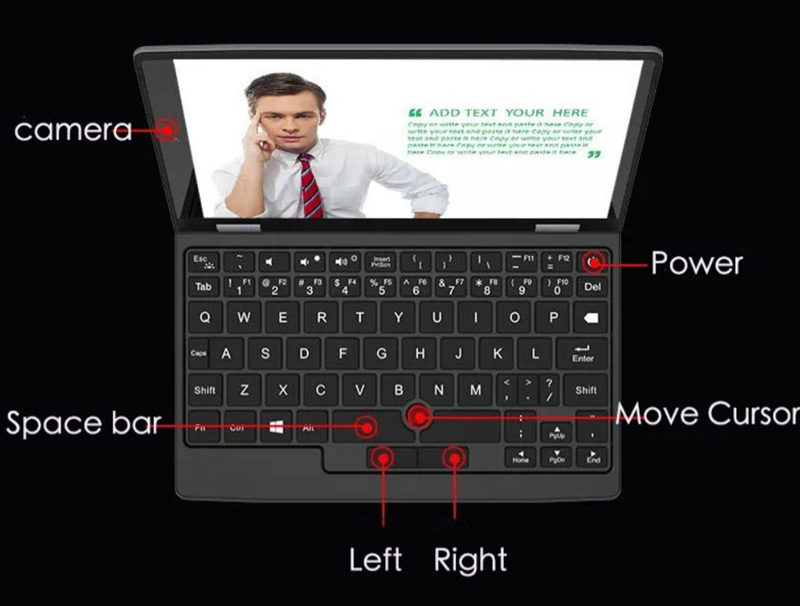 Why talk about the Topton L4 then? Because apart from these complicated points, the device is interesting, especially for some uses. It offers a complete set of connectivity with two USB Type-A ports in USB 2.0 and USB 3.0, a MiniHDMI video output, a 3.5 mm audio jack, a MicroSD card reader and a jack to power its battery. It embeds a Wifi5 module that offers Bluetooth 4.0 and even has a 2 megapixel webcam.
Its battery is a 3000 mAh with 38 Wh announced, the web page does not specify any autonomy of use. The weight of the device is 650 grams thanks to a machined aluminum shell and not a recourse to plastic. The Topton L4 measures 18.5 cm wide and 14.1 cm deep for 2 cm thick. It embeds a small QWERTY keyboard and a kind of resumption of the Trackpoint of Thinkpad. The small red dot allows you to control a mouse, two click buttons are available just below. Not ideal for all uses but practical when you don't want to take out a wireless mouse or use the screen's touchscreen.
Last point, the keyboard is indicated QWERTY with the possibility of a laser engraving of a second layout to have an AZERTY for example. This option is offered for $10 and will allow to add an AZERTY layout under the letters of the basic QWERTY. An alternative solution to stickers to stick on the keys. I asked the seller for more information about this and he confirmed that the AZERTY engraving is indeed available.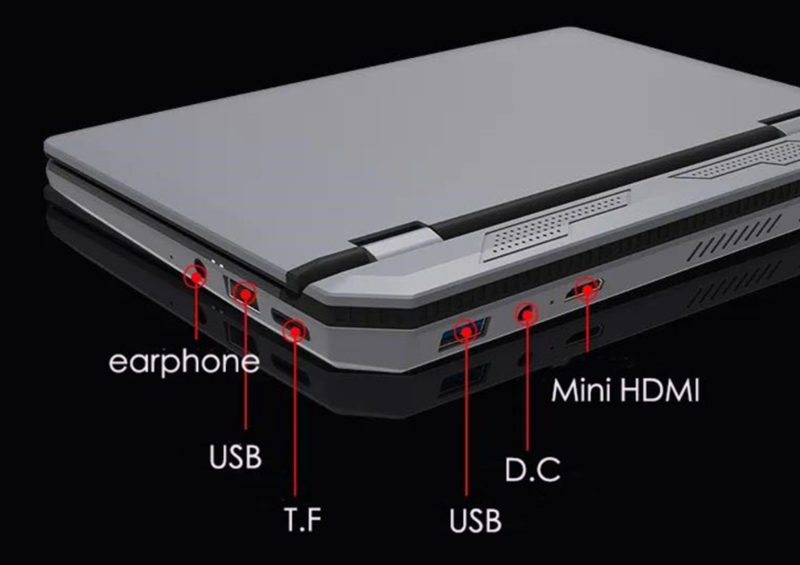 What is a Topton L4 for? If you arrived here in this post, it means that the machine interests you a little bit. And I think that despite its flaws, this machine is indeed equipped enough for some uses. Its price is sufficiently contained to take the plunge unlike many machines in this particular market. The machine will not be suitable for the classic web nor for excessive typing, with its small keyboard, it will frankly not be as comfortable as a slightly larger machine.
But it will be enough for some uses, to troubleshoot servers, to drive some business applications. To do video conferencing in any place, with its webcam or an external solution to be connected in USB. To drive a 3D printer, watch a movie or do retro gaming on your small screen or on an external HDMI screen. To launch music or for all the classic uses of a laptop today but in a version of 650 grams that fits in a backpack when you go on vacation or travel.