Ulefone Armor 12 is a new 5G SoC flagship rugged phone in 2021
Qualomm's latest high-end 5G processor is coming to Samsung's new Galaxy S21 series , and its rival MediaTek has launched its own new chipsets: the Dimensity 1200 and Dimensity 1100. this new processor is from the Taiwanese chipmaker and brings improved AI, camera and multimedia features.
5G phones will be a staple in the mobile industry in 2021. I got official word from Ulefone today that their latest flagship outdoor phone, the Armor 12, will be powered by a Dimensity 1200 5G mobile processor. This is probably the most powerful Rugged Phone available.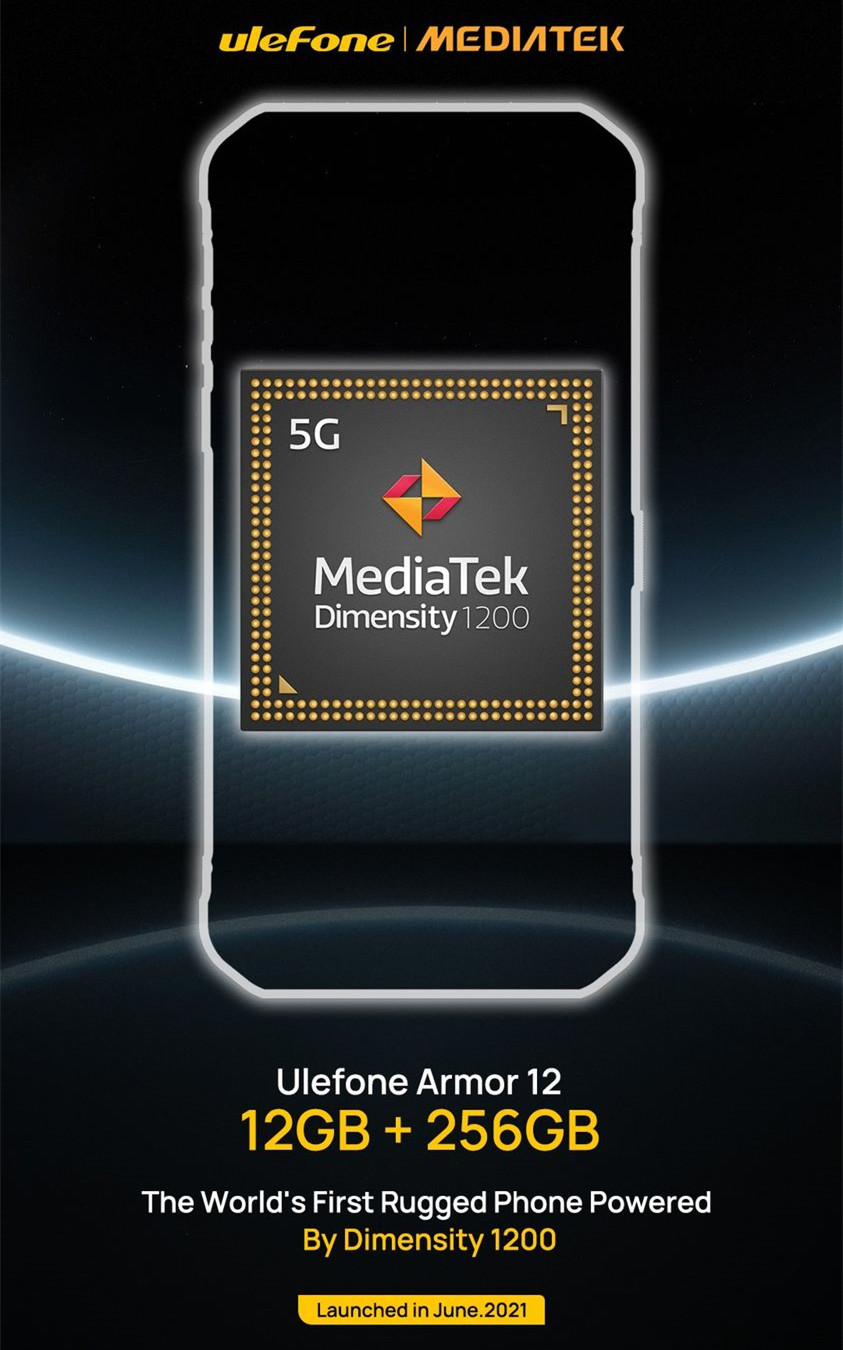 Let's start with the processor. The Dimensity chipset used in the Ulefone Armor 12 uses TSMC's 6nm technology, compared to 7nm in last year's Dimensity 1000. MediaTek, on the other hand, utilizes Arm's latest A78 core technology. Together, these advances enable the Dimensity 1200 to deliver 22 percent more power and 25 percent more battery efficiency than last year's chipset.
Performance has also been improved by 13% for AI-related tasks, such as using multi-person portrait mode in one shot, or enabling panoramic photos at night. MediaTek has enhanced its gaming capabilities, for example by adding support for faster refresh displays.
The first phones using the Dimensity 1200 will hit the market by the end of the first quarter of this year. Chinese cell phone provider Realme has already stated that it will be one of the first companies to release a Dimensity 1200 smartphone. And previously Xiaomi has confirmed that their new device, the Redmi K40, will also use the new chipset.
Let's return the topic to Ulefone, a company known to be a second-tier brand. However, their courage to release a high-end model is something that people should admire. From the information I got so far, this flagship phone Ulefone Armor 12 will be released in June with a memory combination of 12GB RAM and 256GB ROM. gosh, I am very much looking forward to its release as it becomes the king of outdoor phones.