Ulefone Armor Flip IP68 IP69K Waterproof 2.4 Inch Rugged Feature Phone
Backed by an international standard rating of IP68 and IP69K, The Ulefone Armor Flip is rugged enough to withstand dust, dirt and sand, and is resistant to submersion up to a maximum depth of 1.5m underwater for up to 30 minutes. It also meets military standard for dust, shock, humidity, solar radiation and temperature extremes, can survive in severe environment.
You might encounter various risks and challenges in the outdoors, that's why we add SOS function and flashlight to the Armor Flip to make it an ideal companion for your adventures. And it also defines two other function keys – FM and music, enables you to quick access the two functions.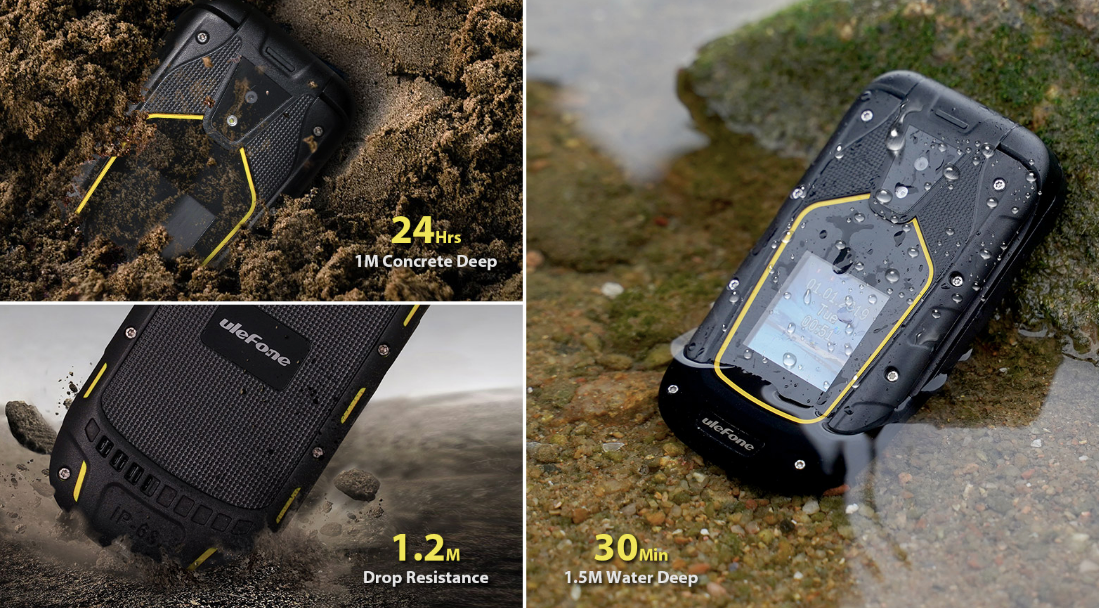 The classic twelve-icon interface that guides you through a series of day-to-day operations is simple and easy for everyone to use. Without any complex operation, it's a breeze for you to get things done. Except with large keys for convenient operation, it also comes with an Old Man Mode, which shows you large font on the screen, such a great news for people with poor eyesight, kids or the aged.
The Ulefone Armor Flip is whole body waterproof with ultra-long standby time, a perfect spare phone for travel, outdoor activities; water resistant, drop resistant and dust resistant, an optimal choice for lively and active kids; with large keys, large font & icons and loud voice, perfect for elders.
Adopting the unique flip screen design, Armor Flip enables you to turn over the lid and answer the call directly, you will not be hurry-scurry any more when you are busy. And it will automatically hang up the call if you close the lid, quite convenient to use. According to the test, it can stand up to 100,000 times of folding.
The Armor Flip with dual SIM card slots allows you to freely switch between two SIM cards. It's great to carry one device to separate work from personal life or connect to high-speed and stable local network when traveling abroad. It also comes with a TF card slot for 32GB storage expansion, which can hold 5250 songs, 6750 photos, enrich your recreation time.
With built-in antenna for FM radio, now you can enjoy radio programs on the Armor Flip without having to plugin headphones. In the meantime, unlike streaming music or podcasts, listening to radio will have little impact on your use of data.
The Armor Flip also features unconventional 3.5mm audio interface, therefore we offer you a pair of customized earphones in the package, enables you enjoy the music anywhere and anytime.