Ulefone Armor X7 Pro 5.0 inch NFC IP68 IP69K Waterproof Android 10 4G Smartphone
The Ulefone Armor X7 Pro is a new rugged smartphone that wants to be compact, robust and affordable. The manufacturer sees it primarily as a bicycle navigation system and therefore even includes a corresponding mount for the handlebars. How does the mobile phone perform in everyday life and how well is it really suitable for cycling? Is it really as robust as the manufacturer always claims?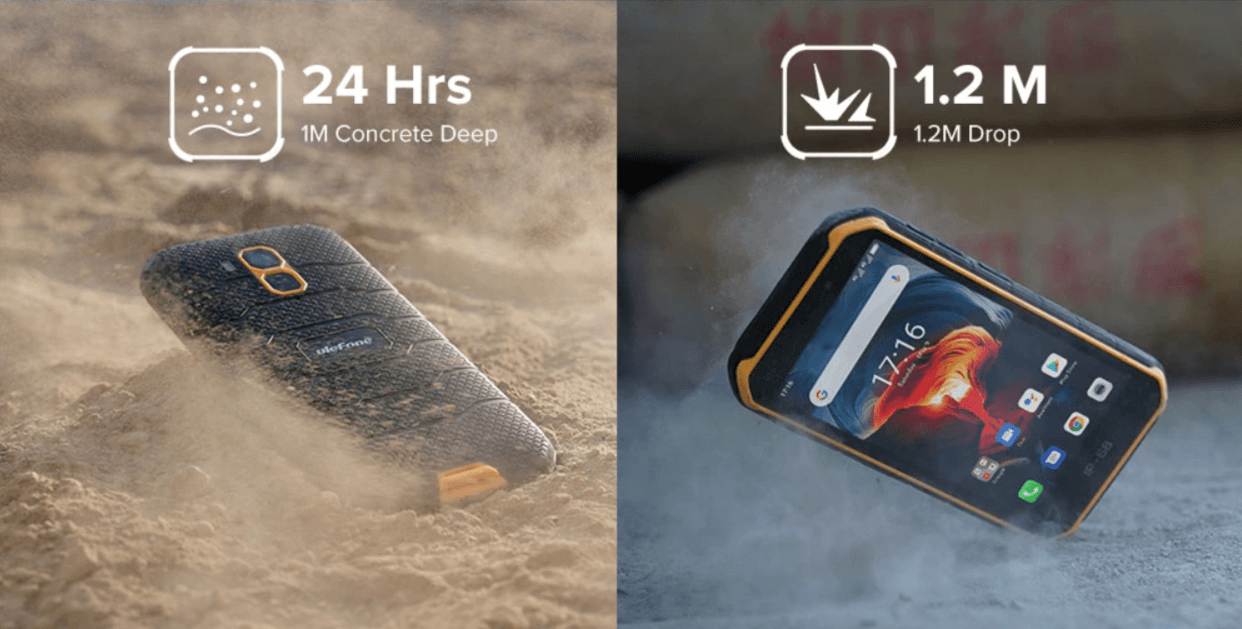 The Ulefone Armor X7 Pro was advertised as a compact outdoor smartphone. The barely five inch display shouldn't get in the way, should it? Apparently it should, because at 150 x 78.9 x 14.6 millimetres. It is also not necessarily a lightweight at 234 grams, but this is certainly also due to the battery – more about that later.
What does this mean in practice? Well, the Ulefone Armor X7 Pro fits no better in the hand than a "normal" smartphone with a display that is over 6.5 inches large. On the contrary: it is angular, thick and the back has relatively little grip compared to other outdoor smartphones. The Armor X7 Pro may be a compact outdoor smartphone, but it's not a compact smartphone. To be honest, I was a little disappointed, but that was simply because of my expectations. I was never bothered by the size of the phone – we're all used to big smartphones by now.

Ulefone built a five-inch display with a 16:9 aspect ratio into the Armor X7 Pro. The screen is not interrupted by any notches and it doesn't have rounded corners. The resolution of the IPS panel is 1280 x 720 pixels and the pixel density is 294 pixels per inch. I never noticed a negative resolution during the test period. All lettering is sharp and clearly visible. When looking at photos and videos the missing pixels are more noticeable, but in everyday life this has never been a problem at any time. I found the colour reproduction a little disturbing. Due to the very low saturation, which cannot be adjusted in the settings, all content looks a bit pale and the dynamic is also rather flat. Contrasts don't stand out very much. I have nothing against a natural look, but that's perhaps a bit too natural.
Inside the Ulefone Armor X7 Pro, MediaTek's MT6761, also known as the Helio A20, does its job. It is paired with two gigabytes of RAM, which is also noticeable in everyday life in that a maximum of three apps are kept open in the background. In return, navigation through the system runs smoothly, but when starting apps, the smartphone allows itself the odd moment of hesitation.

Android 10 is used in a mostly untouched variant. The current security patch is dated 5 March 2020 (as of 14 May 2020). We don't assume that there will be much more to come. In this price range (and often also in the lower middle class) updates are unfortunately not the rule but the exception.
The Ulefone Armor X7 Pro works with two cameras – one on the front and one on the back. When was the last time we saw such a setup? You'll get nostalgic right away! The front uses a selfie camera with five megapixels of resolution and a normal wide-angle lens with f/2.4 aperture. On the back is a 13MP camera, which also has a wide-angle lens, but this time with an f/2.2 aperture. Videos can be recorded at 1080P and 30 frames per second, and there is no stabilization in either photo or video mode.
The Ulefone Armor X7 Pro does not allow itself to make any mistakes here. If Google Pay would work, the whole package would be almost perfect. Thus, the NFC interface has unfortunately been robbed of an important function. Otherwise, WLAN a/b/g/n/ac in the 2.4 and 5 GHz band and even Bluetooth 5.0 are on board. 2G/3G/4G work perfectly and also parallel on both sim cards. I found the reception quality to be good, but not outstanding. VoLTE worked with my Sim card from Vodafone. An FM radio is pre-installed. To use it, headphones must be plugged into the audio port. But then the reception works perfectly.
The Ulefone Armor X7 Pro has a 4,000 mAh battery. That doesn't sound like much at first, but in combination with the power-saving technology of the mobile phone, phenomenal runtimes are possible. In everyday use I always got through two days well and depending on the usage behaviour even three stretchers are no problem at all.